Solarban® 90 glass helps convert historic Chicago building into boutique hotel
Neglected historical structure finds new life with new six-story glass-clad crown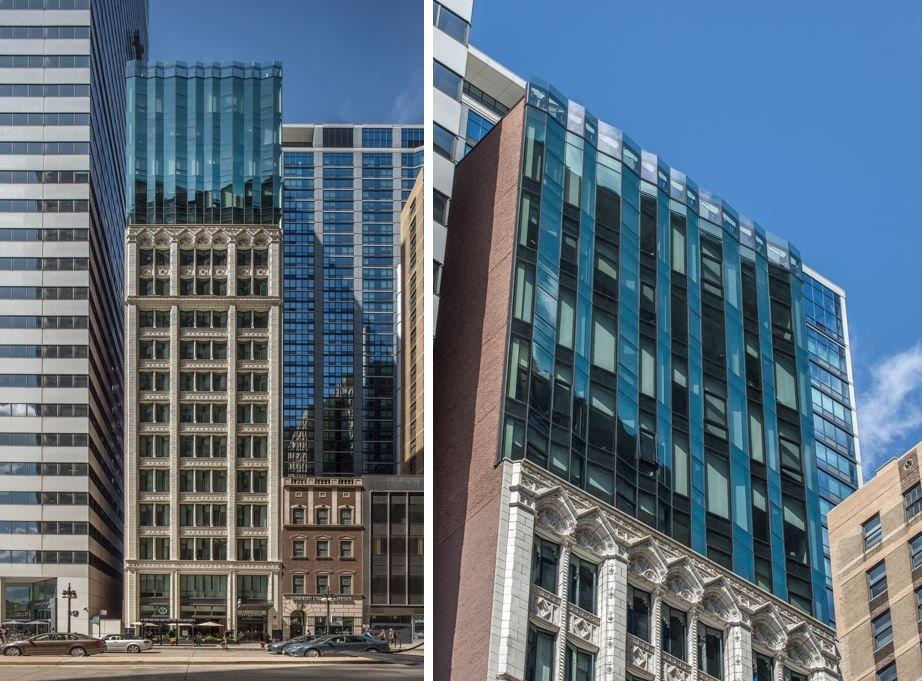 Photography by Tom Kessler
PITTSBURGH, November 6, 2020 – For many years, the Atlantic Bank Building on Chicago's Michigan Avenue was an eyesore on the city's most famous boulevard. Now, thanks to the efforts of architects Hirsch Associates and owner Oxford Capital Group, the structure has been transformed into the 18-story Hotel Julian, now crowned by a glittering six-story jewel fabricated with Solarban® 90 glass by Vitro Architectural Glass (formerly PPG Glass).
Following guidelines for the original building that suggested how to add floors in its future, Hirsch Associates glazed the new hotel's top six floors with Solarban® 90 glass, a recent development in the evolution of solar control low-emissivity (low-e) glass.
In the tradition of Vitro's popular family of low‑e glasses, Solarban® 90 glass conveys an appearance similar to that of conventional clear glass in both color and reflectance while delivering an exceptional solar heat gain coefficient of 0.23 percent and visible light transmittance (VLT) of 51% in a standard 1-inch insulating glass unit (IGU). Together, the daylighting and solar control enable Hotel Julian to offer all the charms of a classic, old-world hotel along with the environmental performance and comforts of a modern one.
Named after St. Julian, the patron saint of travelers, the former 12-story building has been fully transformed by its $75 million investment. Now open for more than two years, the newly refurbished venue is successfully attracting tourists to Chicago's Millennium Park area while gaining an architectural stature worthy of its many famous neighbors near the Magnificent Mile.
For more information about Solarban® 90 glass and Vitro Glass's full line of architectural glasses, visit www.vitroglazings.com or call 1-855-VTRO-GLS (887-6457).
Editor's note: High-resolution photography is available upon request.
Solarban® is a registered trademark owned by Vitro.
About Vitro Architectural Glass
Vitro Architectural Glass, part of Vitro, S.A.B. de C.V. (BMV:VITROA), the largest company of its kind in the Americas, manufactures a range of industry-leading, energy-efficient products such as Solarban®, Sungate® and Starphire Ultra-Clear® glasses at U.S. plants in Carlisle, Pennsylvania; Fresno, California; Salem, Oregon; and Wichita Falls, Texas. Committed to sustainable manufacturing processes and products, the company also operates one of the world's largest glass research and development facilities in Pittsburgh and four residential glass fabrication plants in Canada. Upholding the values of "Together, We See Further" across the architectural, automotive and containers markets, Vitro strives to realize the power of partnership to ensure that projects meet or exceed ever-evolving sustainability expectations as well as glass requirements. For more information, please visit www.VitroGlass.com.
Media Contact:
Robert J. Struble
Vitro Architectural Glass
412-820-8138
rstruble@vitro.com
www.vitroglazings.com