See the Beauty, Not the Glass
Experience the brilliance and amazing clarity that conventional clear glass simply can't match and colors so true you won't believe you're looking through glass.
Only Starphire Ultra‑Clear® Glass by Vitro Architectural Glass (formerly PPG Glass) allows views so brilliant, you'll forget the glass is even there. For interiors, exteriors as well as heavy and safety glass applications in thicknesses up to ¾ inch, no low-iron glass consistently maintains its transparency, color fidelity and vivid beauty like Starphire® glass.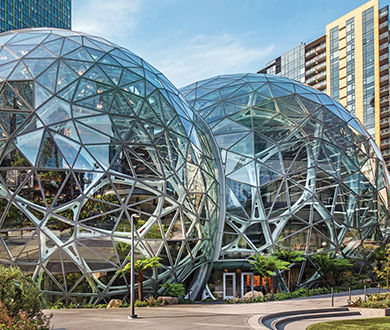 The Spheres
The Spheres, Amazon's new glass-domed headquarters in downtown Seattle, features Solarban® 60 Starphire® glass by Vitro. Designed by NBBJ as a trio of conjoined glass domes, The Spheres features five floors of meeting, relaxation and collaborative space.