Natural Light. Engaging Aesthetics.
As interior designers face more demand for natural light in offices, building cores, conference rooms and other interior spaces, naturally inspired glass is the natural step forward.
For distinctive partitions, balustrades, bath enclosures, security glazing and other applications, Vitro Architectural Glass (formerly PPG Glass) offers a wide range of highly transparent, clear and tinted glasses ideal for interior applications. Vitro has partnered with select partners to provide you with even more product selections and resources for all your glass-related interior designs and ideas.
Back to Top
Transparent Glass
Starphire Ultra-Clear® Glass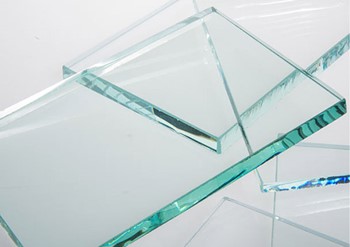 For partitions, handrails and more, Starphire® glass maintains its blue edge.
For sparkling clarity and brilliant views, no other glass brings visual excitement to a breadth of interior spaces like Starphire Ultra-Clear® glass.
Available up to 19 mm thick, Starphire Ultra-Clear® glass sets your design apart with its highly transparent, jewel-like aesthetic. Conventional clear glass gets darker and greener as it becomes thicker or is laminated into multiple layers. But that's not the case with Starphire® glass. Because of its proprietary low-iron formulation, the clarity of Starphire® glass actually intensifies, creating a distinctive "blue-edge" look that is ideal for partitions, doors, countertops, table tops, security glazing and other interior applications. Accentuate balustrades, handrails and banisters to imbue interior spaces with stunning transparency and color fidelity. Combine it with a Walker Textures® acid-etched glass and mirror for partitions, wall coverings, display shelving and more. Or use it with Clarvista® glass to protect shower and bath enclosures against corrosion for a luxurious look that lasts.
Starphire® Glass for Interiors
Clarvista® Glass
Clarvista® glass has a factory-fused coating that protects the clarity of glass against dullness caused over time by exposure to heat and humidity.
With a proven and reliable anti-corrosive coating that imparts absolutely no color to the glass, Clarvista® glass is ideal for high-heat, high-humidity applications—especially shower and bath doors and enclosures. Durable and supremely clear, the Clarvista® glass coating can be used on clear glass, Starphire Ultra-Clear® glass and acid-etched glass.
Back to Top
Tinted Glass
Tinted glasses by Vitro Glass add color and range, from highly light transmissive to very low-light transmissive (privacy glass), to suit your design objective. Nearly all tinted glasses by Vitro Glass are Cradle to Cradle Certified™.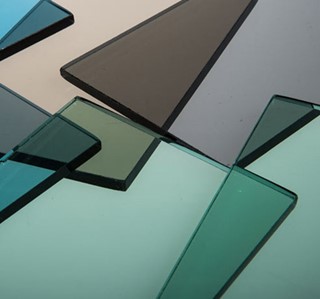 Vitro offers a range of blue, green, gray and bronze tinted glasses.
Blue & Green Tinted Glass
From the emerald-green of Altantica® glass to the dark-blue depths of Pacifica® glass, Vitro Glass offers a collection of blue and green tints that bring vibrancy and color to any indoor environment.
You also can choose from aqua-blue Azuria® glass, subtle-green Solexia® glass and sky-blue Solarblue® glass.
Gray & Bronze Tinted Glass
To complement its blue and green collection, Vitro Glass offers a variety of gray and bronze tinted glasses, including neutral, cool-gray Optigray® glass; warm-gray Solargray® glass; rich, dark-gray Graylite® II glass; and warm-bronze Solarbronze® glass.

Blue and green tinted glasses by Vitro bring natural, environment-blending colors to interiors.
Back to Top
Specialty Glass Design Options
A wide variety of interior glasses are available through our alliance partners.
Acid-Etched Glass
Expand your design options with acid-etched patterned glasses and mirrors. Acid-etched glass products are typically used for dividing walls, wall coverings, office partitions, shower and bath enclosures, doors, display shelving and other interior applications.
Combine Walker Glass products with Starphire Ultra-Clear® glass for unmatched color purity and a truly unique design option. There's no limit to the creative options you can explore with Walker Textures® customized patterns, a full complement of colored and clear glasses and finishes ranging from translucent satin and velour to metallic mirror.
Interior Starphire® Glass
The unique Starphire® glass edge brings more light into interior spaces while offering unmatched levels of brightness, color fidelity, clarity and visual excitement.
---
More Information