Solarban® R100 glass delivers energy efficiency, serene reflectivity to Waterford at Blue Lagoon
Vitro glass maximizes daylighting, views, solar control for LEED-certified office building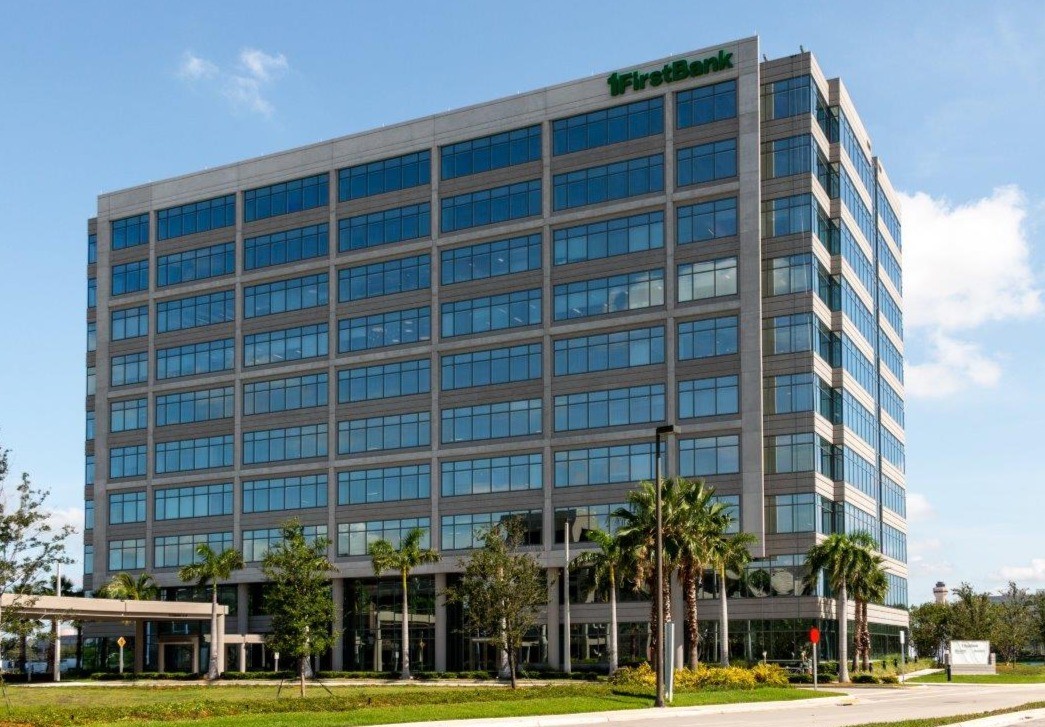 Photography by PLVRAL INC
PITTSBURGH, Nov. 10, 2020 – Glazed with more than 100,000 square-feet of Solarban® R100 glass by Vitro Architectural Glass, the Waterford at Blue Lagoon is designed to balance the need for cooling efficiency in sun-drenched Miami while providing a crisp, clear neutral-reflective that complements its waterside setting.
Designed by TVsdesign in Atlanta, the 10-story office building earned LEED™ certification at the Gold level due in part to the use of Solarban® R100 glass, which delivers visible light transmittance (VLT) of 43% and a solar heat gain coefficient (SHGC) of 0.23 in a standard 1-inch insulating glass unit (IGU).
Carlos Amin, vice president of sales for Tecnoglass, which fabricated the IGUs, said that in addition to its exceptional solar control, the architect chose Solarban® R100 glass for its ability to harmonize with the rest of the building façade as well as the surrounding landscape. "The final decision came down to Solarban® 90 and Solarban® R100 glasses. Both have excellent environmental performance, but he preferred the neutral appearance of Solarban® R100 glass for this setting."
Solarban® R100 glass has an exterior reflectance of just 32% and an interior reflectance of 14% that transmits a pleasant cool blue-gray appearance to building tenants.
To learn more about Solarban® R100 glass and the full range of aesthetic and performance options available from Vitro Glass, visit www.vitroglazings.com or call 1-855-VTRO-GLS.
Editor's note: High-resolution photography is available upon request.
Solarban® is a registered trademark owned by Vitro. LEED—an acronym for Leadership in Energy and Environmental Design™—is a registered trademark of the U.S. Green Building Council®.
About Vitro Architectural Glass
Vitro Architectural Glass, part of Vitro, S.A.B. de C.V. (BMV:VITROA), the largest company of its kind in the Americas, manufactures a range of industry-leading, energy-efficient products such as Solarban®, Sungate® and Starphire Ultra-Clear® glasses at U.S. plants in Carlisle, Pennsylvania; Fresno, California; Salem, Oregon; and Wichita Falls, Texas. Committed to sustainable manufacturing processes and products, the company also operates one of the world's largest glass research and development facilities in Pittsburgh and four residential glass fabrication plants in Canada. Upholding the values of "Together, We See Further" across the architectural, automotive and containers markets, Vitro strives to realize the power of partnership to ensure that projects meet or exceed ever-evolving sustainability expectations as well as glass requirements. For more information, please visit www.VitroGlass.com.
Media Contact:
Robert J. Struble
Vitro Architectural Glass
412-820-8138
rstruble@vitro.com
www.vitroglazings.com