Vitro Architectural Glass Announces Spencer Green as Commercial Account Manager
PITTSBURGH, PA May 25, 2023 – Vitro Architectural Glass (formerly PPG Glass) announced the appointment of Spencer Green as commercial account manager for the Ontario/Quebec region.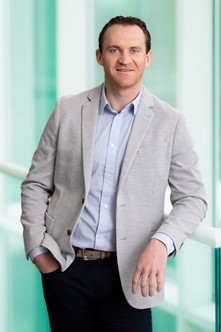 Spencer Green, Commercial Account Manager, Ontario/Quebec Region
In this role, Green will manage commercial flat glass accounts and offer sales and support to fabricators, glaziers and other stakeholders by connecting them with the best-performing Vitro products for their projects.
"Spencer has a great track record of providing excellent customer service, which will surely bode well for him at Vitro," said Frank Caporiccio, Director of Canada Architectural Business. "We know he'll build successful, long-term relationships with customers, and we'll also tap into his expertise for special accounts in this region. We're thrilled to bring Spencer on board."
Before joining Vitro, Green gained valuable sales experience by working in various roles within the commercial construction market. Before breaking into the sales field, Green played in the Canadian Hockey League for six seasons (2010-2015). Green, an Orillia, Ontario, native, graduated from St. Lawrence College with a Business Administration and Management degree. He resides in the Toronto area.
To learn more about products from Vitro Architectural Glass, visit www.vitroglazings.com or call 1-855-VTRO-GLS (887-6457).
About Vitro Architectural Glass
Vitro Architectural Glass, part of Vitro, S.A.B. de C.V. (BMV:VITROA), the largest company of its kind in the Americas, manufactures a range of industry-leading, energy-efficient products such as Solarban®, Sungate® and Starphire Ultra-Clear® glasses at U.S. plants in Carlisle, Pennsylvania; Fresno, California; Salem, Oregon; and Wichita Falls, Texas. Committed to sustainable manufacturing processes and products, the company also operates one of the world's largest glass research and development facilities in Pittsburgh and four residential glass fabrication plants in Canada. Upholding the values of "Together, We See Further" across the architectural, automotive and containers markets, Vitro strives to realize the power of partnership to ensure that projects meet or exceed ever-evolving sustainability expectations as well as glass requirements. For more information, please visit www.VitroGlass.com.
Media Contact:
Robert J. Struble
Vitro Architectural Glass
412-820-8138
rstruble@vitro.com
www.vitroglazings.com