Vitro Architectural Glass names Annissa Flickinger and Chris Fronsoe as Managers of Architectural Market Development
Andre Kenstowicz also named as Key Projects Manager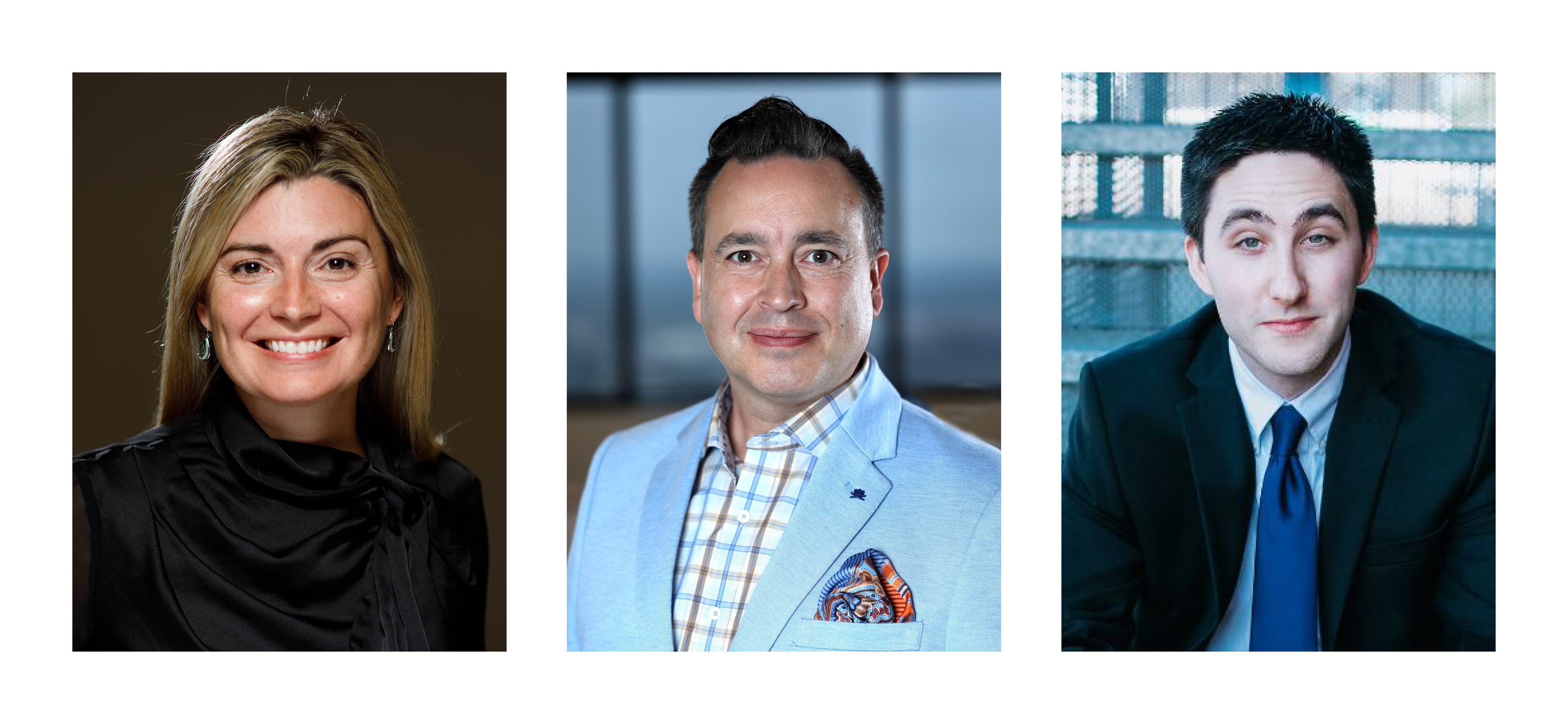 Annissa Flickinger, Chris Fronsoe and Andre Kenstowicz have been appointed to new roles at Vitro Architectural Glass
PITTSBURGH, PA September 20, 2022 – Vitro Architectural Glass (formerly PPG Glass) announced that Chris Fronsoe and Annissa Flickinger have been named managers of architectural market development, with Fronsoe serving the West Region of the United States and Flickinger serving the East Region.
Vitro architectural market development managers direct teams of national architectural managers in their regions and provide services to Vitro Certified™ fabricators, which supply quality, high-performance glass, including insulating glass units, spandrel glass and tempered/heat strengthened glass for buildings across North America and beyond.
Flickinger previously worked with Vitro as a global architectural manager and has experience working with architect and design firms around the world. Flickinger has worked with the world's top designers to select glazing, improve energy efficiency, and ultimately achieve the visual goals of the façade. The curving, high performance glass façade for The Jewel Changi Singapore Airport is just one of the impressive projects that she has helped define. Flickinger also represents Vitro as an expert in the growing field of biophilia and biophilic design in contemporary architecture and has presented to architects and others at events around the world.
Fronsoe has a long career of representing building product manufacturers for architects and most recently worked with Vitro as a national architectural manager for the Northwest region. He is also an engaging presenter and a licensed sommelier and has used his interest in wine education to create "Vino with Vitro," an innovative wine tasting and glass education seminar that is also a certified Continuing Education course with the American Institute of Architects (AIA).
"Both Annissa and Chris have strong experience as salespeople in a wide range of markets, domestically and worldwide," said Heather Brion, director, United States architectural development, Vitro Architectural Glass. "Their mentorship and oversight will be invaluable as Vitro's teams of national architectural managers strive to provide exceptional service to customers in their territories."
Flickinger joined Vitro/PPG Glass in 2004 as an architectural services coordinator and has been promoted through several roles as her glass expertise grew. She holds a Bachelor of Science degree in Marketing and Finance from the University of Pittsburgh.
Fronsoe holds a Bachelor of Arts degree in Business Management and Organizational Leadership from George Fox College in Newberg, Oregon. He has served on technical committees with the National Glass Association (NGA) and has also been a featured speaker at multiple glass industry events, including Glass Performance Days, GlassCon Global and Façade Tectonics.
In addition to these two appointments, Andre Kenstowicz has been named key projects manager. Kenstowicz was previously Vitro's commercial account manager for the Pacific-Mountain region and has experience in architectural promotion as both a sales and architectural manager.
"With his proven success in sales, account and relationship management, Andre is a great fit for our key project sales program," said Nathan McKenna, director of marketing and innovation, Vitro Architectural Glass. "He's also bright, focused and great with follow-up. Best of all, he understands the challenges that our customers face – especially those with large quantities of glass for large-scale, increasingly complex projects."
Kenstowicz joined Vitro in 2012 and holds both a Bachelor of Arts degree and a Master of Arts degree from Clark University in Worcester, Massachusetts. Prior to becoming national architectural manager in 2016, he served as an international sales support representative and export compliance coordinator for the flat glass business in Pittsburgh. Kenstowicz also attended Universidad de Sevilla in Spain and is fluent in Spanish.
To learn more about products from Vitro Architectural Glass, visit www.vitroglazings.com or call 1-855-VTRO-GLS (887-6457).
About Vitro Architectural Glass
Vitro Architectural Glass, part of Vitro, S.A.B. de C.V. (BMV:VITROA), the largest company of its kind in the Americas, manufactures a range of industry-leading, energy-efficient products such as Solarban®, Sungate® and Starphire Ultra-Clear® glasses at U.S. plants in Carlisle, Pennsylvania; Fresno, California; Salem, Oregon; and Wichita Falls, Texas. Committed to sustainable manufacturing processes and products, the company also operates one of the world's largest glass research and development facilities in Pittsburgh and four residential glass fabrication plants in Canada. Upholding the values of "Together, We See Further" across the architectural, automotive and containers markets, Vitro strives to realize the power of partnership to ensure that projects meet or exceed ever-evolving sustainability expectations as well as glass requirements. For more information, please visit www.VitroGlass.com.
Media Contact:
Robert J. Struble
Vitro Architectural Glass
412-820-8138
rstruble@vitro.com
www.vitroglazings.com