Glass Act: Vitro Architectural Glass Installed in Aviary Wetlands Renovation Project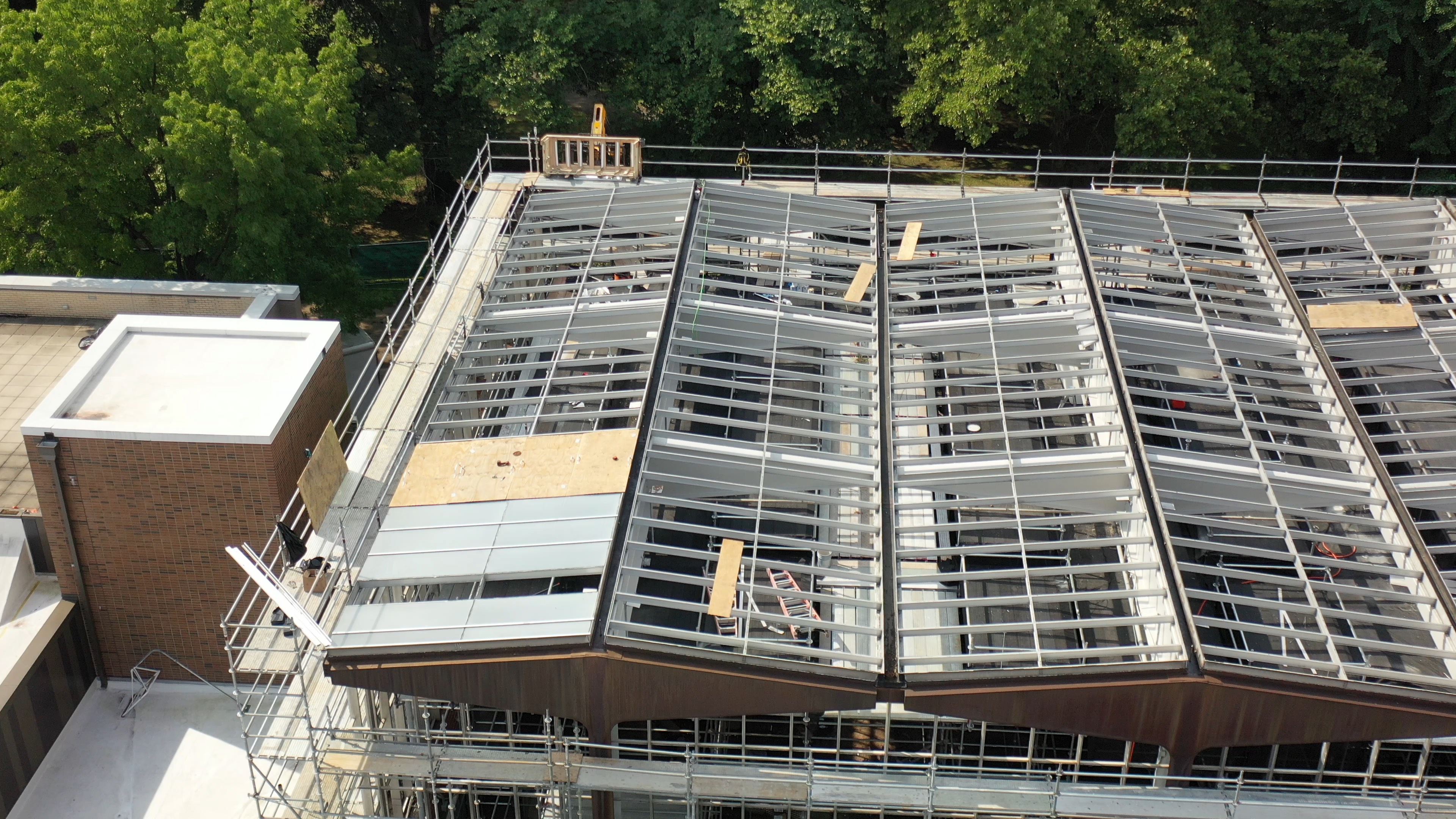 20,000 square feet of glass donated by Vitro Architectural Glass is being installed at the National Aviary
in Pittsburgh, Pa.
PITTSBURGH, PA  Aug. 16, 2022 — The National Aviary on Pittsburgh's North Side has begun to install 20,000 square feet of glass donated by Vitro Architectural Glass (formerly PPG Glass) as the renovation of its Wetlands habitat moves toward its planned late 2022 completion.
Vitro Architectural Glass is a contributing sponsor for the historic Wetlands restoration project. Opened in 1969, the Wetlands is a lush, tropical home to diverse species, from familiar favorites like American Flamingos and Brown Pelicans to lesser-known birds like Boat-billed Herons and Sunbitterns. It is also home to a number of species that are vulnerable to extinction, and its naturalistic features support the natural courting and nesting behaviors of species like the Endangered Scaly-sided Merganser.
Vitro's donation of more than 20,000 square feet of Starphire Ultra-Clear® glass for the project will provide comfort and beauty for the Wetlands' birds and the people who visit them.
Introduced in 1990 and manufactured in Carlisle, Pennsylvania, Starphire Ultra-Clear® glass is the clearest, most transparent commercial float glass available with visible light transmittance (VLT) of 91 percent in a standard ¼-inch (6 millimeter) thick lite.
A portion of the donated Starphire® glass will be AviProtek® glass created in conjunction with Walker Glass. An acid-etched pattern on the exterior surface of the glass will maximize glass visibility to birds and minimize the risk of collision. Walker also etched the non-AviProtek® Starphire® glass.
Ricardo Maiz, president, Vitro Architectural Glass, said sponsorship of the National Aviary project highlights Vitro Glass's commitment to their core values of community involvement and environmental protection.
"Vitro is proud of its longstanding relationship with the National Aviary, having, in the recent past, donated glass to the renovation of the Tropical Rainforest habitat and The Garden Room," said Maiz. "The Aviary is one of Pittsburgh's jewels and Vitro is honored to contribute the glass that will allow the Wetlands habitat to thrive for years to come."
Maiz added that the revamped Wetlands habitat will not only enhance the National Aviary's status as a
world-class attraction, but also further its mission to protect and care for birds and educate visitors about the vital role birds play in the life of the planet.
To learn more about Starphire Ultra-Clear® glass by Vitro Glass or AviProtek® glass manufactured in partnership with Walker Glass, visit www.vitroglazings.com or call (855) VTRO-GLS (887-6457).

About the National Aviary
The National Aviary is America's only independent indoor nonprofit zoo dedicated exclusively to birds. Located in Allegheny Commons Park on Pittsburgh's historic North Side, the National Aviary's diverse collection comprises more than 500 birds representing more than 150 species from around the world, many of them threatened or endangered in the wild. The National Aviary's large walk-through exhibits create an experience unlike any other – an intimate, up-close interaction between visitors and free-flying birds, including opportunities to hand-feed and meet many species rarely found in zoos anywhere else in the world.
About Vitro Architectural Glass
Vitro Architectural Glass, part of Vitro, S.A.B. de C.V. (BMV:VITROA), the largest company of its kind in the Americas, manufactures a range of industry-leading, energy-efficient products such as Solarban®, Sungate® and Starphire Ultra-Clear® glasses at U.S. plants in Carlisle, Pennsylvania; Fresno, California; Salem, Oregon; and Wichita Falls, Texas. Committed to sustainable manufacturing processes and products, the company also operates one of the world's largest glass research and development facilities in Pittsburgh and four residential glass fabrication plants in Canada. Upholding the values of "Together, We See Further" across the architectural, automotive and containers markets, Vitro strives to realize the power of partnership to ensure that projects meet or exceed ever-evolving sustainability expectations as well as glass requirements. For more information, please visit www.VitroGlass.com.
Media Contact:
Robert J. Struble
Vitro Architectural Glass
412-820-8138
rstruble@vitro.com
www.vitroglazings.com