High-performing enclosure of 663 S. Cooper Street boasts Solarban® 90 Glass by Vitro Architectural Glass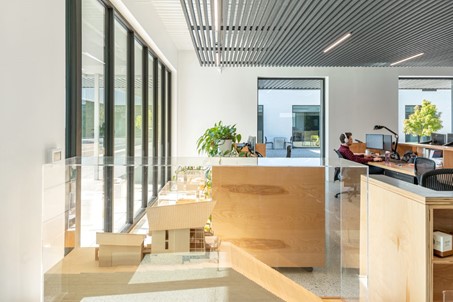 663 S. Cooper Street in Memphis, Tenn.
(Photography by Archimania)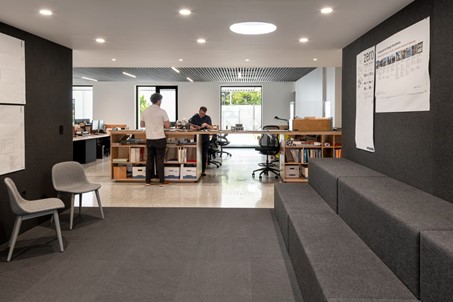 The design gives work areas access to multiple sources of
daylight  (Photography by Archimania)
PITTSBURGH, PA Dec. 6, 2022 — 663 S. Cooper Street, located in Memphis, Tennessee, can be found at the intersection of progressive and environmentally responsive. These forward-thinking approaches were top of mind for local owner/architect, Archimania, when the firm was planning to move its main office.
Rather than new construction, the organization understood the importance of upgrading existing building stock, so it renovated and reinvented 663 S. Cooper. What was once a dilapidated structure originally built in the late 1950s is now a modern, affordable carbon-neutral headquarters for Archimania.
To enhance its 10,000 square-foot, high-performing enclosure, Archimania carefully selected Solarban® 90 glass by Vitro Architectural Glass in a thermally broken storefront system for its high level of solar control performance and neutral aesthetics. In a one-inch insulating glass unit (IGU), Solarban® 90 glass delivers visible light transmittance (VLT) of 51% and a solar heat gain coefficient (SHGC) of 0.23.
Even though the window-to-wall ratio is a mere 18%, the floorplate design manages to deliver daylight and views to 100% of the building's work and collaboration spaces. In upcycling the mid-century building's original steel structure, masonry and terrazzo floors, a 67% reduction in embodied carbon helped the project achieve net-zero energy, net-zero carbon performance.
In August of 2022, the American Institute of Architects (AIA) Committee on the Environment (COTE®) announced 663 S. Cooper Street one of the top-10 green building projects of 2022. Four of the 10 award winners were glazed with Solarban® solar control, low-emissivity (low-e) glasses by Vitro.
Quite simply, 663 S. Cooper Street is an amazing adaptive reuse success.
For more information about Solarban® 90 glass and the rest of Vitro Glass's full line of architectural glasses, visit www.vitroglazings.com or call 1-855-VTRO-GLS (887-6457). Information on satisfying LEED® and other green building objectives with Vitro Glass products is available at www.vitroglazings.com/leed.
About Vitro Architectural Glass
Vitro Architectural Glass, part of Vitro, S.A.B. de C.V. (BMV:VITROA), the largest company of its kind in the Americas, manufactures a range of industry-leading, energy-efficient products such as Solarban®, Sungate® and Starphire Ultra-Clear® glasses at U.S. plants in Carlisle, Pennsylvania; Fresno, California; Salem, Oregon; and Wichita Falls, Texas. Committed to sustainable manufacturing processes and products, the company also operates one of the world's largest glass research and development facilities in Pittsburgh and four residential glass fabrication plants in Canada. Upholding the values of "Together, We See Further" across the architectural, automotive and containers markets, Vitro strives to realize the power of partnership to ensure that projects meet or exceed ever-evolving sustainability expectations as well as glass requirements. For more information, please visit www.VitroGlass.com.
Media Contact:
Robert J. Struble
Vitro Architectural Glass
412-820-8138
rstruble@vitro.com
www.vitroglazings.com