Karina Fuentes Joins Vitro Architectural Glass as a National Architectural Manager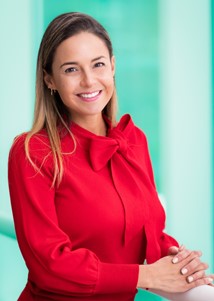 Karina Fuentes joins Vitro as a national
architectural manager for the Southeast region.
PITTSBURGH, PA May 3, 2023 – Vitro Architectural Glass (formerly PPG Glass) announced that Karina Fuentes has been appointed as a national architectural manager for the Southeast region, covering Florida, Georgia and Alabama. In this role, Fuentes will identify and manage key construction projects in these areas, as well as assist and advise architects through the product selection process.
"Karina's diverse experience in the glazing industry has resulted in a depth of knowledge about the market that is invaluable in a national architectural manager," said Annissa Flickinger, Architectural Development Team Manager for the East Region, Vitro Architectural Glass. "Additionally, Karina is committed to building successful, long-term relationships with architects in her region, while recommending the ideal Vitro glass products for their specific needs. We're thrilled to welcome her to our team."
Fuentes earned a bachelor's degree in industrial engineering from Jose Antonio Paez University in Carabobo, Venezuela, and a master's degree in entrepreneurial leadership from Babson College in Babson Park, Mass. Her previous experience includes serving as a sales account manager and customer service associate for major glass manufacturers in southern Florida and both co-founding and managing a commercial glass shop in Venezuela.
To learn more about products from Vitro Architectural Glass, visit www.vitroglazings.com or call 1-855-VTRO-GLS (887-6457).
About Vitro Architectural Glass
Vitro Architectural Glass, part of Vitro, S.A.B. de C.V. (BMV:VITROA), the largest company of its kind in the Americas, manufactures a range of industry-leading, energy-efficient products such as Solarban®, Sungate® and Starphire Ultra-Clear® glasses at U.S. plants in Carlisle, Pennsylvania; Fresno, California; Salem, Oregon; and Wichita Falls, Texas. Committed to sustainable manufacturing processes and products, the company also operates one of the world's largest glass research and development facilities in Pittsburgh and four residential glass fabrication plants in Canada. Upholding the values of "Together, We See Further" across the architectural, automotive and containers markets, Vitro strives to realize the power of partnership to ensure that projects meet or exceed ever-evolving sustainability expectations as well as glass requirements. For more information, please visit www.VitroGlass.com.
Media Contact:
Robert J. Struble
Vitro Architectural Glass
412-820-8138
rstruble@vitro.com
www.vitroglazings.com