Langone Medical Center makes creative use of textured Starphire Ultra-Clear® glass
Walker Textures® Velour glass elegantly shields rooftop mechanicals from view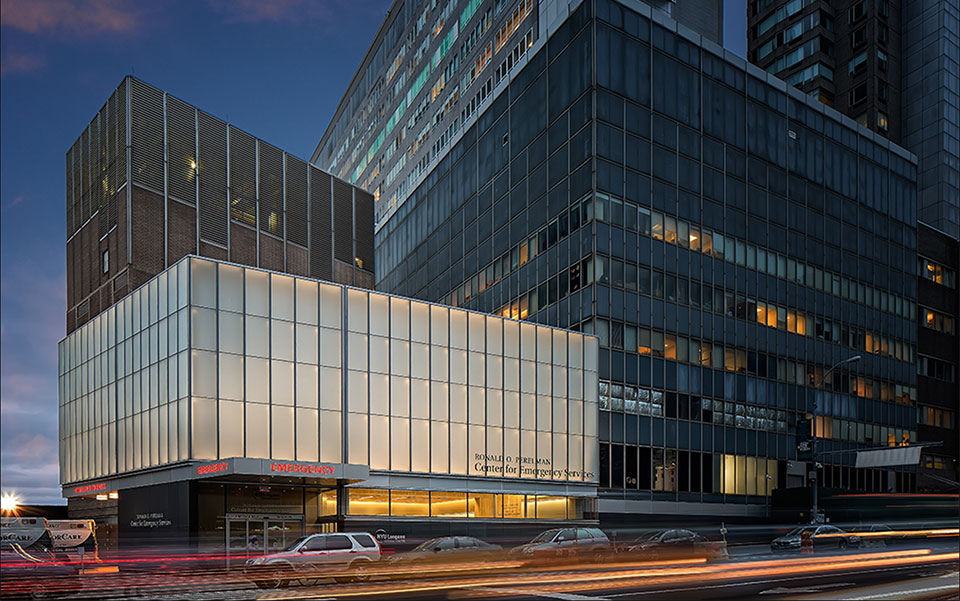 Scott G. Morris Photography
PITTSBURGH, Jan. 5, 2017 – A rooftop canopy featuring Walker Textures® Velour on Starphire Ultra-Clear® glass by Vitro Architectural Glass creates an ideal marriage of form and function on New York University's Langone Medical Center.
The architect firm of NBBJ worked with engineers JB&B to design the hospital's electrical, plumbing and air-handling systems, which were placed on the rooftop above the new entryway of the emergency department, where they are shrouded behind a translucent glass box. While the decision to install the mechanicals above the new addition was made prior to Hurricane Sandy, the choice proved prescient when the lower levels of the medical center were ravaged by floodwaters during the historic 2012 storm.
Applied to Starphire Ultra-Clear® glass by Vitro Glass, Walker Textures' Velour produces a smooth glass façade that looks opaque during the day and casts a soft glow on to the street after dark. For more information about the full line of Walker Textures® finishes available on Starphire Ultra-Clear® glass, visit walkerglass.com or www.vitroglazings.com.
Starphire Ultra-Clear® is a registered trademark owned by Vitro.
Walker Textures® is a registered trademark of Walker Glass Limited.
Editor's Note: High-resolution photography is available upon request.
Media Contacts:
Danik Dancause
Walker Glass
888-320-3030
danik@walkerglass.com
www.walkerglass.com
About Vitro Architectural Glass
Vitro Architectural Glass, part of Vitro, S.A.B. de C.V. (BMV:VITROA), the largest company of its kind in the Americas, manufactures a range of industry-leading, energy-efficient products such as Solarban®, Sungate® and Starphire Ultra-Clear® glasses at U.S. plants in Carlisle, Pennsylvania; Fresno, California; Salem, Oregon; and Wichita Falls, Texas. Committed to sustainable manufacturing processes and products, the company also operates one of the world's largest glass research and development facilities in Pittsburgh and four residential glass fabrication plants in Canada. Upholding the values of "Together, We See Further" across the architectural, automotive and containers markets, Vitro strives to realize the power of partnership to ensure that projects meet or exceed ever-evolving sustainability expectations as well as glass requirements. For more information, please visit www.VitroGlass.com.
Media Contact:
Robert J. Struble
Vitro Architectural Glass
412-820-8138
rstruble@vitro.com
www.vitroglazings.com