Portland Courthouse Delivers Crisp Views and Unrivaled Transparency with Solarban® 72 Starphire® Glass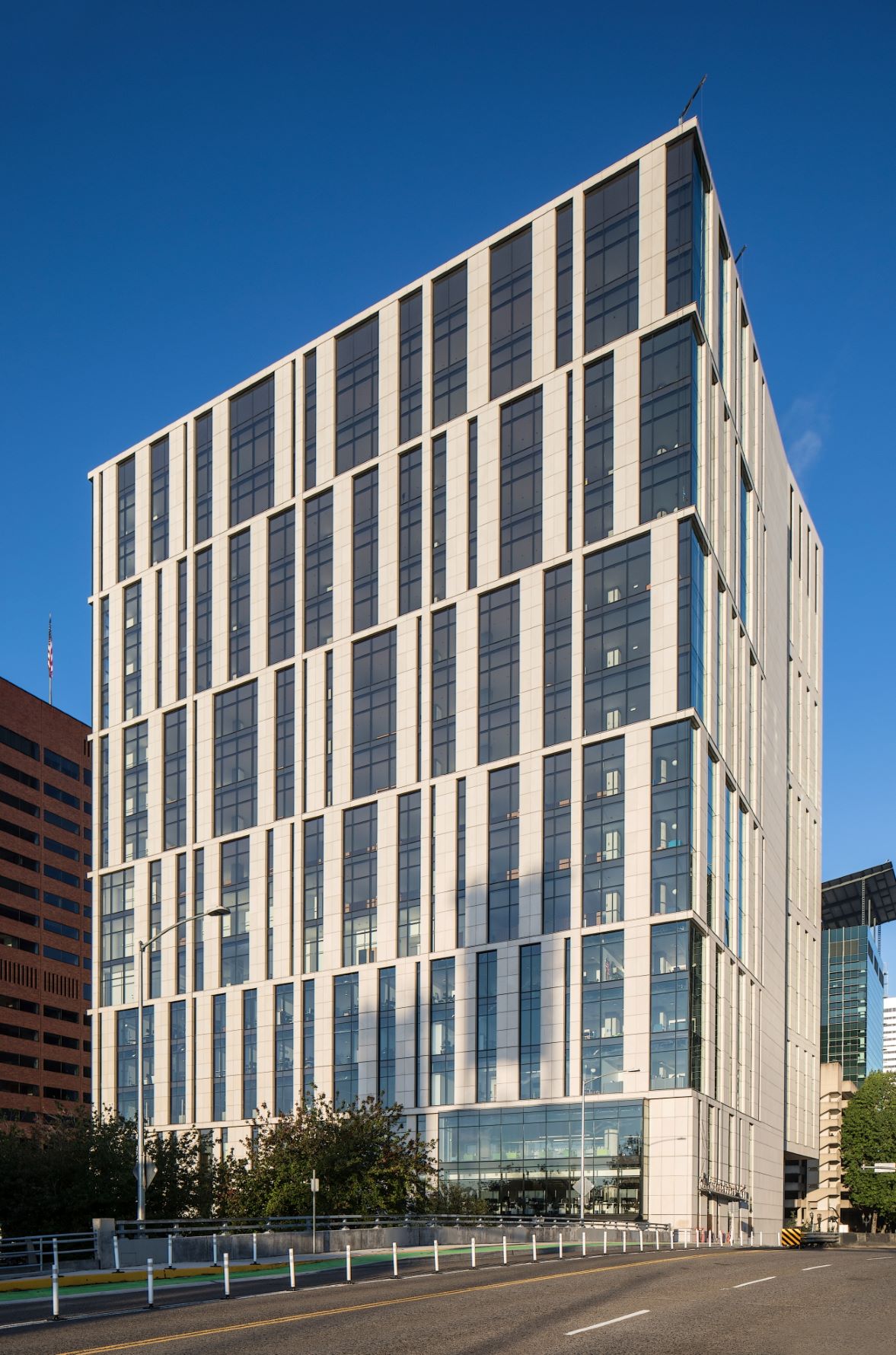 Photography by Tom Kessler 
PITTSBURGH, PA July 12, 2022 — Strips of Spanish limestone and curtainwall alternate to create a visually interesting façade for Portland's new 17-story Multnomah Courthouse. Designed with Solarban 72® Starphire® glass by Vitro Architectural Glass (formerly PPG Glass), the floor-to-ceiling windows welcome in daylighting and deliver beautiful vistas of Mt. Hood and the Willamette River.
As Bjorn Clouten, AIA, LEED® AP, Assoc. DBIA, a principal with the project's architect SRG Partnership told KPTV FOX 12 Oregon, the envelope design is meant to convey a sense of safety, openness and transparency.
Building occupants enter inside a spacious, light-filled and decorative lobby, reminiscent of an upscale hotel. "On each of the court floors, as you come up the elevator, you're drawn to the view of the river," said Clouten.
To deliver these crisp views, Solarban® 72 Starphire® glass was selected for its high visible light transmittance, exceptional clarity and superior solar control performance. In a standard one-inch insulating glass unit, Solarban® 72 Starphire® glass delivers visible light transmittance of 68% and a solar heat gain coefficient (SHGC) of 0.28.
The glazing played a key role in the architect's four-layered symbolic presentation of a courthouse. The building's interior displays the activity and energy taking place in the public spaces next to the courtrooms and the second layer of façade glass reinforces the transparent nature of justice. The third level is the structural, seismic design that represents stability and order, and the final layer showcases the irregularly-spaced glass and limestone panels symbolizing the people of the county.
An integrated project delivery model helped the team fine-tune the design and capture project efficiencies by onboarding key subcontractors early on. Working in partnership with Hoffman Construction Company, façade consultant RDH, glazing contractor Washington Window & Door and fabricator Oldcastle BuildingEnvelope – Schofield, the building team was able to produce BIM designs and build full-scale mock-ups for early owner and stakeholder review.
The LEED® Gold-certified 460,000 sq.-ft. building achieved Architecture 2030 carbon reduction targets with a carefully calculated window-to-wall ratio, high-performance building envelope, radiant heating and cooling, displacement ventilation and rooftop solar panels.
The design team engineered the façade together with a structural thermal mass. This enables the structure to capture the solar heat gain through the floor-to-ceiling windows on the building's east side. A radiant hydronic loop embedded in the concrete floor then absorbs the energy in the slab and redistributes it to the public spaces, thereby reducing heating loads on a clear winter morning by up to 20%.
For more information about Solarban 72® Starphire® glass and the rest of Vitro Glass's full line of
architectural glasses, visit www.vitroglazings.com or call 1-855-VTRO-GLS (887-6457).
About Vitro Architectural Glass
Vitro Architectural Glass, part of Vitro, S.A.B. de C.V. (BMV:VITROA), the largest company of its kind in the Americas, manufactures a range of industry-leading, energy-efficient products such as Solarban®, Sungate® and Starphire Ultra-Clear® glasses at U.S. plants in Carlisle, Pennsylvania; Fresno, California; Salem, Oregon; and Wichita Falls, Texas. Committed to sustainable manufacturing processes and products, the company also operates one of the world's largest glass research and development facilities in Pittsburgh and four residential glass fabrication plants in Canada. Upholding the values of "Together, We See Further" across the architectural, automotive and containers markets, Vitro strives to realize the power of partnership to ensure that projects meet or exceed ever-evolving sustainability expectations as well as glass requirements. For more information, please visit www.VitroGlass.com.
Media Contact:
Robert J. Struble
Vitro Architectural Glass
412-820-8138
rstruble@vitro.com
www.vitroglazings.com