Solarban® 70 glass helps Lafayette College Rockwell Integrated Sciences Center advance sustainability standards
Transparent, color-neutral glass maximizes daylighting and enhances aesthetics for state-of-the-art science, research space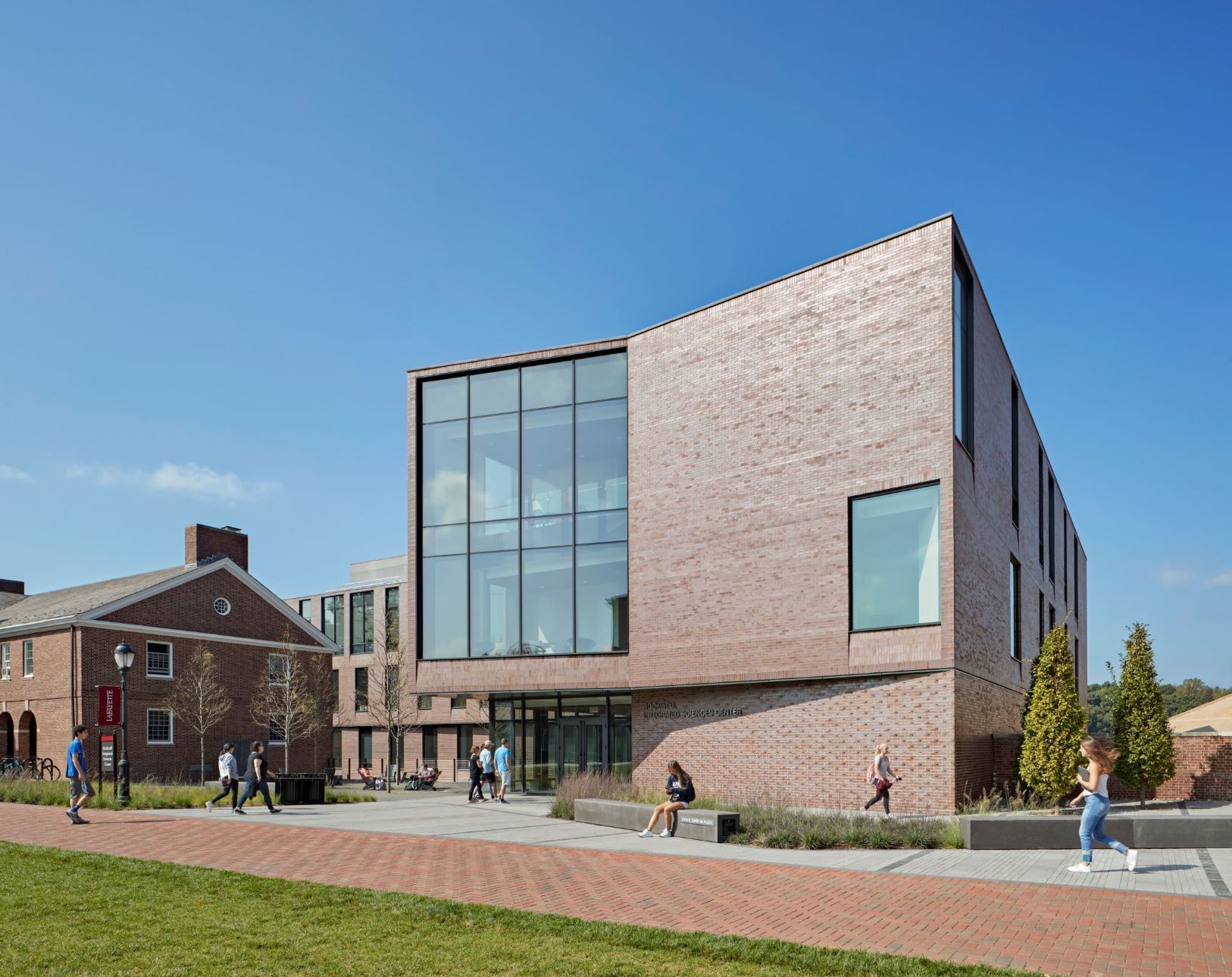 PITTSBURGH, April 12, 2022 — Since opening in 2019, the Lafayette College Rockwell Integrated Sciences Center has set the bar for sustainable design for campus buildings. LEED® certified at the Platinum level, the building received an American Institute of Architects (AIA) Committee on the Environment (COTE®) Top Ten award for sustainable design excellence and ranks in the 99th percentile for cold climate labs with an extremely low predicted energy use intensity (EUI) of 76 kBtu/sf/yr.
To achieve a net 40% reduction in operating carbon emissions compared to the existing biology building, and energy performance 73% below the Architecture 2030 baseline, Boston-based architecture firm Payette designed the facility to incorporate a super thermally efficient building envelope with a window-to-wall (WWR) ratio of just 24%. Despite that extremely low WWR, the design also delivers exterior views from 95% of the building and consistent daylight autonomy to 85% of the programmed space.
To enable this impressive feat, Mark Oldham, AIA, design principal, Payette specified Solarban® 70 glass by Vitro Architectural Glass (formerly PPG Glass) on one-inch tempered insulating glass units (IGUs) for strategically placed windows and curtainwall throughout the facility. "The glazing selected for the project needed to critically balance concurrent desires for good
transparency and high visible light transmission, a low solar heat gain coefficient, high U-value and low reflectivity," he explained.
With visible light transmittance (VLT) of 64%, a solar heat gain coefficient (SHGC) and center-of-glass U-value of 0.24, Solarban® 70 glass helps strike the right balance between form and function.
Another challenge was integrating the modern facility with the scale and style of the older buildings on the Easton, Pennsylvania campus. Taking advantage of the hill on which the building is sited, the center appears as a contextually appropriate, set-back three-story building with another two stories sloping into the hill.
All the openings were strategically placed. Curtainwall is used for the main entry and lower courtyard lobby; medium-sized windows were specified for the labs and classrooms; and smaller windows were designed for the offices.
"Placement of exterior windows was ultimately dictated by the building's lab planning module to maximize daylight and allow for windowsills to come to the floor, where desired compositionally and programmatically, or when driven by transparency goals," Oldham said. "In planning window placement and scale, we ensured offices and their smaller windows face away from campus, while lab spaces and the vertical commons and their associated transient program areas face campus, allowing for optimized transparency."
Portions of the glazing incorporate custom ceramic dot frit pattern in medium grey color to match spandrel glazing and meet bird-safe recommendations. In addition to the high-performance glazing, decoupling ventilation and air conditioning was a key strategy for driving down energy use.
Occupying 102,000 square-feet, the new Rockwell Integrated Sciences Center is Pennsylvania's first LEED® Platinum-certified academic science center. A wonderful new addition to the century-old, private liberal arts college, the facility supports the intellectual, social and personal growth of the school's 2,500 students by providing environmentally progressive and inspired spaces for study and congregation.
For more information about Solarban® 70 glass and the rest of Vitro Glass's full line of architectural glasses, visit www.vitroglazings.com or call 1-855-VTRO-GLS (887-6457).
About Vitro Architectural Glass
Vitro Architectural Glass, part of Vitro, S.A.B. de C.V. (BMV:VITROA), the largest company of its kind in the Americas, manufactures a range of industry-leading, energy-efficient products such as Solarban®, Sungate® and Starphire Ultra-Clear® glasses at U.S. plants in Carlisle, Pennsylvania; Fresno, California; Salem, Oregon; and Wichita Falls, Texas. Committed to sustainable manufacturing processes and products, the company also operates one of the world's largest glass research and development facilities in Pittsburgh and four residential glass fabrication plants in Canada. Upholding the values of "Together, We See Further" across the architectural, automotive and containers markets, Vitro strives to realize the power of partnership to ensure that projects meet or exceed ever-evolving sustainability expectations as well as glass requirements. For more information, please visit www.VitroGlass.com.
Media Contact:
Robert J. Struble
Vitro Architectural Glass
412-820-8138
rstruble@vitro.com
www.vitroglazings.com