Solarban® 70 glass supports net-zero energy design of Newport Beach's Environmental Nature Center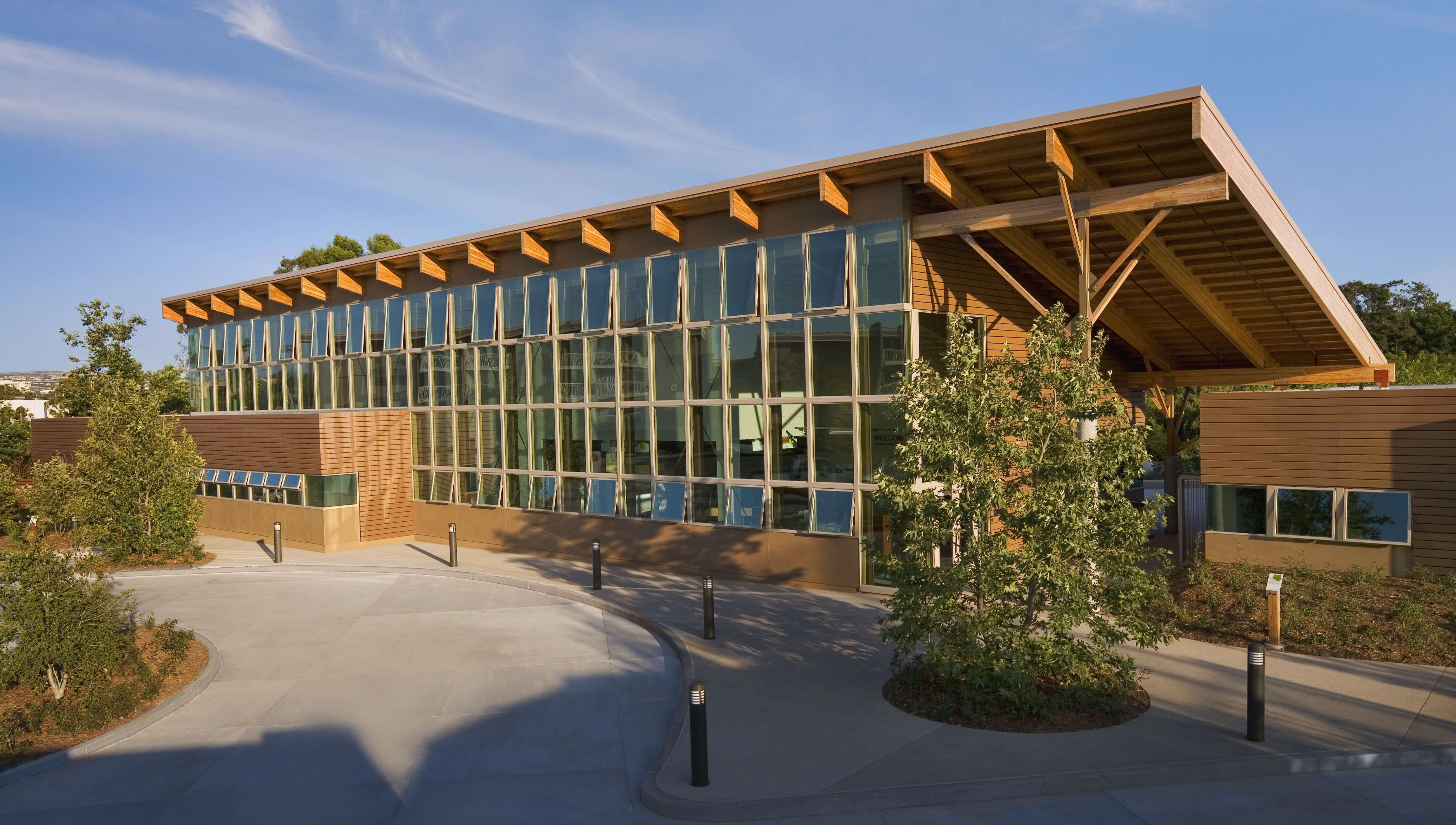 PITTSBURGH, February 25, 2021 — Solarban® 70 Atlantica® glass by Vitro Architectural Glass is among the advanced products that helped the Environmental Nature Center and Preschool (ENC) in Newport Beach, California, earn a coveted spot on the 2020 American Institute of Architects (AIA) Committee on the Environment (COTE®) Top Ten Awards list.
The LEED® Platinum Net Zero building, designed by LPA, Inc., Irvine, California, and currently pursuing Living Building Challenge (LBC) petal certification, incorporates operable and clerestory windows fabricated with Solarban® 70 Atlantica® glass to help meet stringent daylighting, energy and occupant comfort requirements.
"Performance was a primary concern," stated Rick DAmato FAIA, LEED AP, design director, workplace principal, LPA, Inc. "[We] generated an energy model to justify the design which was utilized for California's Title 24 compliance and for LEED and Living Building Challenge certification."
With its exceptional solar control, blocking nearly 80% of the sun's heat energy while letting in high levels of daylighting, Solarban® 70 Atlantica® glass helped reduce the school's Energy Use Intensity (EUI) by more than 100% compared to the national average for preschool/daycare building types.
In addition to the operable windows, the building's low energy footprint is further supported by large sliding doors, also made with Solarban® 70 Atlantica® glass, which capitalize on Southern California's mild climate, enabling natural ventilation year-round. A 32-kW rooftop photovoltaic array provides 105% of the net energy for the preschool's electrical needs.
Having specified Solarban® 70 glass with emerald-green Atlantica® glass for the center's original building in 2008, LPA chose the same glass make-up to match its new 8,000-square-foot, three-classroom facility.
"The original ENC we designed achieved LEED Platinum certification, so we were challenged to repeat this achievement and surpass it with the new project," added DAmato. "The glass helps with building's NZE (net-zero energy) pursuit through the efficiency and orientation for daylighting and occupant views."
Surrounded by trees, playgrounds and a rock garden, Solarban® 70 Atlantica® glass offers views to the outdoors in addition to ambient classroom lighting and contributes to the building envelope's exceptional energy performance.
Once LBC certification is complete, together with its LEED Platinum Net Zero distinction, ENC is on track to become one of the first projects in the region to achieve such high levels of distinction for sustainability.
For more information about Solarban® 70 Atlantica® glass and the rest of Vitro Glass's full line of architectural glasses, visit www.vitroglazings.com or call 1-855-VTRO-GLS (887-6457).
Solarban® and Atlantica® are registered trademarks owned by Vitro. Vitro Certified™ is a trademark owned by Vitro.
About Vitro Architectural Glass
Vitro Architectural Glass, part of Vitro, S.A.B. de C.V. (BMV:VITROA), the largest company of its kind in the Americas, manufactures a range of industry-leading, energy-efficient products such as Solarban®, Sungate® and Starphire Ultra-Clear® glasses at U.S. plants in Carlisle, Pennsylvania; Fresno, California; Salem, Oregon; and Wichita Falls, Texas. Committed to sustainable manufacturing processes and products, the company also operates one of the world's largest glass research and development facilities in Pittsburgh and four residential glass fabrication plants in Canada. Upholding the values of "Together, We See Further" across the architectural, automotive and containers markets, Vitro strives to realize the power of partnership to ensure that projects meet or exceed ever-evolving sustainability expectations as well as glass requirements. For more information, please visit www.VitroGlass.com.
Media Contact:
Robert J. Struble
Vitro Architectural Glass
412-820-8138
rstruble@vitro.com
www.vitroglazings.com