Solarban® 72, Acuity™ low-iron glasses shine at revitalized Pittsburgh Produce Terminal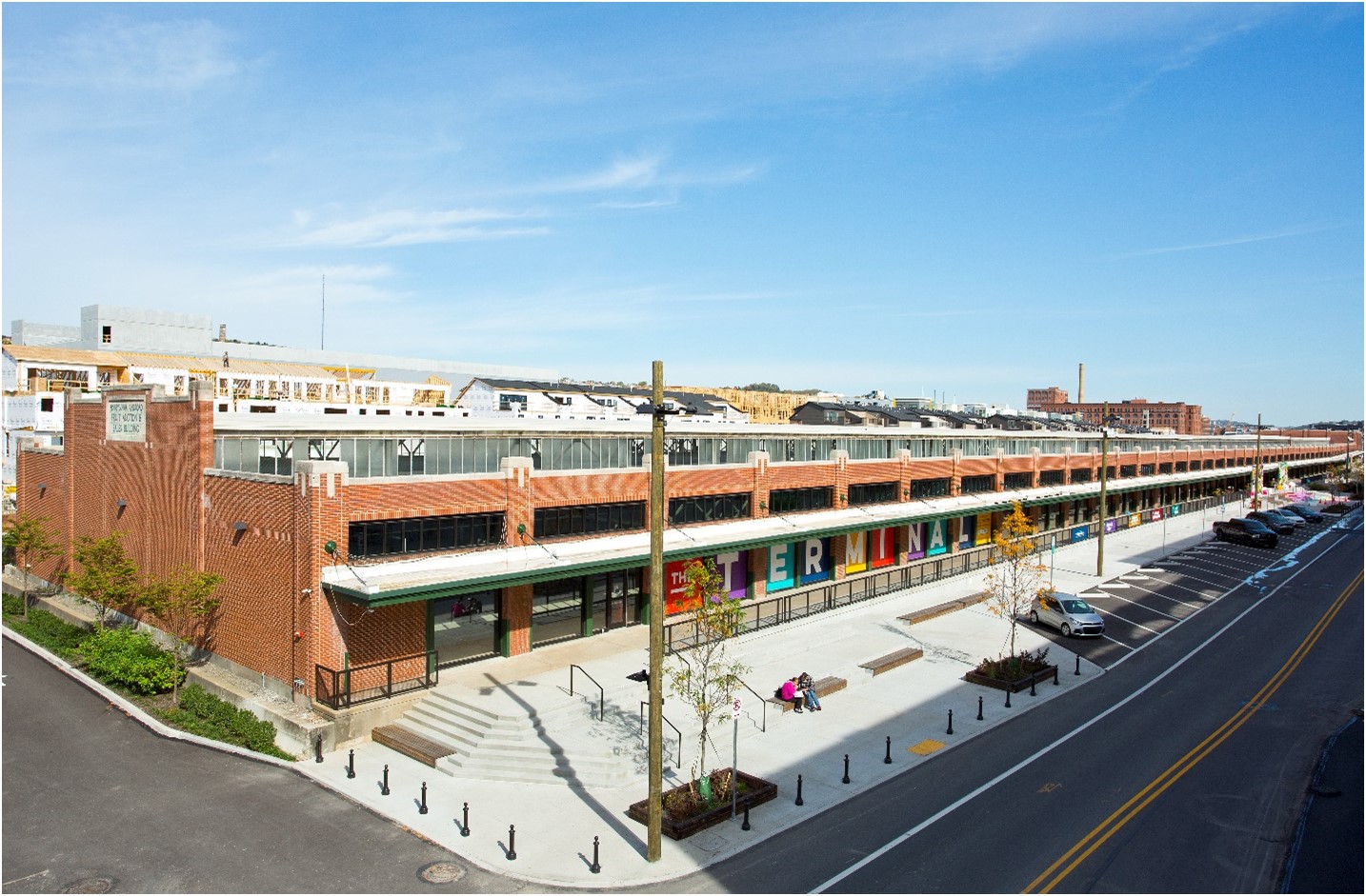 PITTSBURGH, April 14, 2021 —
Located in the heart of the city's popular Strip District neighborhood, the Pittsburgh Produce Terminal sat vacant and ignored for decades. But today, the historic five-block structure—now rehabilitated with Acuity™ low-iron glass and Solarban® 72 glass with an Acuity™ glass interior lite—is a beacon of creativity and innovation in the Steel City.
Manufactured by Pittsburgh-based Vitro Architectural Glass, Solarban® 72 and Acuity™ glasses combine to offer an exceptional mix of transparency, color-neutrality, solar control and visible light transmittance (VLT) that made it ideal for the revamped terminal's needs.
"Playing a key role in the revitalization of the Pittsburgh Produce Terminal was a tremendous honor," said Julia Giba, manager, Vitro Concierge Program™, who worked with United Plate Glass (UPG), a glass fabricator in nearby Butler, Pennsylvania, to supply the project. "We were able to work as a team to reserve and deliver the raw glass as it needed to be coated, ensuring a smooth, successful collaboration."
The glazing contractor was Specified Systems in Canonsburg, Pennsylvania.
Antunovich Associates—an architectural, planning and interior design firm with extensive experience in historic preservation, adaptive re-use and mixed-use projects—worked with Chicago-based McCaffery Interests starting in June 2019 to return the terminal's exterior to its original condition while repairing and restoring the interior structure. Industrial wood bi-fold doors were replaced with the new commercial glass storefronts, and passageways were cut through the building to connect the neighborhood with the Allegheny Riverfront Development.
Dan McCaffery, chief executive officer, McCaffery Interests, said the goal was to collaborate with Antunovich Associates to transform the terminal into a central hub again for the citizens of Pittsburgh. "We crafted a mixed-use vision for the historic building that will restore its energy and vitality to once again make it a commercial, people-centric destination," he explained.
Due to its clarity, consistency and solar control performance, Solarban® 72 glass has become the most specified triple-silver-coated glass in the industry, with more than 300 million square-feet shipped in the past 10 years. When coupled with Acuity™ low-iron glass in a one-inch insulating glass unit (IGU), Solarban® 72 glass offers VLT of 67% and a solar heat gain coefficient (SHGC) of 0.28.
Specially engineered for vision glazings, Acuity™ glass can function as a substrate for Solarban® low-e coatings or as a highly clear glass lite in insulating or laminated glass units.
In addition to office buildings, institutions, hotels and schools, Acuity™ glass can be specified for exterior applications from luxury condominiums and mixed-use buildings to entrances and storefronts. It also is ideal for distinctive exterior applications such as atriums, skylights and spandrel glass.
The Pittsburgh Produce Terminal offers a mix of retail, dining and office space, with an emphasis on local and contemporary art. Tenants include Fine Wine & Good Spirits, District Brew Yard, City Grows and OnPar Now. The 163,500-square-foot space includes pedestrian passageways that connect to a riverfront trail.
For more information about Solarban® 72 and Acuity™ glasses, as well as Vitro Glass's full line of architectural glasses, visit www.vitroglazings.com or call 1-855-VTRO-GLS (887-6457).
Solarban® is a registered trademark owned by Vitro. Acuity™ and Vitro Concierge Program™ are trademarks owned by Vitro.
LEED®— an acronym for Leadership in Energy and Environmental Design™—is a registered trademark of the U.S. Green Building Council®.
About Vitro Architectural Glass
Vitro Architectural Glass, part of Vitro, S.A.B. de C.V. (BMV:VITROA), the largest company of its kind in the Americas, manufactures a range of industry-leading, energy-efficient products such as Solarban®, Sungate® and Starphire Ultra-Clear® glasses at U.S. plants in Carlisle, Pennsylvania; Fresno, California; Salem, Oregon; and Wichita Falls, Texas. Committed to sustainable manufacturing processes and products, the company also operates one of the world's largest glass research and development facilities in Pittsburgh and four residential glass fabrication plants in Canada. Upholding the values of "Together, We See Further" across the architectural, automotive and containers markets, Vitro strives to realize the power of partnership to ensure that projects meet or exceed ever-evolving sustainability expectations as well as glass requirements. For more information, please visit www.VitroGlass.com.
Media Contact:
Robert J. Struble
Vitro Architectural Glass
412-820-8138
rstruble@vitro.com
www.vitroglazings.com