Solarban® 90 glass adds drama, performance to Westin Irving Convention Center Hotel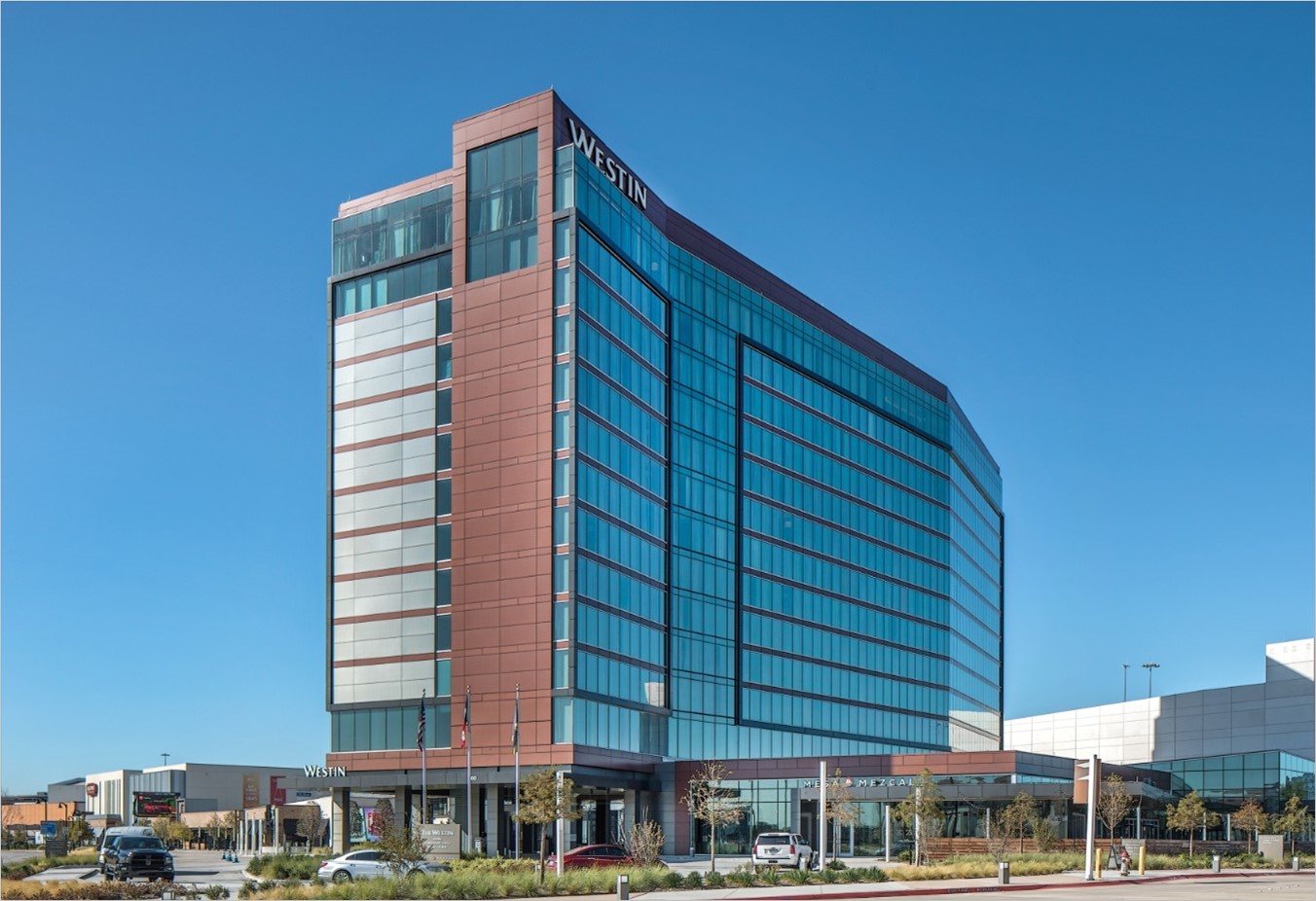 PITTSBURGH, January 7, 2020 — Ideally located in the heart of Dallas-Fort Worth, between DFW International Airport and Love Field, the new 13-story Westin Irving Convention Center Hotel at Las Colinas features a distinctly angled rectangular form clad in curtainwall.
Seeking occupant comfort and energy cooling efficiencies for the LEED® Silver-certified facility, BOKA Powell Architects selected Solarban® 90 clear glass by Vitro Architectural Glass for the distinctive 12-story curtainwall glazing and spandrel.
"Expansive glazing in the public areas and guest rooms allowed maximum daylight transmission and tied the outside to the building interior," explained Brooks Powell, senior associate, BOKA Powell Architects, Dallas.
Directly adjacent to the existing Irving Convention Center and just north of the planned Music Factory mixed-use development, the hotel is integral to a significant public-private partnership for the City of Irving. Its desire for the development's signature hotel to have a decidedly Class A appearance helped inform the architect's striking façade and glazing design, which also offers guests sweeping views of the city's skyline and Lake Carolyn.
"The geometry of the unitized curtainwall system framed by copper and dark grey ACM panels translates the angularity and drama of the adjacent Irving Convention Center into an efficient double-loaded tower mass," stated Powell.
To support a higher window-to-wall ratio in Texas' characteristically hot climate, high-performance glazing was essential. As BOKA Powell evaluated their options based on performance, aesthetics, availability and cost, Solarban® 90 glass emerged as the most suitable glass system for the 350-room convention center hotel and its 16,000 square feet of meeting space.
Filtering out a high percentage of solar energy, Solarban® 90 glass offers a solar heat gain coefficient (SHGC) of 0.23 when paired with conventional clear glass in a 1-inch insulating glass unit (IGU). The glass also has exterior reflectivity of just 12% and visible light transmittance (VLT) of 51%, which together produce a neutral-toned façade with a pleasant, subtle gray tint.
"The enhanced performance of today's glazing systems [like those with Solarban® 90 glass] allows us to design more transparent buildings that create better interior environments for guests while rejecting heat and reducing overall energy consumption for cooling," added Powell.
Tristar Glass, a member of the Vitro Certified™ Network, did the glass fabrication work. Austin-Commercial served as the design-builder.
For more information about Solarban® 90 glass and the rest of Vitro Glass's full line of architectural glasses, visit www.vitroglazings.com or call 1-855-VTRO-GLS (887-6457).
Solarban® is a registered trademark owned by Vitro. Vitro Certified™ is a trademark owned by Vitro. 
LEED™—an acronym for Leadership in Energy and Environmental Design™—is a registered trademark of the U.S. Green Building.
About Vitro Architectural Glass
Vitro Architectural Glass, part of Vitro, S.A.B. de C.V. (BMV:VITROA), the largest company of its kind in the Americas, manufactures a range of industry-leading, energy-efficient products such as Solarban®, Sungate® and Starphire Ultra-Clear® glasses at U.S. plants in Carlisle, Pennsylvania; Fresno, California; Salem, Oregon; and Wichita Falls, Texas. Committed to sustainable manufacturing processes and products, the company also operates one of the world's largest glass research and development facilities in Pittsburgh and four residential glass fabrication plants in Canada. Upholding the values of "Together, We See Further" across the architectural, automotive and containers markets, Vitro strives to realize the power of partnership to ensure that projects meet or exceed ever-evolving sustainability expectations as well as glass requirements. For more information, please visit www.VitroGlass.com.
Media Contact:
Robert J. Struble
Vitro Architectural Glass
412-820-8138
rstruble@vitro.com
www.vitroglazings.com