Solarban® glass enhances sustainable design of Swarthmore College buildings
Vitro Architectural Glass products promote daylighting, energy performance for buildings at Swarthmore College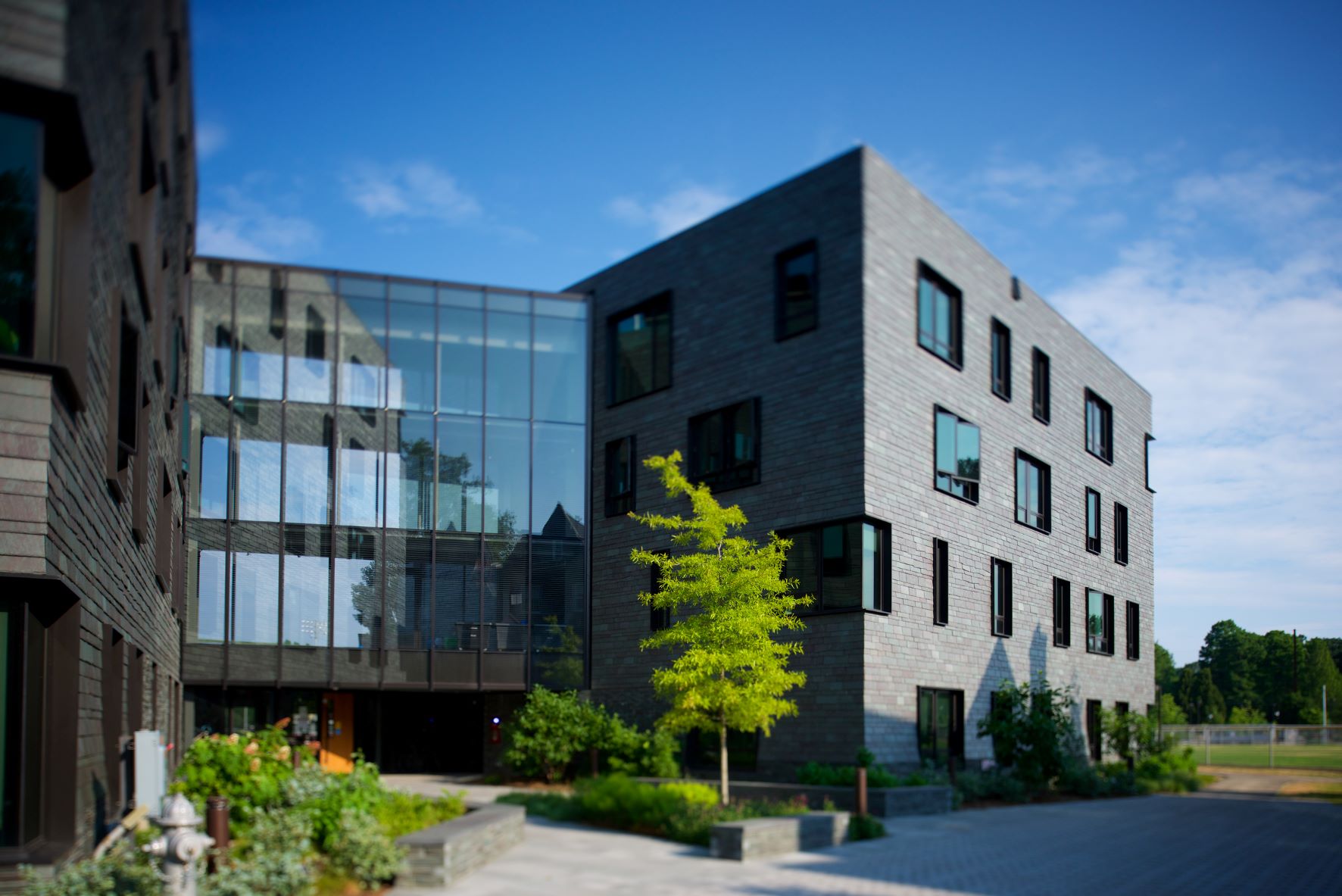 The PPR Apartments at Swarthmore College. Photography by Andy Shelter
PITTSBURGH, August 31, 2021 — Vitro Architectural Glass and Walker Glass recently teamed up to provide AviProtek® E bird-safe glass for three new buildings on the campus of Swarthmore College: The Whittier Hall pavilion, The PPR Apartments at Swarthmore and The Maxine Frank Singer Hall.
Heated via geothermal energy, The PPR Apartments at Swarthmore's suite-style living spaces are located near downtown Swarthmore, a short distance from local eateries and shops. As one of the first projects constructed under Swarthmore College's new sustainability framework standards, AviProtek® E bird-safe glass by Walker glass was combined with Solarban® 67 glass by Vitro Architectural Glass (formerly PPG Glass) to enhance the eco-friendly character of the PPR Apartments.
In a standard 1-inch insulating glass unit (IGU), Solarban® 67 glass provides a solar heat gain coefficient (SHGC) of 0.29 and visible light transmittance (VLT) of 54% to deliver abundant daylight while reducing loads for artificial heating and cooling. The glass also provides clear views of the Swarthmore College campus, which further enhances its connection to the community.
Designed for Swarthmore College's art department, the 19,000-square-foot Whittier Hall pavilion features overhead skylights that provide natural lighting for the painting and drawing studios. The building also houses studios designed for sculpture and ceramics work, along with a student workspace and an outdoor sculpture garden.
A signature element of the pavilion is a glass curtainwall that unites bird-friendly AviProtek® E patterns acid-etched on Solarban® 60 solar control, low-e glass by Vitro Glass. In addition to providing a safer environment for the school's abundant bird population, the curtainwall delivers year-round heating and cooling cost savings. Even finished with Walker Glass's bird-friendly acid-etched patterns, Solarban® 60 glass provides a solar heat gain coefficient (SHGC) of 0.39 while allowing 70% of its visible light to pass through. Whittier Hall also incorporates sunshades to further reduce solar heat gain, a photovoltaic array for electricity generation and a large geothermal well field for heating and cooling.
The Maxine Frank Singer Hall, built to honor molecular biologist Maxine Singer, also features bird-friendly AviProtek® E patterns acid-etched on Solarban® 60 solar control, low-e glass by Vitro Glass. This expanded building houses new engineering and science facilities for Swarthmore College students and includes flexible classrooms, as well as enhanced indoor and outdoor common spaces.
AviProtek® E bird-safe low-e glass by Walker Glass helps architects and building owners to achieve their environmental goals, earn LEED® credits and meet solar-performance targets. The only bird-safe glass product available with an Environmental Product Declaration (EPD), the product features a selection of patterns that can be applied as horizontal, vertical or decorative visual markers on the first (exterior) surface of clear, Acuity™ low-iron and Starphire Ultra-Clear® glass substrates by Vitro Glass; and with Solarban® 60 glass or Solarban® 70 glass on the second (interior) surface of an IGU.
For additional information about Solarban® 60 and Solarban® 67 glasses and Vitro Glass's full line of architectural glasses, visit www.vitroglazings.com or call 1-855-VTRO-GLS (887-6457).
Solarban® and Starphire Ultra-Clear® are registered trademarks owned by Vitro. Acuity™ and Vitro Certified™ are trademarks owned by Vitro.
AviProtek® is a registered trademark owned by Walker Glass.
LEED® is an acronym for Leadership in Energy and Environmental Design and a registered trademark of the U.S. Green Building Council.
About Vitro Architectural Glass
Vitro Architectural Glass, part of Vitro, S.A.B. de C.V. (BMV:VITROA), the largest company of its kind in the Americas, manufactures a range of industry-leading, energy-efficient products such as Solarban®, Sungate® and Starphire Ultra-Clear® glasses at U.S. plants in Carlisle, Pennsylvania; Fresno, California; Salem, Oregon; and Wichita Falls, Texas. Committed to sustainable manufacturing processes and products, the company also operates one of the world's largest glass research and development facilities in Pittsburgh and four residential glass fabrication plants in Canada. Upholding the values of "Together, We See Further" across the architectural, automotive and containers markets, Vitro strives to realize the power of partnership to ensure that projects meet or exceed ever-evolving sustainability expectations as well as glass requirements. For more information, please visit www.VitroGlass.com.
Media Contact:
Robert J. Struble
Vitro Architectural Glass
412-820-8138
rstruble@vitro.com
www.vitroglazings.com