Solarban® R67 Optigray® glass helps new Rolex Tower harmonize with nature
Dallas tower features rotating shape that rises from natural environment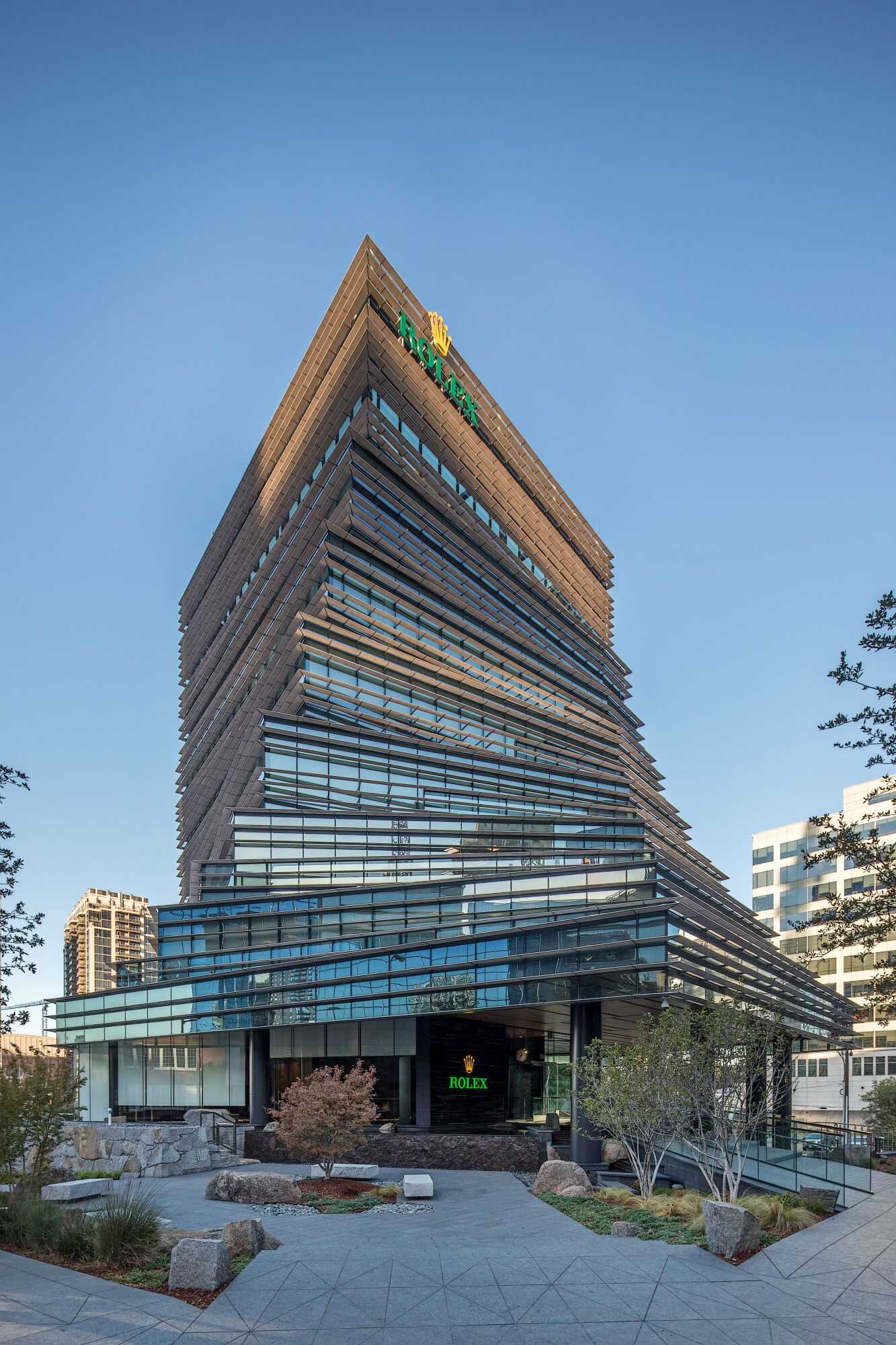 Photography by Tom Kessler
PITTSBURGH, Dec. 3, 2020 – For over a century, Rolex watches have been recognized as classic timepieces that feature high-quality design and precision timekeeping. When it came time for the historic company to expand to a new office tower in downtown Dallas, it was only fitting that the new space reflected its values. Rolex Tower accomplished its ambitious design goals with an eye-catching façade that features Solarban® R67 (formerly Solarban® 67) Optigray® glass by Vitro Architectural Glass (formerly PPG Glass).
Designed by Kengo Kuma & Associates of Tokyo and Harwood Design Factory (HDF) of Dallas, Rolex Tower rises from a multi-tiered garden of reflective pools, native plantings and a hand-chiseled quarry stone wall that connect the company's new headquarters to the natural environment. This eight-story structure is abruptly staggered to maximize daylighting and city views and to accommodate its expanded outdoor terraces and garden sanctuaries.
Rolex Tower achieves its captivating shape largely through its concrete and stone construction, but Solarban® R67 Optigray® glass plays a major role in accomplishing its striking fusion of nature and architecture. According to Gregory A. Oehlers, executive director of architectural sales for Tristar Glass, Solarban® R67 Optigray® glass was selected for the project because of its ability to enhance views while harmonizing with the landscaping and foliage around the tower.
"Solarban® R67 Optigray® glass possesses a very soft blue-gray exterior color, which is very pleasing to the eye," Oehlers explained. "It also has low exterior reflectivity and it is extremely energy-efficient, which suited the architect's penchant for sustainable design."
Optigray® glass is specially formulated to function as a substrate with Solarban® solar control low‑e coatings, which provide excellent solar control performance and transmit and reflect colors with remarkably crisp fidelity. When topped with a Solarban® R67 glass coating in a 1-inch insulating glass (IGU) with clear glass, Optigray® glass offers visible light transmittance (VLT) of 38% and a solar gain coefficient (SHGC) of 0.24.
Tristar Glass, a member of the Vitro Certified™ Network from Grand Prairie, Texas, was the glass fabricator for Rolex Tower. The company collaborated with curtainwall engineer Southern Glass and Mirror (SMG) through the Vitro Concierge Program™ to ensure timely glass delivery, which was sequenced to match the installation schedule.
To learn more about Solarban® R67 Optigray® glass and the full range of aesthetic and performance options available from Vitro Glass, visit www.vitroglazings.com or call 1-855-VTRO-GLS.
Editor's note: High-resolution photography is available upon request.
Solarban®, Starphire® and Starphire Ultra-Clear® are registered trademarks owned by Vitro. Vitro Certified™ is a trademark owned by Vitro. LEED—an acronym for Leadership in Energy and Environmental Design™—is a registered trademark of the U.S. Green Building Council®.
About Vitro Architectural Glass
Vitro Architectural Glass, part of Vitro, S.A.B. de C.V. (BMV:VITROA), the largest company of its kind in the Americas, manufactures a range of industry-leading, energy-efficient products such as Solarban®, Sungate® and Starphire Ultra-Clear® glasses at U.S. plants in Carlisle, Pennsylvania; Fresno, California; Salem, Oregon; and Wichita Falls, Texas. Committed to sustainable manufacturing processes and products, the company also operates one of the world's largest glass research and development facilities in Pittsburgh and four residential glass fabrication plants in Canada. Upholding the values of "Together, We See Further" across the architectural, automotive and containers markets, Vitro strives to realize the power of partnership to ensure that projects meet or exceed ever-evolving sustainability expectations as well as glass requirements. For more information, please visit www.VitroGlass.com.
Media Contact:
Robert J. Struble
Vitro Architectural Glass
412-820-8138
rstruble@vitro.com
www.vitroglazings.com