Starphire Ultra-Clear® glass provides pristine ocean views at Asbury Ocean Club
Luxury hotel and condo's floor-to-ceiling windows and balconies glazed with premium low-iron glass.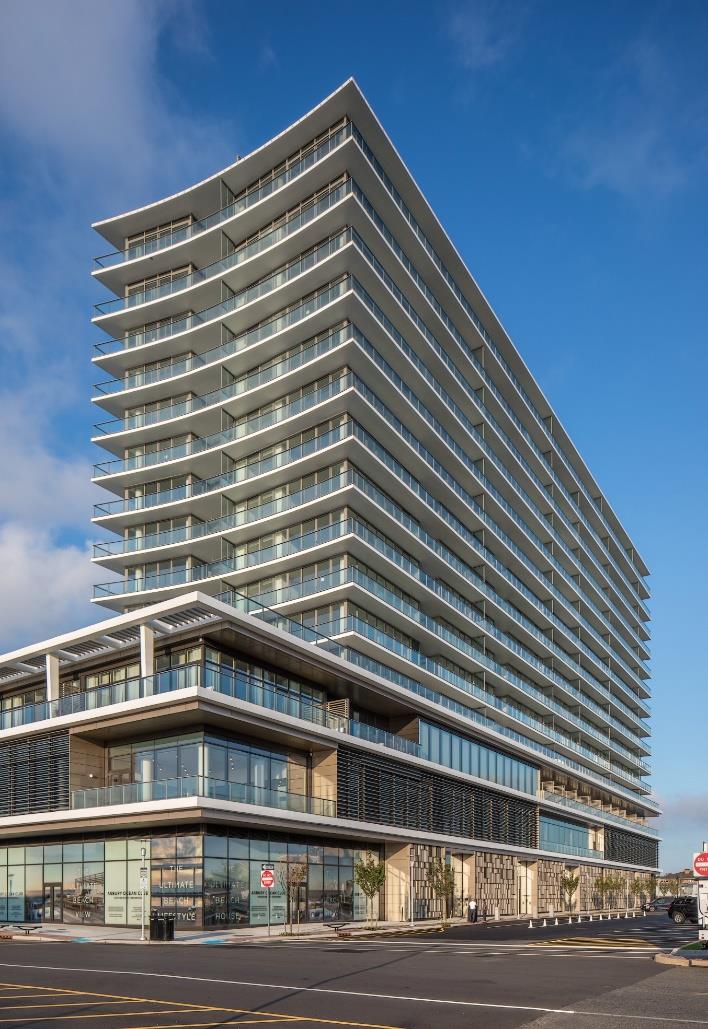 Photography by Tom Kessler
PITTSBURGH, Nov. 23, 2020 – Situated on the Asbury Park, New Jersey, boardwalk, Asbury Ocean Club renders beach house design sensibilities into the form of a luxury high-rise. The 17-story glass and steel tower overlooks the Atlantic Ocean on the resort town's bustling waterfront, employing extended, walkaround balconies to accentuate horizontal, panoramic views — all made possible by Starphire Ultra-Clear® glass by Vitro Architectural Glass (formerly PPG Glass).
Designed by Handel Architects in New York City, the tower features a curved façade that mirrors the curvature of the shoreline. Part hotel, part luxury apartment building, each unit features generous expanses of floor-to-ceiling windows glazed with Solarban® 72 Starphire® low-emissivity (low-e), low-iron glass, as well as balcony enclosures fabricated with uncoated Starphire® glass.
According to Handel Architects, simplicity in design and material choice — concrete and glass with wood accents — was key to creating a luxurious aesthetic that was "open, light and airy." For the glass specification, maximizing transparency while minimizing reflectivity were critical in maintaining both daytime and nighttime views. Meanwhile, with such large expanses of glass facing the ocean to the east, it was also important to keep solar heat gain at bay. These design requirements made low-e-coated and uncoated Starphire® glass clear choices.
In a 1-inch insulating glass unit (IGU), Solarban® 72 Starphire® glass delivers visible light transmittance (VLT) of 68%, a solar heat gain coefficient (SHGC) of 0.28, as well as exterior and interior reflectance of 13% and 14%, respectively. Meanwhile, even at a thickness of ½-inch, the monolithic Starphire® glass balcony enclosures showcase VLT of 90%, as well as exterior and interior reflectance of only 8%. Unlike conventional clear glasses and many other low-iron glasses, Starphire® glass's surface clarity and signature blue edge become more apparent at higher thicknesses, maintaining its signature clear aesthetic.
J.E. Berkowitz, a member of the Vitro Certified™ Network, fabricated the floor-to-ceiling windows and balcony glass. Smooth, timely installation was made possible by close collaboration between partnering glazing contractors Architectural Windows, which assembled the glazing units, and Metro Glass, Inc., which installed the glass.
To learn more about Starphire Ultra-Clear® glass and the full range of aesthetic and performance options available from Vitro Glass, visit www.vitroglazings.com or call 1-855-VTRO-GLS.

Editor's note: High-resolution photography is available upon request.
Solarban®, Starphire® and Starphire Ultra-Clear® are registered trademarks owned by Vitro. Vitro Certified™ is a trademark owned by Vitro. LEED®—an acronym for Leadership in Energy and Environmental Design™—is a registered trademark of the U.S. Green Building Council®.
About Vitro Architectural Glass
Vitro Architectural Glass, part of Vitro, S.A.B. de C.V. (BMV:VITROA), the largest company of its kind in the Americas, manufactures a range of industry-leading, energy-efficient products such as Solarban®, Sungate® and Starphire Ultra-Clear® glasses at U.S. plants in Carlisle, Pennsylvania; Fresno, California; Salem, Oregon; and Wichita Falls, Texas. Committed to sustainable manufacturing processes and products, the company also operates one of the world's largest glass research and development facilities in Pittsburgh and four residential glass fabrication plants in Canada. Upholding the values of "Together, We See Further" across the architectural, automotive and containers markets, Vitro strives to realize the power of partnership to ensure that projects meet or exceed ever-evolving sustainability expectations as well as glass requirements. For more information, please visit www.VitroGlass.com.
Media Contact:
Robert J. Struble
Vitro Architectural Glass
412-820-8138
rstruble@vitro.com
www.vitroglazings.com