Vitro Architectural Glass Champions Landmark Pittsburgh Glass Center Expansion
PITTSBURGH, PA March 8, 2023 — As a longstanding partner of Pittsburgh Glass Center (PGC) – a nonprofit, public-access glass education center and studio in Pittsburgh's East End – Vitro Architectural Glass (formerly PPG Glass) announced that it will be donating glass for PGC's landmark expansion set to begin on March 23, 2023.
To provide supreme aesthetics, clarity, and solar control and insulating performance for the renovation, Vitro's donation includes Solarban® 72 Starphire® glass and VacuMax™ Vacuum Insulating Glass (VIG). This marks the first Pittsburgh-area project to include VacuMax™ Vacuum Insulating Glass (VIG). Additional partners on this project include glass fabricator, United Plate Glass, and glazier, Southwest Aluminum & Glass Co., Inc., both located in Western Pennsylvania.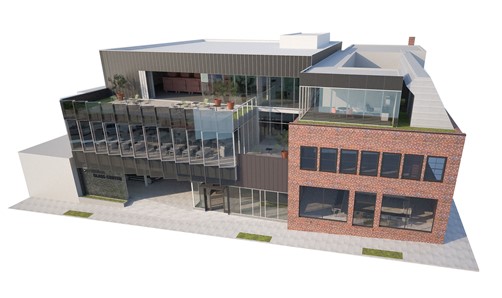 Pittsburgh Glass Center's expansion will feature Solarban® 72 Starphire® glass and VacuMax™ Vacuum Insulating Glass (VIG) by Vitro Architectural Glass.
Construction is expected to conclude by summer 2024.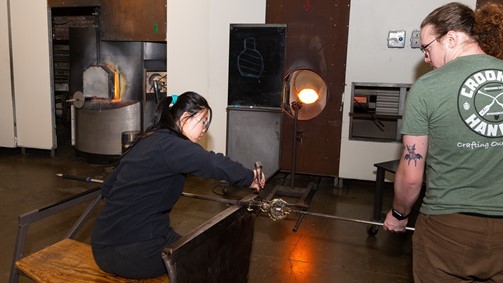 Glass artists collaborate inside Pittsburgh Glass Center's "Hot Shop" studio.
"Vitro is thrilled to champion this historic renovation of Pittsburgh Glass Center, which has established itself as one of the premier glass facilities in the United States," said Ricardo Maiz, president, Vitro Architectural Glass. "The glass used ensures that everyone who visits PGC will enjoy exploring the beautiful new space in complete comfort. We're honored to be part of this expansion project, one that will allow PGC to enhance its existing programs and create new programs that will have a monumental impact in our community, the Pittsburgh area and entire region."
The Solarban® 72 Starphire® glass combination provides high visible light transmittance (VLT), exceptional clarity and superior solar control performance. In a standard one-inch insulating glass unit (IGU), Solarban® 72 Starphire® glass delivers VLT of 68% and a solar heat gain coefficient (SHGC) of 0.28.
VacuMax™ VIG units consist of two fully tempered lites of glass separated by a non-leaded metal seal and a vacuum air space. The units' slim construction and light weight allow them to be incorporated into virtually any traditional and advanced glazing system to deliver extraordinary R-values and exceptional insulating performance. VIG units can be used alone as a replacement for monolithic glass or as a substitute for the interior lite in a traditional one-inch IGU where it forms a second airspace and creates a hybrid IGU that can achieve an R-value of R16. VacuMax™ VIG units also deliver increased acoustic performance for dramatic noise reduction and eliminate condensation.
Headquartered in Pittsburgh's Friendship Neighborhood, Pittsburgh Glass Center cultivates an inclusive and welcoming environment that encourages everyone, from the casually curious to the master artist, to learn, create, and be inspired by glass. PGC first opened its doors in 2001 and has grown significantly over the past two decades, establishing itself as a go-to destination. The expansion will nearly double its existing space, which will allow PGC to increase its visitors and grow its student base.
The expansion also includes renovating a second building two blocks away from the existing facility to create additional housing for technical apprentices and visiting artists and add a gallery space for emerging artists and community programming. Pittsburgh Glass Center will host a groundbreaking ceremony on March 23, 2023, to kick off the project.
To learn more about Solarban® 72 Starphire® glass and VacuMax™ Vacuum Insulating Glass (VIG) from Vitro Architectural Glass, visit www.vitroglazings.com or call 1-855-VTRO-GLS (887-6457).
About Vitro Architectural Glass
Vitro Architectural Glass, part of Vitro, S.A.B. de C.V. (BMV:VITROA), the largest company of its kind in the Americas, manufactures a range of industry-leading, energy-efficient products such as Solarban®, Sungate® and Starphire Ultra-Clear® glasses at U.S. plants in Carlisle, Pennsylvania; Fresno, California; Salem, Oregon; and Wichita Falls, Texas. Committed to sustainable manufacturing processes and products, the company also operates one of the world's largest glass research and development facilities in Pittsburgh and four residential glass fabrication plants in Canada. Upholding the values of "Together, We See Further" across the architectural, automotive and containers markets, Vitro strives to realize the power of partnership to ensure that projects meet or exceed ever-evolving sustainability expectations as well as glass requirements. For more information, please visit www.VitroGlass.com.
Media Contact:
Robert J. Struble
Vitro Architectural Glass
412-820-8138
rstruble@vitro.com
www.vitroglazings.com