Vitro Architectural Glass Earns 2022 Design Award from
USGlass
Magazine
for Duquesne University's Sports Complex Renovation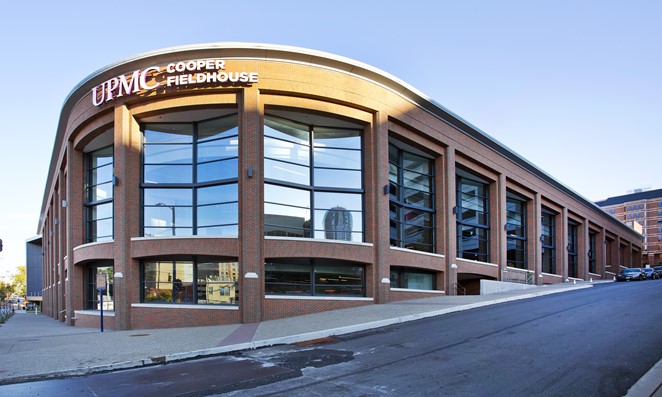 Photo: Jim Cunningham Photography 
PITTSBURGH, PA February 2, 2023 – On the second anniversary of its grand opening to the public, Vitro Architectural Glass (formerly PPG Glass) announced that the UPMC Cooper Fieldhouse in Pittsburgh, Pa., which features Solarban® R67 (formerly Solarban® 67) Starphire® glass from Vitro, was given a 2022 Design Award from USGlass Magazine. 
Formerly known as the A.J. Palumbo Center, the UPMC Cooper Fieldhouse is the home of the men's and women's basketball and volleyball teams at Duquesne University. In addition to the primary arena, the building also houses the Folino Sports Performance Center, which features nearly 10,000 sq. ft. of athletic training equipment, performance labs and a nutritional center for the university's student-athletes. As part of a dynamic renovation, developers selected Solarban® R67 Starphire® glass to create a stunning curved façade that brings new life – and more light – to the facility. 
"From large-scale installations to unique and artistic uses of glass, the winners of the fourth annual USGlass Magazine Design Awards capture many of today's architectural trends and developments," said the magazine in its coverage of 2022's winners. 
The UMPC Cooper Fieldhouse at Duquesne University won the Façade Renovation/Retrofit category in the 2022 Design Awards. 
DRS Architects Inc. designed a bright, inviting street-facing façade that provides optimal daylighting for the inside of the facility and also aligns aesthetically with Duquesne University's recent campus upgrades along Pittsburgh's Forbes Avenue. Fabricator Trulite Glass & Aluminum Solutions and glazing contractor Gurtner & Sons Glazing produced the Solarban® R67 Starphire® glass that makes up the building's façade and the Gilliand Pavilion, which offers impressive views of downtown Pittsburgh. 
With a solar heat gain coefficient (SHGC) of 0.30 in a standard one-inch insulating glass unit (IGU), Solarban® R67 Starphire® glass offers exceptional solar control performance that improves the overall energy efficiency of the building. Its visible light transmittance of 57% indicates that Solarban® R67 Starphire® glass delivers abundant daylight to the building's interior, especially along the northern façade leading to the Clearway Community Energy Gate. 
To learn more about products from Vitro Architectural Glass, visit www.vitroglazings.com or call 1-855-VTRO-GLS (887-6457). To view the full list of USGlass Magazine Design Award winners, visit www.usglassmag.com.  
About Vitro Architectural Glass
Vitro Architectural Glass, part of Vitro, S.A.B. de C.V. (BMV:VITROA), the largest company of its kind in the Americas, manufactures a range of industry-leading, energy-efficient products such as Solarban®, Sungate® and Starphire Ultra-Clear® glasses at U.S. plants in Carlisle, Pennsylvania; Fresno, California; Salem, Oregon; and Wichita Falls, Texas. Committed to sustainable manufacturing processes and products, the company also operates one of the world's largest glass research and development facilities in Pittsburgh and four residential glass fabrication plants in Canada. Upholding the values of "Together, We See Further" across the architectural, automotive and containers markets, Vitro strives to realize the power of partnership to ensure that projects meet or exceed ever-evolving sustainability expectations as well as glass requirements. For more information, please visit www.VitroGlass.com.
Media Contact:
Robert J. Struble
Vitro Architectural Glass
412-820-8138
rstruble@vitro.com
www.vitroglazings.com