Vitro Architectural Glass products add color, energy efficiency to office addition
4545 Roosevelt creates dramatic presence in bustling Seattle neighborhood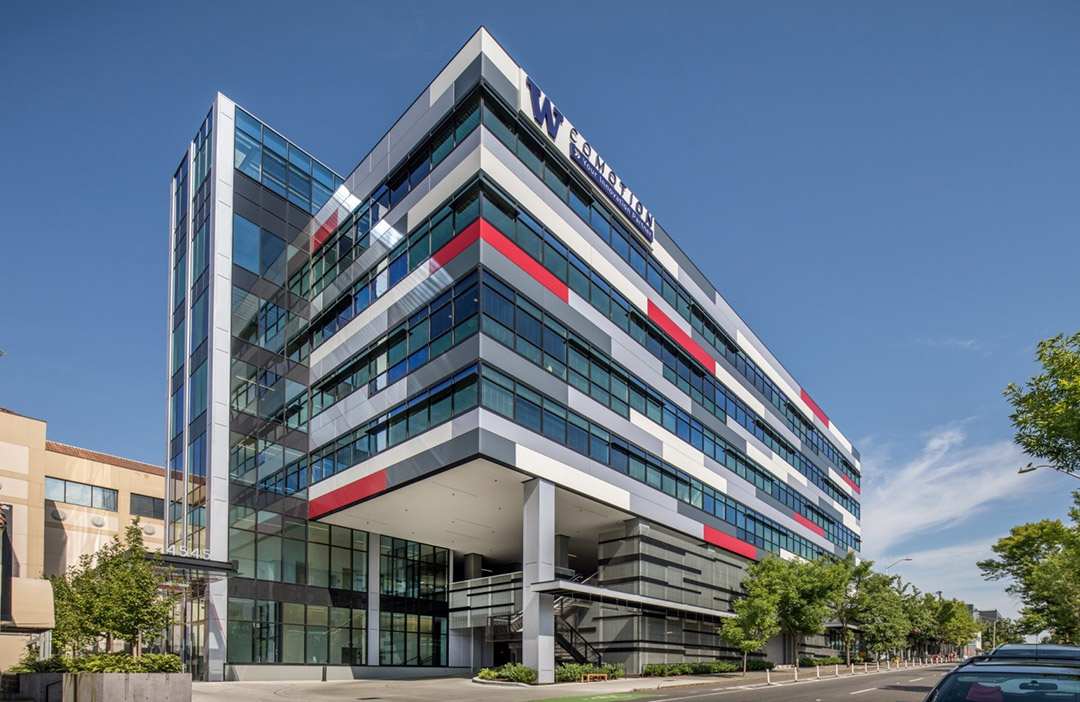 Photography by Tom Kessler
PITTSBURGH, June 6, 2019 — Multiple solar control low-emissivity (low-e) Vitro Glass products were used in the construction of 4545 Roosevelt, a six-level addition to University Center, a mixed-use complex in Seattle's University District.
Built on the site of a former auto dealership and designed by NBBJ Architects, 4545 Roosevelt features complex insulating glass units (IGUs) made up of Solarban® 70XL, Solarban® 67, Solarban® 60 and Solarblue® glasses by Vitro Architectural Glass.
The cladding and window systems combine multiple color profiles inspired by the Ferrari brand of luxury vehicles. The accent-colored spandrel panels, made up of a clear substrate over a clear IGU by Vitro Glass, are finished in Harmony Gray, an OPACI-COAT-300® water-based silicone coating by ICD High Performance Coatings, a Vitro Glass partner.
Hartung Glass Industries of Seattle, a member of the Vitro Certified™Network, fabricated the IGUs.
With center-of-glass visible light transmittance (VLT) of 64 percent and a solar heat gain coefficient (SHGC) of 0.27 in a standard one-inch IGU, Solarban® 70XL glass is one of the industry's highest performing solar control low-e glasses. When paired with Solarban® 67 glass in an IGU, Solarblue® tinted glass offers SHGCs that range from 0.19 to 0.34 and visible light transmittance (VLT) of up to 42 percent. Solarban® 60 glass blocks 62 percent of total solar energy while allowing 70 percent of visible light to pass through.
The 55,000-square-foot structure, which was built on top of an existing parking structure that is part of University Center, contains two levels of parking and four levels of Class A office space.
Given the anticipated growth in the technology sector, 4545 Roosevelt is viewed as a "catalyst" for the area, according to the developer, Blume Co. Real Estate.
Home to the main campus of the University of Washington, the University District is a vibrant mix of residential, commercial and institutional communities.
To learn more about Solarban® 60, Solarban® 67, Solarban® 70XL or Solarblue® tinted glass, or the rest of Vitro Glass's full line of architectural glasses, visit www.vitroglazings.com or call 1-855-VTRO-GLS (887-6457).
Solarban® and Solarblue® are registered trademarks owned by Vitro.
About Vitro Architectural Glass
Vitro Architectural Glass, part of Vitro, S.A.B. de C.V. (BMV:VITROA), the largest company of its kind in the Americas, manufactures a range of industry-leading, energy-efficient products such as Solarban®, Sungate® and Starphire Ultra-Clear® glasses at U.S. plants in Carlisle, Pennsylvania; Fresno, California; Salem, Oregon; and Wichita Falls, Texas. Committed to sustainable manufacturing processes and products, the company also operates one of the world's largest glass research and development facilities in Pittsburgh and four residential glass fabrication plants in Canada. Upholding the values of "Together, We See Further" across the architectural, automotive and containers markets, Vitro strives to realize the power of partnership to ensure that projects meet or exceed ever-evolving sustainability expectations as well as glass requirements. For more information, please visit www.VitroGlass.com.
Media Contact:
Robert J. Struble
Vitro Architectural Glass
412-820-8138
rstruble@vitro.com
www.vitroglazings.com