Vitro Glass introduces new sample kit for Solarban® low-e glass
Compact, environmentally friendly design showcases multiple products, substrates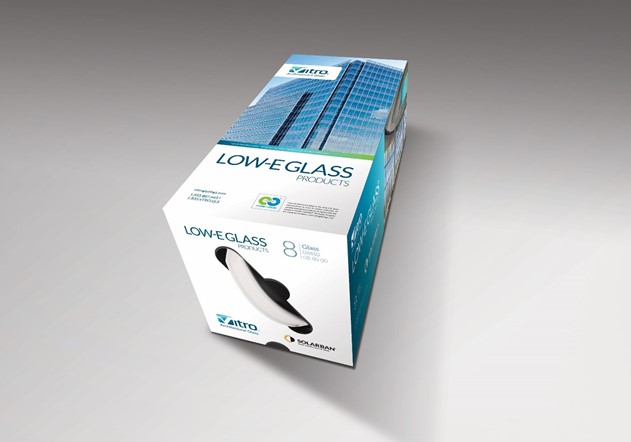 The new Solarban® solar control low-e glass sample kit showcases six Solarban® coatings on a range of clear, low-iron and tinted glasses. Streamlined packaging makes the kit easier to ship, store and carry, and more environmentally friendly.
PITTSBURGH, September 15, 2020 – Vitro Architectural Glass (formerly PPG Glass) has introduced a new Solarban® solar control, low-emissivity (low-e) glass kit featuring a more compact and environmentally friendly design.
The streamlined, foam-free package contains 4-by-6-inch samples of Solarban® 60, Solarban® 70, Solarban® 90, Solarban® R67 and Solarban® R100 glasses on clear and Acuity™ low-iron glass substrates. Solarban® 60 glass also is shown on tinted Optiblue® and Optigray® substrates and Solarban® 72 glass is coated on Starphire Ultra-Clear® and Acuity™ low-iron glasses.
Nathan McKenna, marketing manager, Vitro Architectural Glass, said that despite featuring a greater selection of products, the new kit is smaller and easier to handle than previous sample boxes.
"This kit is an important tool for architect libraries because it enables designers and specifiers to see the genuine difference in clarity and color fidelity between conventional clear and low-iron glasses when specified with low-e coatings," he explained. "We also downsized the packaging and eliminated the use of foam, which makes it easier to ship, store and carry, and less impactful on the environment."
To order a kit, visit samples.vitroglazings.com. To learn more about Vitro Glass's entire line of low-e, low-iron and tinted glasses, visit www.vitroglazing.com or call (855) VTRO-GLS (887-6457).
Solarban®, Sungate®, Starphire® and Starphire Ultra-Clear® are registered trademarks owned by Vitro. Acuity™ is a trademark owned by Vitro.
About Vitro Architectural Glass
Vitro Architectural Glass, part of Vitro, S.A.B. de C.V. (BMV:VITROA), the largest company of its kind in the Americas, manufactures a range of industry-leading, energy-efficient products such as Solarban®, Sungate® and Starphire Ultra-Clear® glasses at U.S. plants in Carlisle, Pennsylvania; Fresno, California; Salem, Oregon; and Wichita Falls, Texas. Committed to sustainable manufacturing processes and products, the company also operates one of the world's largest glass research and development facilities in Pittsburgh and four residential glass fabrication plants in Canada. Upholding the values of "Together, We See Further" across the architectural, automotive and containers markets, Vitro strives to realize the power of partnership to ensure that projects meet or exceed ever-evolving sustainability expectations as well as glass requirements. For more information, please visit www.VitroGlass.com.
Media Contact:
Robert J. Struble
Vitro Architectural Glass
412-820-8138
rstruble@vitro.com
www.vitroglazings.com