An Expansive Palette of Reflective & Color‑Enriched Glasses
Whether your project requires a reflective, understated aesthetic or a highly durable reflective coated glass, you'll find a range of glass options to meet your objectives.
Solarcool® Glasses
An expansive palette of durable, reflective coated glasses offering a range of aesthetic options.
Vistacool® Glasses
A family of color-enriched glasses engineered to deliver high visible light transmittance with a subtly reflective appearance.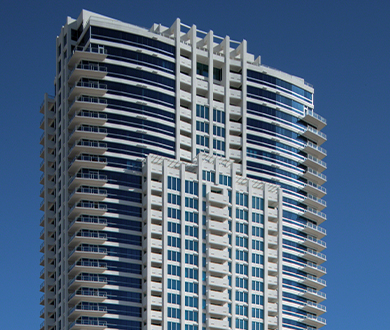 Sky Las Vegas
As one of the first luxury high-rises on Las Vegas Boulevard, Sky Las Vegas is distinguished by Vistacool® Azuria® glass, delivering visible light transmittance (VLT) of 47 percent with an exceptional solar heat gain coefficient (SHGC) of 0.34.