Solarban® R67 Solexia® Glass Maximizes Daylight for a Southern California Higher Education Mixed Use Facility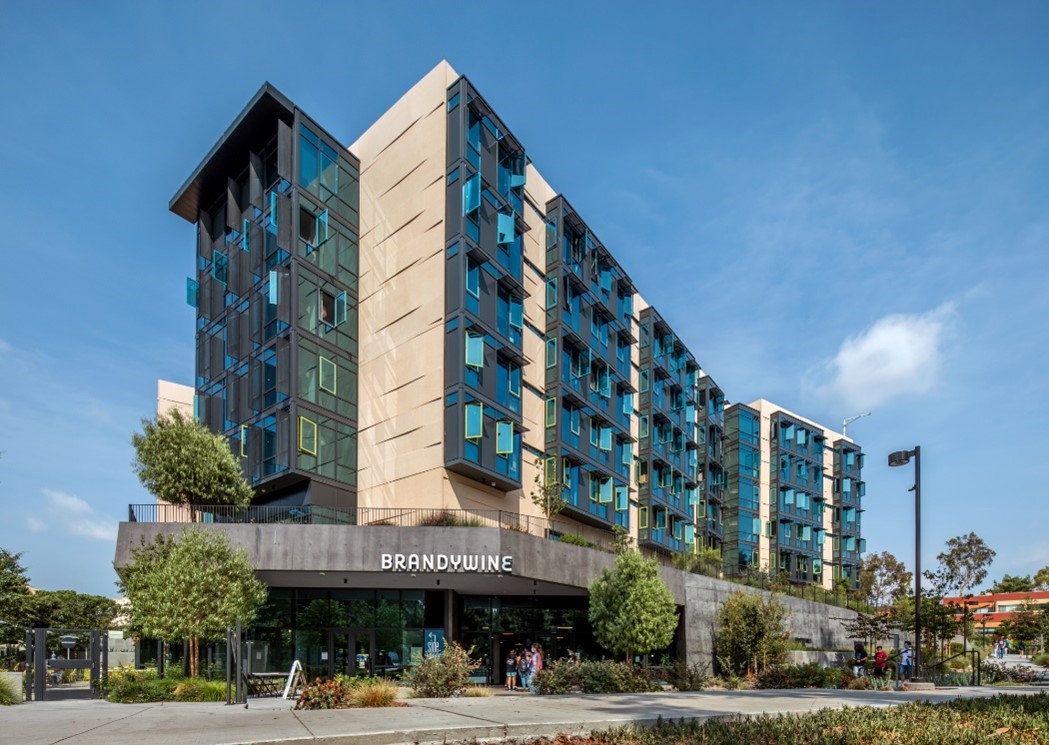 Photography by Tom Kessler
PITTSBURGH, PA May 17, 2022 — Striking the ideal balance between maximized daylighting and controlled heat gain, Mithun architects selected Solarban® R67 (formerly Solarban® 67) Solexia® glass by Vitro Architectural Glass (formerly PPG Glass) for the LEED® Platinum-certified Middle Earth Expansion for the University of California, Irvine's (UCI) living-learning community.
The new 6-story, 215,000 sq. ft., mixed-use facility promotes a "see and be seen" vibe with 30% of its façade clad with glass. Enhancing the transparency, operable windows deliver natural ventilation to 80% of the spaces in the building.
"We worked with our mechanical engineer to find the right product that allowed a balance of light transmittance with the appropriate solar heat gain coefficient," relates Bill LaPatra, AIA, LEED AP, Partner, Mithun, Seattle.
Solarban® R67 Solexia® glass emerged as the best option. Engineered with a proprietary double-silver, magnetron-sputtered vacuum deposition (MSVD) coating, Solarban® R67 glass accurately transmits and reflects the tone and brightness of ambient light and color while delivering excellent solar control. Combined in a one-inch insulating glass unit with Solexia® glass, it provides a solar heat gain coefficient (SHGC) of 0.25 and a visible light transmittance of 47%.
Daylight penetrates beyond the student housing suites deep into adjacent learning and amenity spaces including the skylit 900-seat dining center, student gathering spaces, resource center, multipurpose classrooms and administrative areas. The site also features landscape and plazas for outdoor gathering.
The high-performance glazing, combined with south- and west-facing exterior sunshades and carefully placed operable windows for effective cross ventilation, combine to passively cool the facility. The design is also unique in that it features two to three operable windows in every bedroom suite.
"We performed a post occupancy process to help evaluate the effectiveness of the glass," reports LaPatra. "Essentially, we asked the staff and students about how the spaces are performing with thermal comfort. We have had great reports on success."
Mithun carefully selected the frames for the operable windows to reflect the hues of local meadows and sky. "This accent color represents 'meadow to sky' colors—a theme that runs through many aspects of the project," he adds. "We worked very hard at composing beautiful facades with passive design functionality while providing views and vistas for the residents."
The facility also incorporates a 50 kW roof-mounted, grid-connected photovoltaic system, a stormwater design with two cascading bio-filtration terraced zones and green roofs on all lower levels to reinforce the meadow concept and reduce the heat-island effect. The towers were designed to help UCI achieve its goal of carbon neutrality by 2025.
For more information about Solarban® R67 and Solexia® glasses and the rest of Vitro Glass's full line of architectural glasses, visit www.vitroglazings.com or call 1-855-VTRO-GLS (887-6457).
About Vitro Architectural Glass
Vitro Architectural Glass, part of Vitro, S.A.B. de C.V. (BMV:VITROA), the largest company of its kind in the Americas, manufactures a range of industry-leading, energy-efficient products such as Solarban®, Sungate® and Starphire Ultra-Clear® glasses at U.S. plants in Carlisle, Pennsylvania; Fresno, California; Salem, Oregon; and Wichita Falls, Texas. Committed to sustainable manufacturing processes and products, the company also operates one of the world's largest glass research and development facilities in Pittsburgh and four residential glass fabrication plants in Canada. Upholding the values of "Together, We See Further" across the architectural, automotive and containers markets, Vitro strives to realize the power of partnership to ensure that projects meet or exceed ever-evolving sustainability expectations as well as glass requirements. For more information, please visit www.VitroGlass.com.
Media Contact:
Robert J. Struble
Vitro Architectural Glass
412-820-8138
rstruble@vitro.com
www.vitroglazings.com