Herculite® tempered glass, a pioneer in keeping the action on the ice
An all-time great, heat-treated for player and fan safety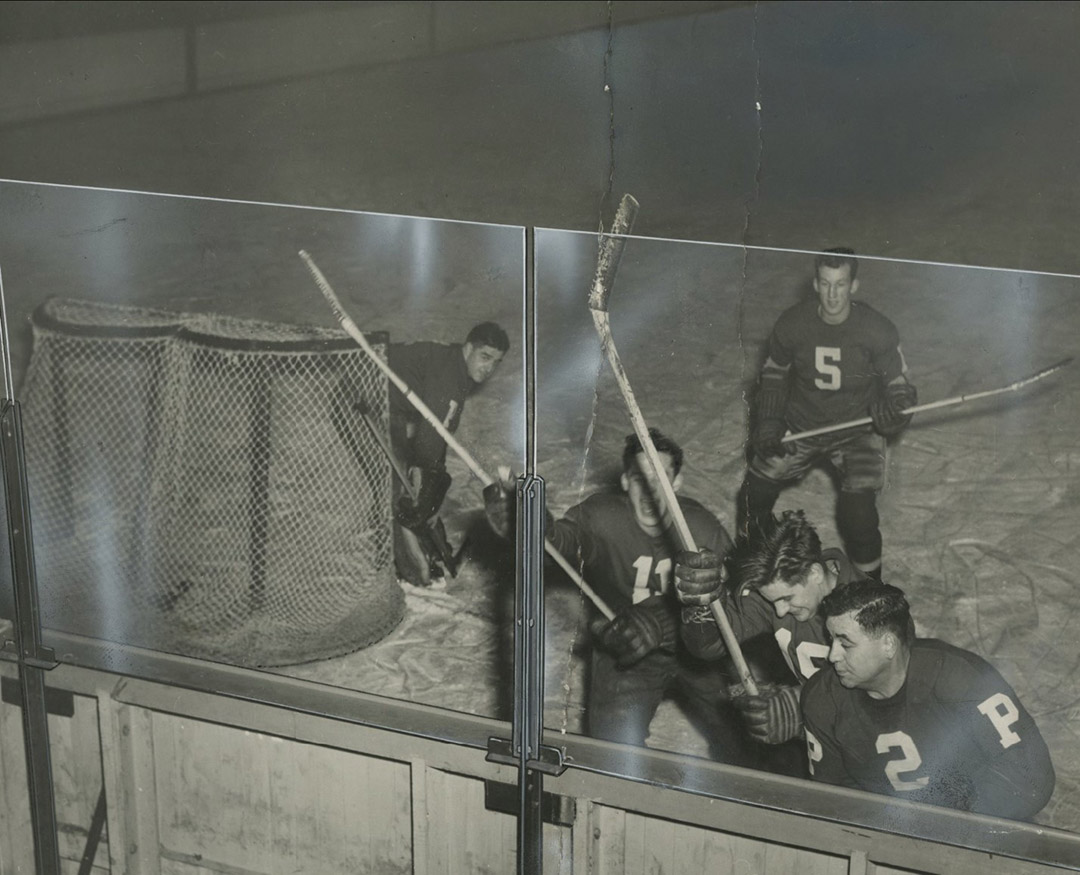 Photo Credit: PPG Industries
PITTSBURGH, May 23, 2019 — Advancing through the professional hockey playoffs is truly a Herculean effort, as is keeping the puck and players on the ice. With the speed and physicality that will mark this year's championship games, it's hard to imagine that dasher boards were once topped with a chicken wire mesh barrier to keep play on the ice.
While the mesh offered a mostly unobstructed view of the action on the ice, the openings between the wire also gave fans an opportunity to poke opposing players, or an official, with a hat pin if they lingered too close to the boards.
In 1940, a stronger barrier came into play when the Duquesne Gardens in Pittsburgh became the first hockey rink to use glass above the dasher boards—leveraging the shatter-resistance of Herculite® heat-tempered glass, the world's first safety glass made locally by PPG Industries (now Vitro Architectural Glass).
Photos of the Pittsburgh Hornets, Duquesne Gardens' home team, crashing into the glass were shown nationally, in newspapers, stating "the Herculite®—four to five times stronger than heavy plate glass—can withstand the bone-crushing shock of the furious ice sport."
Though tempered glass no longer is used in hockey arenas, windows and doors made with Herculite® glass remain the global standard for meeting today's rigorous safety glass mandates.
Heat- and chemically strengthened to be lightweight, sturdy and versatile Herculite® glass is still the industry's oldest and most trusted safety glass brand.
Vitro Glass has four technical documents (TDs) related to heat-strengthened and tempered glass, including:
To download these documents, or for more information about Herculite® glass and other heat-treated glass by Vitro Glass, visit www.vitroglazings.com.
Herculite® is a registered trademark owned by Vitro.
About Vitro Architectural Glass
Vitro Architectural Glass, part of Vitro, S.A.B. de C.V. (BMV:VITROA), the largest company of its kind in the Americas, manufactures a range of industry-leading, energy-efficient products such as Solarban®, Sungate® and Starphire Ultra-Clear® glasses at U.S. plants in Carlisle, Pennsylvania; Fresno, California; Salem, Oregon; and Wichita Falls, Texas. Committed to sustainable manufacturing processes and products, the company also operates one of the world's largest glass research and development facilities in Pittsburgh and four residential glass fabrication plants in Canada. Upholding the values of "Together, We See Further" across the architectural, automotive and containers markets, Vitro strives to realize the power of partnership to ensure that projects meet or exceed ever-evolving sustainability expectations as well as glass requirements. For more information, please visit www.VitroGlass.com.
Media Contact:
Robert J. Struble
Vitro Architectural Glass
412-820-8138
rstruble@vitro.com
www.vitroglazings.com