Vitro Architectural Glass Announces Second Vitro X™ Innovation Partnership with ClearShield® Technologies
PITTSBURGH, PA May 16, 2023 – Vitro Architectural Glass (formerly PPG Glass) has announced its second Vitro X™ Innovation Partnership with ClearShield® Technologies, LLC in Chicago, Ill., continuing its new strategic partnership program focused on identifying and developing inspired solutions to existing and future challenges in the glass industry.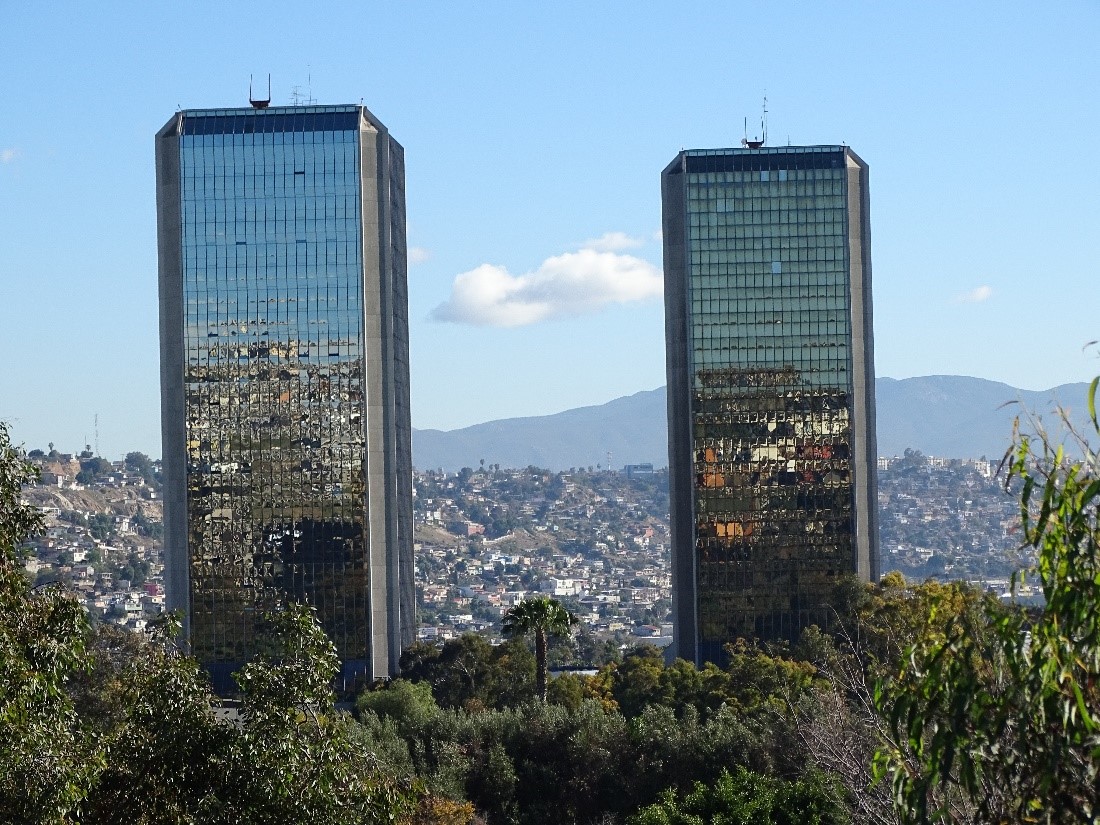 Vitro announces its second Vitro X™ Innovation Partnership with ClearShield® Technologies, a pioneer in "non-stick," easy-clean glass that can transform discolored, stained facades like the Grand Hotel Tijuana tower on the right into a brighter, clearer façade as seen on the hotel's lefthand tower.
For more than 40 years, Ritec International Limited in the U.K. has been the pioneer and market leader for "non-stick," easy-clean glass. Its ClearShield® Glass Protection technology is a liquid solution for glass surface protection that can upgrade virtually any glass product and ensure its clarity, visibility and cleanliness over time.
ClearShield® Glass Protection can be applied in any factory as well as to glass that has already been installed. In addition, existing glass that has been stained and discolored can be brought back to an 'as-new' appearance thanks to the technology's unique renovation process.
Glass processors and fabricators across the globe enjoy the benefits of ClearShield® Glass Protection in a wide range of applications, including architectural, solar, decorative, shower, marine and residential glass. ClearShield® is also independently proven to resist bacterial adhesion, which can be invaluable to hospital projects such as operating rooms. 
"We are thrilled to welcome Ritec International and ClearShield® Technologies as our second partner through the Vitro X™ Innovation Partnerships program," said Martin Bracamonte, vice president, marketing & innovation, Vitro Architectural Glass. "With its legacy of proven success and decades of experience, we look forward to bringing this innovative glass protection product to a larger audience of glass industry leaders."
As an incubator for innovation, the Vitro X™ Innovation Partnerships program enables Vitro to collaborate with future-focused companies as an early investor to support their work and shepherd their groundbreaking ideas, including new functionalities and services to building owners and homeowners, from the drawing board to the production line, installation, maintenance and beyond.
Through Vitro X™ Innovation Partnerships, Vitro is teaming up with a select group of growing businesses that are developing revolutionary technologies with the potential to impact the future of the glass industry. Together, Vitro and its partners will bring new products and services to market that will enhance and protect glass surfaces and reduce the need for exterior glass maintenance.
Vitro X™ is a trademark owned by Vitro.
ClearShield® is a registered trademark owned by Ritec.
To learn more about Vitro X™ Innovation Partnerships and request information about program benefits for prospective partner businesses, visit vitro-x.com.
About Vitro Architectural Glass
Vitro Architectural Glass, part of Vitro, S.A.B. de C.V. (BMV:VITROA), the largest company of its kind in the Americas, manufactures a range of industry-leading, energy-efficient products such as Solarban®, Sungate® and Starphire Ultra-Clear® glasses at U.S. plants in Carlisle, Pennsylvania; Fresno, California; Salem, Oregon; and Wichita Falls, Texas. Committed to sustainable manufacturing processes and products, the company also operates one of the world's largest glass research and development facilities in Pittsburgh and four residential glass fabrication plants in Canada. Upholding the values of "Together, We See Further" across the architectural, automotive and containers markets, Vitro strives to realize the power of partnership to ensure that projects meet or exceed ever-evolving sustainability expectations as well as glass requirements. For more information, please visit www.VitroGlass.com.
Media Contact:
Robert J. Struble
Vitro Architectural Glass
412-820-8138
rstruble@vitro.com
www.vitroglazings.com