Innovative Glass Products for Advanced Performance
Vitro Architectural Glass produces several future-focused, high-performance glass products that offer an ideal balance of sustainability, energy efficiency and performance. Use the links below to learn about these special applications and explore our products.
Building-Integrated Photovoltaic
Seamlessly integrated into the building structure, Solarvolt™ BIPV glass systems unveil new possibilities for renewable power generation and glass design.
Vacuum Insulated Glass
With R-values of R14⁺, vacuum insulated glass delivers thermal insulation performance that is 2-4 times better than conventional insulating glass and 6-10 times better than monolithic glass.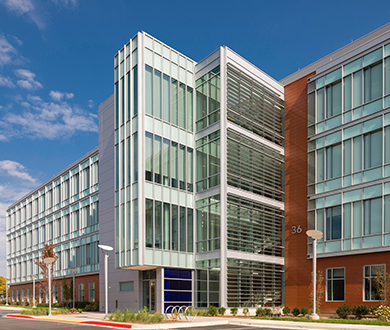 AviProtek® E Bird-Safe Solar Control Low E Glass
In the United States, countless birds die each year from collisions with glass facades. Through our partnership with Walker Glass, AviProtek® E with Solarban® glass combines low-emissivity solar control with distinctive acid-etched visuals that help reduce bird collisions to protect local wildlife.