Create Vibrant Designs with Spandrel Glass
Unlike vision glass, which is meant to be transparent, spandrel glass is a non‑vision application designed to be opaque in order to help obscure the spaces between the floors of a building, including insulation, vents, wires, slab ends and mechanical equipment.

Tinted glasses, Starphire® glass and low-e coatings by Vitro Architectural Glass—as well as products and processes offered by our Vitro Certified® Fabricator and Alliance Partner programs—are ideal for achieving a range of visual effects and improved performance on spandrel glass applications.
Back to Top
Tinted & Low‑E Glass
Vitro blue, green, gray and bronze performance tinted glasses such as Solarbronze® and Solarblue® glasses are ideal for spandrel glass applications and can also be produced with Solarban® solar control or Sungate® passive low‑e coatings for additional performance.
Please note that because tinted spandrel glass has higher heat absorption properties, it usually needs to be heat treated to prevent thermal breakage.
While low-e coatings can be used on spandrel glass to improve performance, they also can support visual continuity. It is common to specify low‑e coatings on spandrel glass when visual continuity between spandrel glass and adjacent vision glass is desired.
Starphire Ultra-Clear® Glass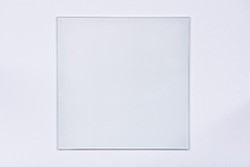 Starphire® Glass with White Frit.
To add visual excitement to spandrel glass applications, Starphire Ultra‑Clear® Glass by Vitro Glass provides architects with a truly unique design option for spandrel applications. Thanks to the ultra‑clear character of Starphire® glass and its high-fidelity color transmission, etched patterns and the true colors of opacifying products, such as silicone based and ceramic frit, shine through to give designers the real look they envisioned.
Review Starphire® Spandrel Glass Data Sheet
Acuity® Low‑Iron Glass
For an affordable spandrel glass option, Solarban® Acuity® glass offers excellent color fidelity compared to conventional clear glass and performance options spanning the full range of Solarban® solar control, low‑e coatings. Acuity® glass is 60 percent less green than standard "clear" glass, allowing the true colors of spandrel coatings and character of patterns to shine through.
Back to Top
Decorative & Etched Spandrel Glass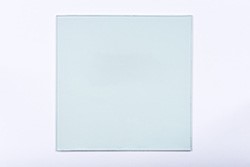 Etched Spandrel Glass with White Frit.
Vitro Glass products are available with decorative and full-surface etchings from Walker Textures® Opaque, Velour and Satin product lines. Use Walker Glass's acid-etched patterns with Solarban® solar control low‑e coatings on spandrel glass applications to achieve a muted finish on façade exteriors, produce a scattered light effect on building interiors and more.
For added control over visible light and masked areas, use Solarban® glass with Walker Textures® Gradient etchings, which consist of microdots that allow natural light to flow into building interiors.
For unmatched color fidelity with unique acid-etched finishes—and without the green cast inherent in ordinary clear glass—the Walker Textures® acid-etched glass and mirror product lines are available on Starphire® glass.
Back to Top
Spandrel Glass Fabrication Methods
Spandrel glass typically requires special fabrication processes, depending on the application and type of opacifying product. Spandrel glass can be grouped into the following general categories:
Monolithic Glass Spandrels consist of an uncoated glass substrate, to which an opacifier made from silicone-based paint or ceramic frits is applied to the indoor surface of the glass lite. Vitro Glass recommends that all glass specified for monolithic spandrels be at least heat-strengthened to provide the mechanical strength needed to resist wind load and thermal stresses.
Insulating Glass Unit (IGU) Spandrels consist of insulating glass units, which can have coated or uncoated glass as part of the exterior lite, and an opacifier applied to the #4 surface of a dual-pane IGU or on the most interior glass surface. Some opacifying products have limitations when it comes to IGU surface location—check with your product manufacturer for more information. If the installation design utilizing spandrel IGUs incorporates insulation behind it, design professionals should consider whether using fully tempered glass for the interior lite of the spandrel IGU would be necessary to withstand the increased heat buildup.
Shadow Box Spandrels are typically specified for applications where achieving a color match between the vison glass and spandrel glass on a building façade is desired. Fabrication can involve either a monolithic lite of tinted or coated heat treated glass or an IGU that is glazed in the spandrel area, as well as rigid, foil-backed insulation installed behind the transparent spandrel glass, with the foil facing the indoors. In many cases, the same glazing used for the vision glass is used for the spandrel glass. The back of the shadow box acts as the opaque layer to hide what's behind it.
Dots and line patterns often are used to reduce glare and solar heat gain coefficient on spandrel glass—use the Vitro Construct Tool to estimate glass performance based on varying coverage percentages of etch frit patterns.
For complete information on spandrel glass fabrication methods, please review TD-145 - Spandrel Glass – Types & Recommendations.
For design considerations for specifying spandrel glass, visit the Vitro Glass Education Center.
Spandrel Glass Design Considerations
Visit the Vitro Glass Education Center to learn key design and fabrication considerations when specifying spandrel glass.
---
More Information