Gateway Towers upgrades to windows made with Solarban® 60 and Solarban® 72 Acuity™ solar control, low-e glasses
Exceptionally clear glass provides transparency, energy savings to Pittsburgh high-rise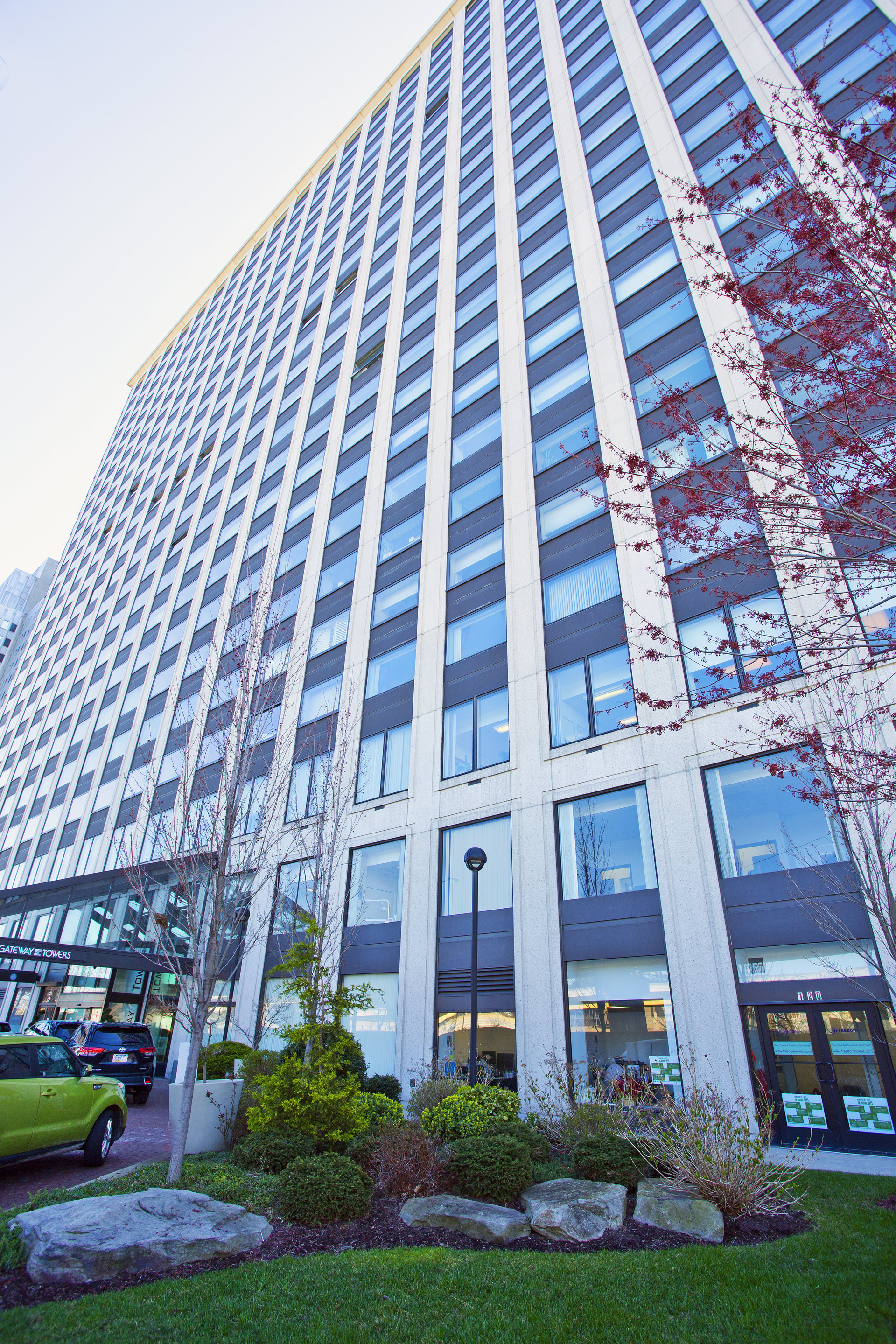 PITTSBURGH, March 9, 2022 — Originally constructed in 1964 as a luxury apartment building, Gateway Towers in downtown Pittsburgh was converted to high-end condominiums in the late 1970s. Unfortunately, more than five decades after the tower's opening, its original monolithic glass windows had become cloudy and drafty, driving up energy use and obstructing views of the city's signature skyline.
Knowing it was time for the old windows to be replaced, the building's owners and management decided to upgrade to operable windows that could maintain the building's premium aesthetic while withstanding Pittsburgh's weather extremes and restoring its beautiful city views.
To achieve those objectives, the project team selected premium windows made with two advanced solar control, low-emissivity (low-e) glass products: Solarban® 60 and Solarban® 72 Acuity™ glass by Vitro Architectural Glass.
Each product was specified for use at a specific elevation. On the north and east sides of the building, 1,132 single-pane windows were replaced with insulating glass units (IGUs) fabricated with Solarban® 60 glass. On the south and west facades, where the windows required greater solar control, the units were made with Solarban® 72 Acuity™ glass.
Nathan McKenna, director of marketing and innovation, Vitro Architectural Glass, said Vitro Glass products were selected for the project because of their unique ability to enhance energy efficiency and views while meeting critical quality and timing demands.
"The new windows at Gateway Towers are not only more energy-efficient – they also reduce noise inside the building while maintaining the residents' million-dollar views," he explained. "The investment in quality glass for this project will repay itself many times over in terms of reduced energy costs and increased resale value."
Because of its ability to block 62 percent of solar energy while allowing 70 percent of visible light to pass through, Solarban® 60 glass offers commercial buildings such as Gateway Towers year-round comfort and significant heating and cooling cost savings. The versatility of Solarban® 60 glass enables it to be combined in IGUs with clear glass or tinted or reflective-tinted glasses from Vitro Glass to increase aesthetic and performance options.
Solarban® 72 glass is a triple-silver-coated solar control low-e glass designed specifically for application to Starphire Ultra-Clear® and Acuity™ low-iron glass substrates. In addition to its high visible light transmittance (VLT), Solarban® 72 glass delivers unprecedented clarity and solar control performance, making it an ideal choice for vision and spandrel glass applications.
The project team for the window replacement process included Indovina Associates Architects, Pittsburgh; SolarSeal, South Easton, Massachusetts; and Skyline Windows, New York City. Delrey Windows in Valencia, Pennsylvania, was the glazing contractor.
For more information about Solarban® 60 and Solarban® 72 glasses, or the full line of Vitro Architectural Glass products, visit www.vitroglazings.com or call 1-855-VTRO-GLS (887-6457).
Solarban® and Starphire Ultra-Clear® are registered trademarks owned by Vitro. Acuity™ is a trademark owned by Vitro.
LEED®— an acronym for Leadership in Energy and Environmental Design™—is a registered trademark of the U.S. Green Building Council®.
About Vitro Architectural Glass
Vitro Architectural Glass, part of Vitro, S.A.B. de C.V. (BMV:VITROA), the largest company of its kind in the Americas, manufactures a range of industry-leading, energy-efficient products such as Solarban®, Sungate® and Starphire Ultra-Clear® glasses at U.S. plants in Carlisle, Pennsylvania; Fresno, California; Salem, Oregon; and Wichita Falls, Texas. Committed to sustainable manufacturing processes and products, the company also operates one of the world's largest glass research and development facilities in Pittsburgh and four residential glass fabrication plants in Canada. Upholding the values of "Together, We See Further" across the architectural, automotive and containers markets, Vitro strives to realize the power of partnership to ensure that projects meet or exceed ever-evolving sustainability expectations as well as glass requirements. For more information, please visit www.VitroGlass.com.
Media Contact:
Robert J. Struble
Vitro Architectural Glass
412-820-8138
rstruble@vitro.com
www.vitroglazings.com