Solar carving, Solarban® 60 glass create dimension, energy savings for Chicago's Solstice on the Park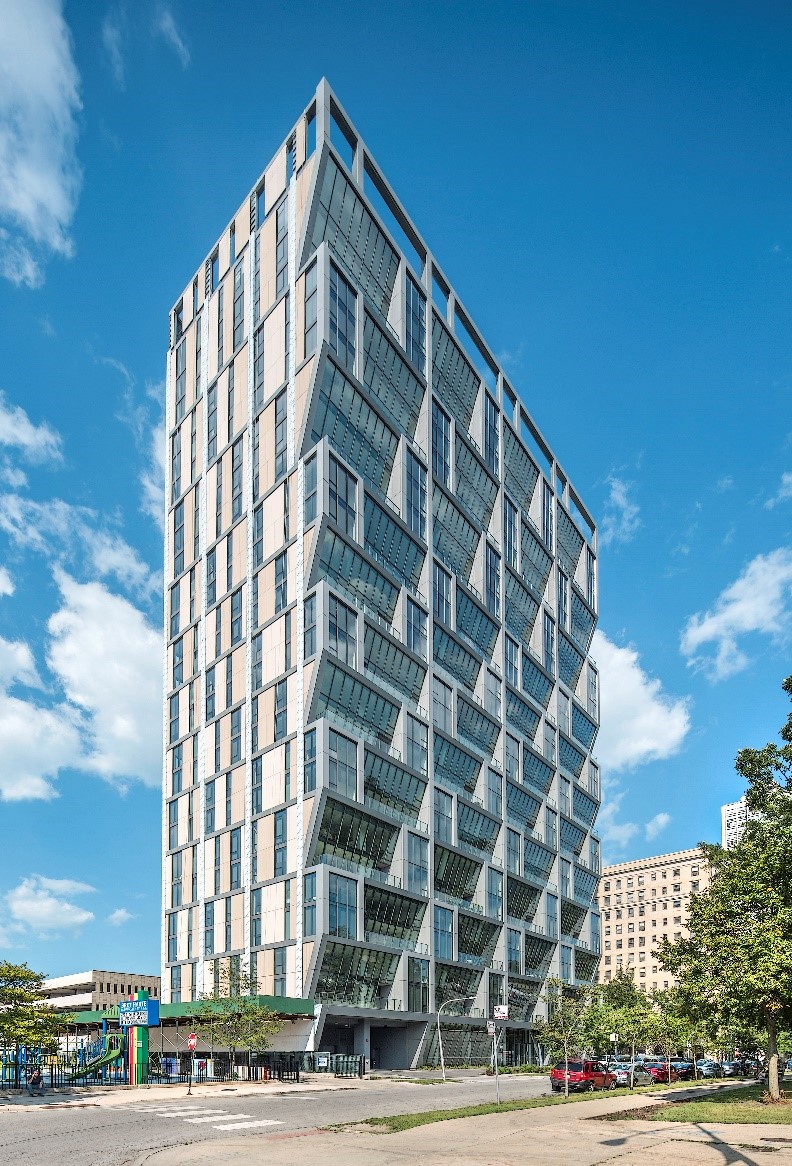 Photography by Tom Kessler
PITTSBURGH, March 5, 2020—When an apartment building features the word "Solstice" in its name, capitalizing on the benefits of sunlight is likely to be a key component in its design—especially when it's built to thrive in the harsh winters and sunny summers of the Windy City.
Solstice on the Park, designed by Studio Gang, a Chicago-based architecture and urban design practice, was tracked to maximize daylighting and passive solar warming in the winter, and to increase solar shading and reduce heat gain during the summer. Those two demands also made the project a ready fit for Solarban® 60 glass by Vitro Architectural Glass.
Located in the heart of the city's Hyde Park, Solstice in the Park is one of the first structures to feature a technique known as solar carving. Invented by Studio Gang, the practice involves designing sharp angles into the building façade—based on the building's location and alignment to the sun—so that they function as a system of natural solar shading devices.
At Solstice on the Park, the angles are produced with massive floor-to-ceiling windows that slant at a severe 72-degree angle. During the summer, this orientation prevents the heat of direct sunlight from entering the building. When the weather gets colder and the sun sits lower, the same window layout helps the tower collect the warmth of winter daylight.
Both effects are enhanced through the use of Solarban® 60 glass. Combined with clear glass in a standard one-inch insulating glass unit (IGU), Solarban® 60 glass offers visible light transmittance (VLT) of 70 percent and a solar heat gain coefficient (SHGC) of 0.39, which make it one of the most commonly specified solar control, low-emissivity glasses (low-e) on the market.
With its clear-glass appearance, Solarban® 60 glass also gives residents of Solstice on the Park unobstructed views of Jackson Park and the Chicago skyline. Thanks in part to its unique solar control design, rainwater catchment system and cool green roof, the building has earned Green Globes Certification with a Two Green Globes rating. It also is slated to achieve LEED® certification at the Silver level.
To learn more about Solarban® 60 glass, visit www.vitroglazings.com or call 1-855-VTRO-GLS(887-6457).  
Editor's note: High-resolution photography is available upon request.
Solarban® is a registered trademark owned by Vitro. LEED®—an acronym for Leadership in Energy and Environmental Design™—is a registered trademark of the U.S. Green Building.
About Vitro Architectural Glass
Vitro Architectural Glass, part of Vitro, S.A.B. de C.V. (BMV:VITROA), the largest company of its kind in the Americas, manufactures a range of industry-leading, energy-efficient products such as Solarban®, Sungate® and Starphire Ultra-Clear® glasses at U.S. plants in Carlisle, Pennsylvania; Fresno, California; Salem, Oregon; and Wichita Falls, Texas. Committed to sustainable manufacturing processes and products, the company also operates one of the world's largest glass research and development facilities in Pittsburgh and four residential glass fabrication plants in Canada. Upholding the values of "Together, We See Further" across the architectural, automotive and containers markets, Vitro strives to realize the power of partnership to ensure that projects meet or exceed ever-evolving sustainability expectations as well as glass requirements. For more information, please visit www.VitroGlass.com.
Media Contact:
Robert J. Struble
Vitro Architectural Glass
412-820-8138
rstruble@vitro.com
www.vitroglazings.com