Solarban® 60 glass featured in award-winning Seattle skyscraper
In a city renowned for its edgy lifestyle and unique neighborhoods, Kinects Tower seems to fit right in.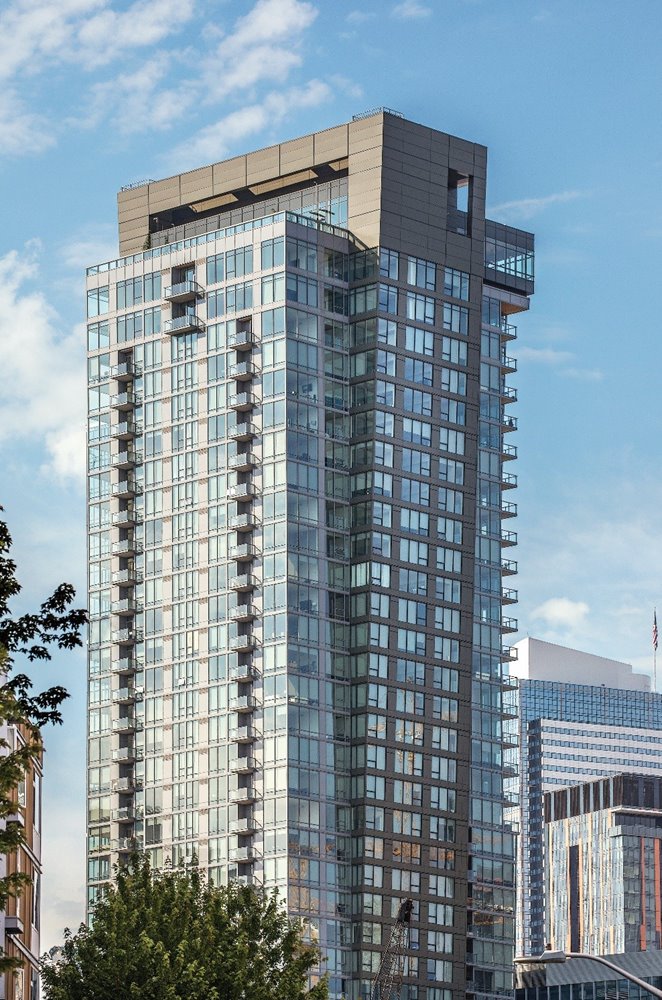 PITTSBURGH, April 25, 2019 — In a city renowned for its edgy lifestyle and unique neighborhoods, Kinects Tower seems to fit right in.
Distinguished by three outward-flaring sides and expansive windows glazed with high-performance Solarban® 60 solar control low-emissivity (low-e) glass by Vitro Architectural Glass, the 440-foot-tall residential Seattle skyscraper offers unobscured views of Puget Sound, Mount Rainier and the Olympic and Cascade mountains, while conveying a modern, industrial chic style.
Designed by Bumgardner Architects and completed in 2017, the building incorporates vast amounts of Solarban® 60 glass to ensure abundant light penetration and optimal views, and spandrels featuring ICD High Performance Coatings' Starbright Silver Opaci-Coat-300™ coatings to enhance its striking appearance. Performance-based analyses conducted to comply with building codes enabled the firm to limit the use of structural beams and columns, thereby maximizing the flow of natural light from the windows through the entire living space.
A lap pool enclosed in a glass "box" glazed with Solarban® 60 sits on top of the tower.
The project, originally scheduled for groundbreaking in 2009 but delayed by the recession, meets the provisions of the city's 2006 energy code that allow the use of more than 60 percent vision glass in commercial structures. The original building permit remained valid during the recession. Despite the large volume of glass, Kinects Tower is on track to be LEED® (Leadership in Energy and Environmental Design) certified at the Silver level.
The design of the 41-story, 500,000-square-foot building was inspired by the structure of a watch tower—a box on top of sloping "legs" with stunning views. This required placing larger floor plates as the building height increased, and smaller floor plates on the bottom stories, resulting in a dramatically sloping inverted pyramid on three sides. Floors eight through 40 increased by approximately 3 inches in size at each level.
Named for the connection it provides to nearby neighborhoods, Kinects Tower received a 2018 Best Projects award in the Residential & Hospitality category from ENRNorthwest. Projects were cited for the ability of the project team to overcome challenges, contribution to the industry and community, safety and construction and design quality. In addition, the building was named the High-Rise Residential Development of 2017 by the Commercial Real Estate Development Association (NAIOP), formerly known as the National Association for Industrial and Office Parks.
Vitrum Glass Group of British Columbia, a member of the Vitro Certified™ Network, was the glass fabricator; Starline Windows was the glazing contractor.
With a solar heat gain coefficient (SHGC) of 0.39, Solarban® 60 glass blocks 66 percent of the total solar energy while allowing 70 percent of visible light to pass through. This combination produces an excellent light to solar gain (LSG) ratio of 1.79.
For more information about Solarban® 60 glass and the rest of Vitro Glass's full line of architectural glasses, visit www.vitroglazings.com or call 1-855-VTRO-GLS (887-6457).
Vitro Certified™ is a trademark and Solarban® is a registered trademark owned by Vitro.
Opaci-Coat-300™ is a registered trademark owned by ICD High Performance Coatings.
LEED®—an acronym for Leadership in Energy and Environmental Design™—is a registered trademark of the U.S. Green Building
About Vitro Architectural Glass
Vitro Architectural Glass, part of Vitro, S.A.B. de C.V. (BMV:VITROA), the largest company of its kind in the Americas, manufactures a range of industry-leading, energy-efficient products such as Solarban®, Sungate® and Starphire Ultra-Clear® glasses at U.S. plants in Carlisle, Pennsylvania; Fresno, California; Salem, Oregon; and Wichita Falls, Texas. Committed to sustainable manufacturing processes and products, the company also operates one of the world's largest glass research and development facilities in Pittsburgh and four residential glass fabrication plants in Canada. Upholding the values of "Together, We See Further" across the architectural, automotive and containers markets, Vitro strives to realize the power of partnership to ensure that projects meet or exceed ever-evolving sustainability expectations as well as glass requirements. For more information, please visit www.VitroGlass.com.
Media Contact:
Robert J. Struble
Vitro Architectural Glass
412-820-8138
rstruble@vitro.com
www.vitroglazings.com