Solarban® 60 glass highlights first net-zero fast food eatery in U.S.
Advanced low-e glass helps McDonald's at Disney World generate more energy than it uses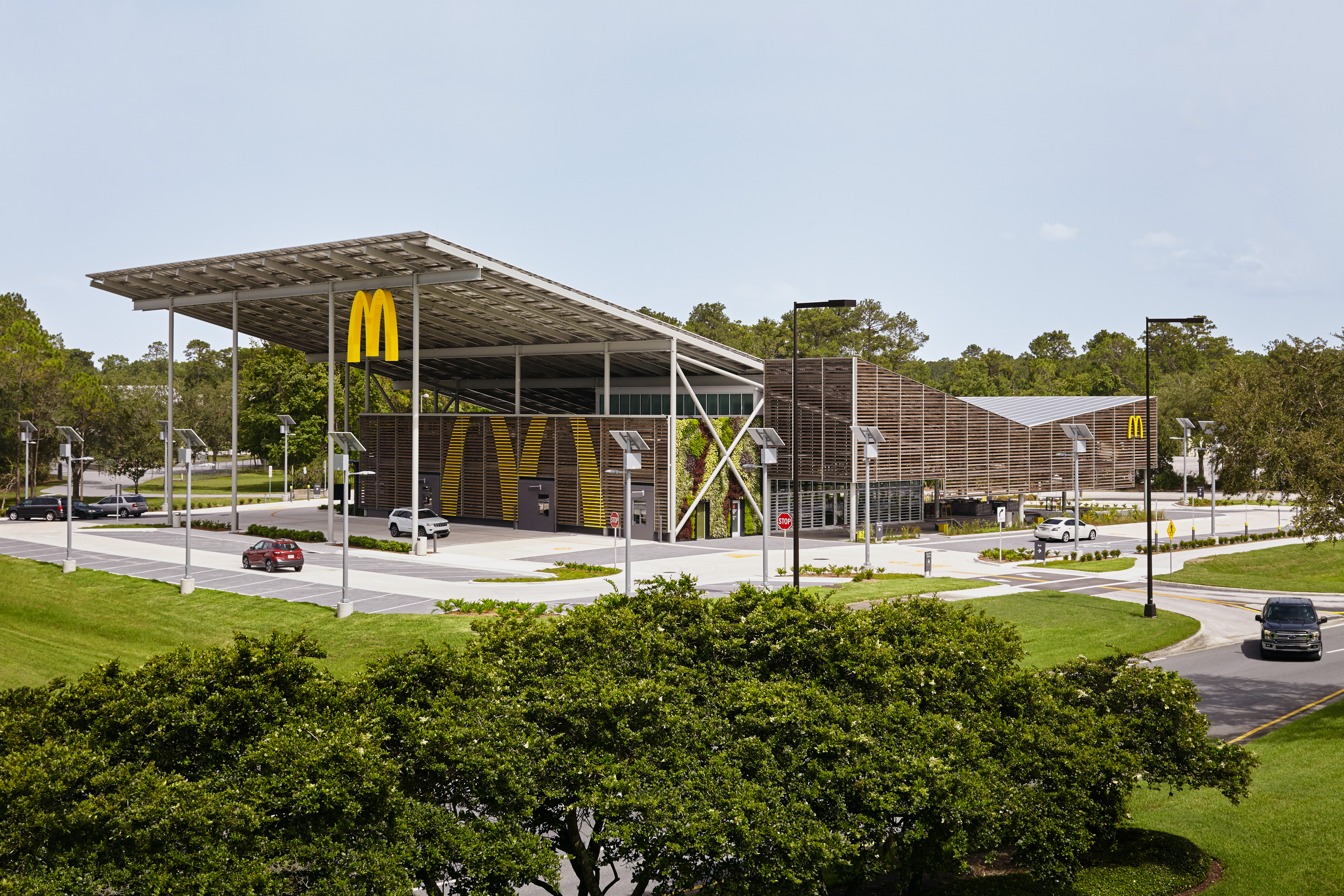 PITTSBURGH, February 1, 2021 — As the first quick-service restaurant in the U.S. to pursue Net Zero Energy Building certification, the new McDonald's at the Walt Disney World Resort combines Solarban® 60 solar control, low-emissivity (low-e) glass with building-integrated photovoltaic (PV) modules, a living wall and operable Jalousie (screened) windows to generate more energy than it uses.

Located in Lake Buena Vista, close to Disney's Hollywood Studios and Animal Kingdom in Orlando, Chicago-based Ross Barney Architects specified windows and clerestory glass fabricated with Solarban® 60 glass for the 8,400 square-foot restaurant.

"Designing a net-zero building in Florida's hot and humid climate required a glazing product like Solarban® 60 glass to aid in a more holistic reduction of energy use," said Jason Vogel, Associate, AIA, LEED GA, project architect, Ross Barney Architects. "Solarban® 60 glass helped us achieve our design intent both aesthetically and through its high thermal performance."

In addition to delivering a solar heat gain coefficient (SHGC) of 0.39 to block solar heat from entering the restaurant, the windows transmit 70% of the available sunlight to keep it bright and well-lit. The glazing is complemented by sensors that selectively activate or turn off light zones inside the space based on daylighting and occupancy levels throughout the day.
Ross Barney's design also positions clerestory glass fabricated with Solarban® 60 glass along the north side of the dining area to diffuse sunlight while framing views of the angled solar array on the roof above. "Using an acid-etch on the clerestory further softens the daylight admitted and cleanly conceals rooftop mechanical equipment," Vogel added.

The glazing, coupled with variable refrigerant-flow HVAC (heating-ventilation-air conditioning) systems, high-efficiency kitchen equipment, an air-source heat-pump water heater, shading, operable windows and natural ventilation, dramatically reduces energy consumption.

The building's energy use is further diminished by an array of photovoltaic modules. Spread over 4,800 square feet of glazing, a 19,000 square-foot outdoor canopy and 25 light fixtures in the parking lot, the array helps the restaurant meet all its power demands and even returns excess electricity to the grid.

McDonald's anticipates the new facility will consume about 35% less energy than a former McDonald's restaurant located on the site.

The restaurant also incorporates kiosk monitors with educational information about the benefits of renewable energy, further promoting its eco-friendly design. The company plans to use the project as a pilot to reduce energy use in new and existing restaurants and as a guide for planning future net-zero developments.

For more information about Solarban® 60 glass and Vitro Glass's full line of architectural glasses, visit www.vitroglazings.com or call 1-855-VTRO-GLS (887-6457).
Solarban® is a registered trademark owned by Vitro.
About Vitro Architectural Glass
Vitro Architectural Glass, part of Vitro, S.A.B. de C.V. (BMV:VITROA), the largest company of its kind in the Americas, manufactures a range of industry-leading, energy-efficient products such as Solarban®, Sungate® and Starphire Ultra-Clear® glasses at U.S. plants in Carlisle, Pennsylvania; Fresno, California; Salem, Oregon; and Wichita Falls, Texas. Committed to sustainable manufacturing processes and products, the company also operates one of the world's largest glass research and development facilities in Pittsburgh and four residential glass fabrication plants in Canada. Upholding the values of "Together, We See Further" across the architectural, automotive and containers markets, Vitro strives to realize the power of partnership to ensure that projects meet or exceed ever-evolving sustainability expectations as well as glass requirements. For more information, please visit www.VitroGlass.com.
Media Contact:
Robert J. Struble
Vitro Architectural Glass
412-820-8138
rstruble@vitro.com
www.vitroglazings.com