Solarban® 90 glass puts science on display at the new University of Texas at Arlington's Science & Engineering Innovation & Research building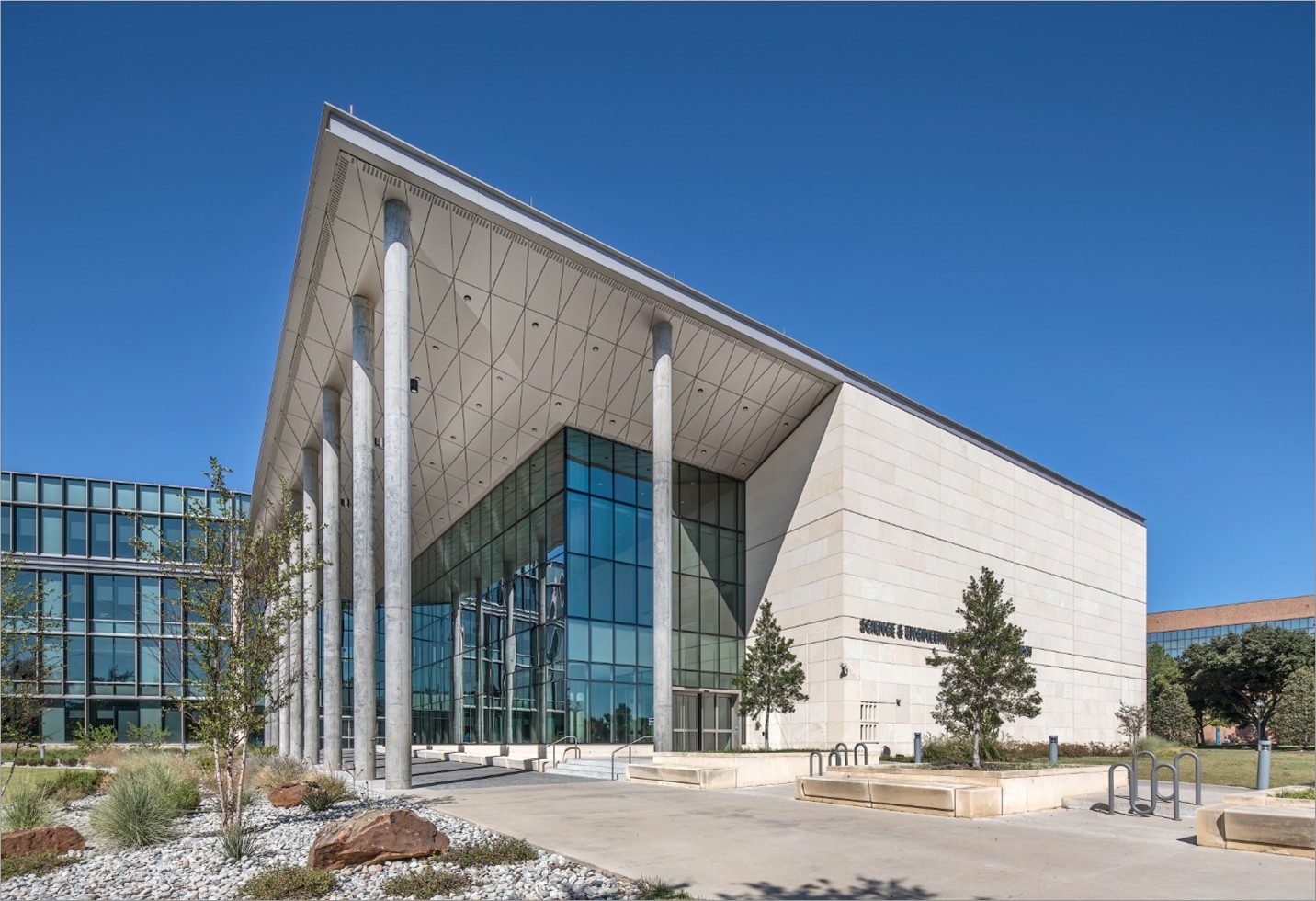 PITTSBURGH, January 5, 2021 — Large expanses of Solarban® 90 solar control, low-e glass by Vitro Architectural Glass showcase interdisciplinary research in action at the University of Texas at Arlington's (UTA) new $125 million Science & Engineering Innovation & Research (SEIR) building in northern Texas.
The 229,000 square-foot building houses 12 different research neighborhoods in close proximity to optimize collaboration and the advancement of critical health sciences research. The glass walls effectively put science on display, giving undergraduate students in the center's two-story instructional classroom wing a behind-the-scenes glimpse of the research process.
To create a highly visible, energy-efficient enclosure, Page and ZGF Architects specified Solarban® 90 clear glass for its ability to blend transparency and solar performance. The curtainwall fabricated was by Tristar Glass, a member of the Vitro Certified™ Network. The glazier was Oak Cliff Mirror and Glass.
"The way we've set up the research environment, it's visibly open to the rest of the building so people can look in and see what's happening in the laboratories. Our students are going to be able to see things they don't normally get to a chance to see and hopefully get many of them interested in pursuing research careers they may not have been anticipating," stated Duane Dimos, UTA's vice president for research.
Ideal for warm, sunny climates in places like Texas, Solarban® 90 glass offers a solar heat gain coefficient (SHGC) of 0.23 when paired with conventional clear glass in a 1-inch insulating glass unit (IGU). Blocking nearly 80% of the sun's heat energy not only reduces the building's cooling load, it also supports comfortable work and study environments for the scientists, engineers and students.
Together with high energy-efficiency heating and cooling systems, water conservation practices, and sustainable materials for the flooring and interior finishes, Solarban® 90 glass is an integrated part of the building's sustainable design scheme.
Research initiatives underway inside the SEIR are aimed at promoting advances in brain health, cancer treatment, cardiovascular health, healthy aging, rehabilitative medicine and more.
For more information about Solarban® 90 glass and the rest of Vitro Glass's full line of architectural glasses, visit www.vitroglazings.com or call 1-855-VTRO-GLS (887-6457).
Solarban® is a registered trademark owned by Vitro. Vitro Certified™ is a trademark owned by Vitro. 
About Vitro Architectural Glass
Vitro Architectural Glass, part of Vitro, S.A.B. de C.V. (BMV:VITROA), the largest company of its kind in the Americas, manufactures a range of industry-leading, energy-efficient products such as Solarban®, Sungate® and Starphire Ultra-Clear® glasses at U.S. plants in Carlisle, Pennsylvania; Fresno, California; Salem, Oregon; and Wichita Falls, Texas. Committed to sustainable manufacturing processes and products, the company also operates one of the world's largest glass research and development facilities in Pittsburgh and four residential glass fabrication plants in Canada. Upholding the values of "Together, We See Further" across the architectural, automotive and containers markets, Vitro strives to realize the power of partnership to ensure that projects meet or exceed ever-evolving sustainability expectations as well as glass requirements. For more information, please visit www.VitroGlass.com.
Media Contact:
Robert J. Struble
Vitro Architectural Glass
412-820-8138
rstruble@vitro.com
www.vitroglazings.com