Solarban® 90, Starphire® Glasses Transform 60-Year-Old Bank Building into Dallas Icon
Ultra-Clear, Low-E Glass Inside an Artistic Mosaic Frame Creates a Hip Mixed-Use Space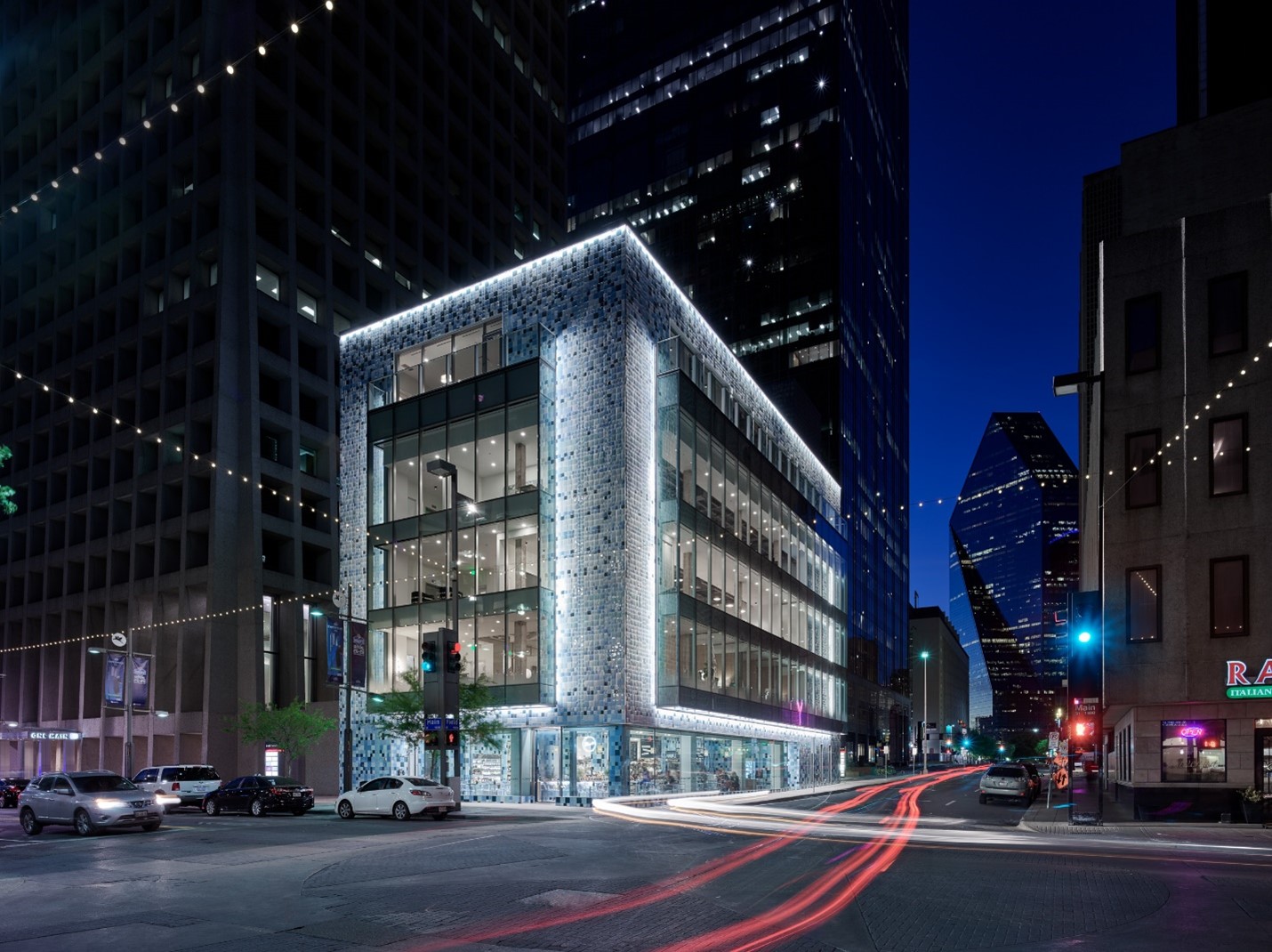 PITTSBURGH, May 19, 2021 — Named one of the ten best structures in Dallas by Dallas Morning News architectural critic Mark Lamster, 1217 Main Street—once a 1950s-era bank building—has been transformed into a mixed-use architectural gem in downtown Dallas. Designed by 5G Studio Collaborative, Dallas, the adaptive reuse marvel features a colorful handmade ceramic perimeter artistically framing a ground-level storefront and four-story curtainwall system with Solarban® 90 Starphire® glass from Vitro Architectural Glass.
Josh Allen, partner, 5G Studio Collaborative, said it was critical for the six-colored blue mosaic façade, which was designed by well-known artist and sculptor Jorge Pardo, to be paired with the right glass system. "Numerous options were considered and after reviewing them all in combination with the artistic tile on the building. Solarban® 90 Starphire® [glass] was selected because of its clarity, reflection and lack of color," he explained.
Starphire Ultra-Clear® low-iron glass offers industry-leading clarity while Solarban® 90 glass delivers high-performance solar control. United in a standard one-inch insulating glass unit (IGU), they block 77% of the sun's heat energy and achieve a crystal-clear aesthetic with visible light transmittance (VLT) of 54%. "This allowed us to provide a building that is both alluring and efficient," Allen added.
Complementing the seamless aesthetic, the individual ceramic tiles are held together with no visible control or expansion joints, panel or module seams. "To achieve this, a custom rainscreen system was developed, which is a grid of vertical and horizontal aluminum t-shaped extrusions that support the 36,215 glazed ceramic tiles," Allen explains.
The original 1958 Guardian Savings Bank survived two fires in the last couple of decades. Preserving the core and shell of the historical building, the design team transformed the dilapidated structure into an urban revitalization success. Passersby can observe the flurry of activity within the ground floor's bakery, café and commissary, and upper four levels of office space through the floor-to-window Solarban® 90 Starphire® glass. The top floor also features exterior balconies.
As a striking blend of art and architecture, Allen is happy to report the project achieved its intended vision and has become an icon in Downtown Dallas with its unique design.
An Architect's Newspaper Best of Design Award winner for Building Renovation, the magazine stated, "1217 Main Street has become a new landmark and operates as a gateway to Dallas's revitalized Main Street."
For more information about Solarban® 90 Starphire® glass and the rest of Vitro Glass's full line of architectural glasses, visit www.vitroglazings.com or call 1-855-VTRO-GLS (887-6457).
Solarban®, Starphire® and Starphire Ultra-Clear® are registered trademarks owned by Vitro.
About Vitro Architectural Glass
Vitro Architectural Glass, part of Vitro, S.A.B. de C.V. (BMV:VITROA), the largest company of its kind in the Americas, manufactures a range of industry-leading, energy-efficient products such as Solarban®, Sungate® and Starphire Ultra-Clear® glasses at U.S. plants in Carlisle, Pennsylvania; Fresno, California; Salem, Oregon; and Wichita Falls, Texas. Committed to sustainable manufacturing processes and products, the company also operates one of the world's largest glass research and development facilities in Pittsburgh and four residential glass fabrication plants in Canada. Upholding the values of "Together, We See Further" across the architectural, automotive and containers markets, Vitro strives to realize the power of partnership to ensure that projects meet or exceed ever-evolving sustainability expectations as well as glass requirements. For more information, please visit www.VitroGlass.com.
Media Contact:
Robert J. Struble
Vitro Architectural Glass
412-820-8138
rstruble@vitro.com
www.vitroglazings.com