Solarban® glasses enhance sustainable design of award-winning John W. Olver Design Building
Vitro Glass products promote daylighting, energy performance for new design center at University of Massachusetts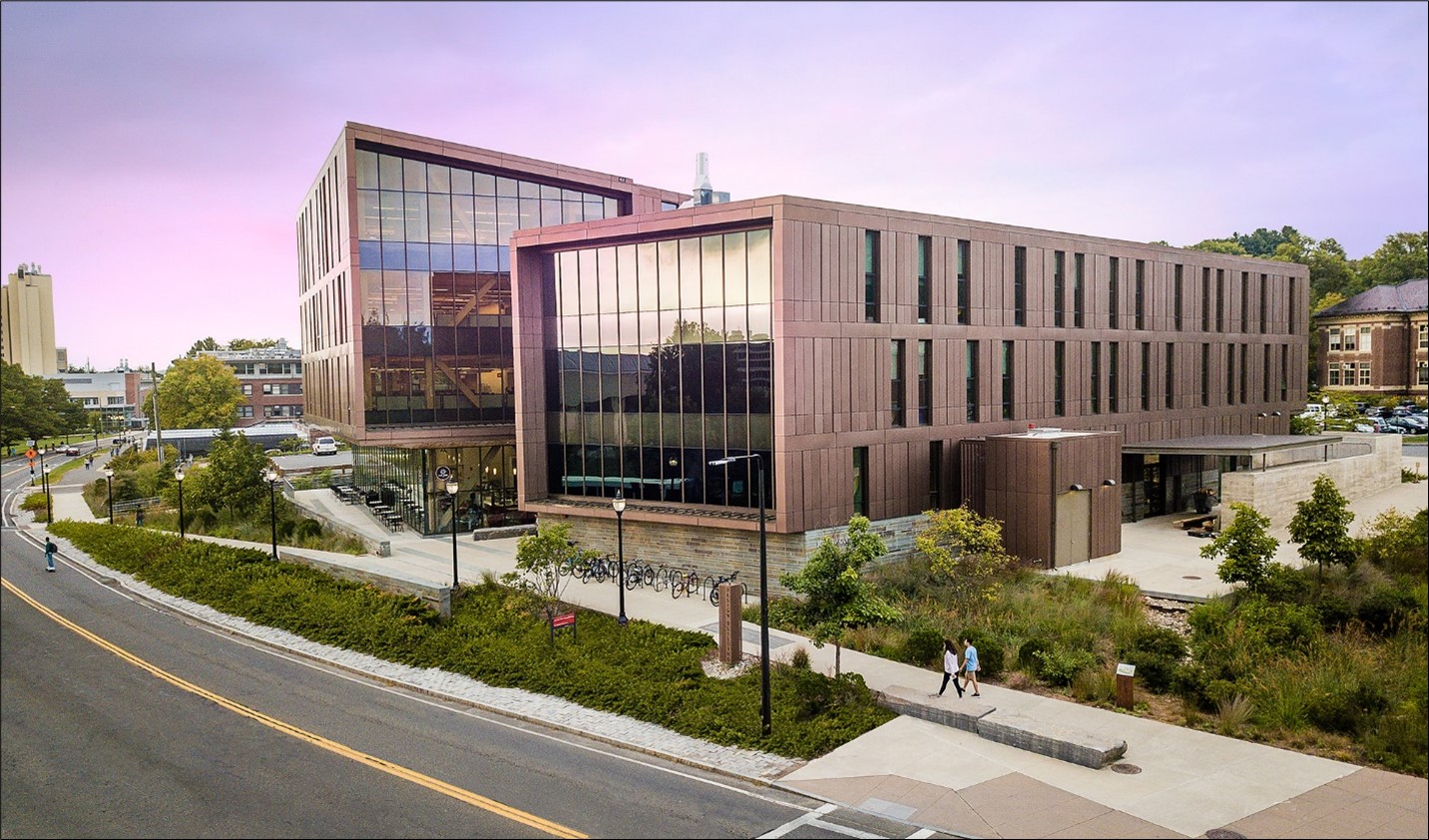 Photography by Ngoc X Doan
PITTSBURGH, Jan. 21, 2021— Racking up a long list of honors including a 2020 American Institute of Architects (AIA) Committee on the Environment (COTE®) Top Ten Award, a Wall Street Journal Best Architecture award and a World Architecture News Award for Sustainable Buildings, the John W. Olver Design Building consolidates three departments into one collaborative space at the University of Massachusetts in Amherst.
As part of the first and largest cross-laminated timber academic building in the U.S., Solarban® 60 and Solarban® 70 glasses by Vitro Architectural Glass raise the sustainable design bar for the LEED® Gold-certified facility, which encompasses 87,500 square feet of classroom, office and community space.
Local architects Leers Weinzapfel Associates (LWA) carefully considered the site, solar orientation and placement of an interior courtyard to maximize daylighting and reduce demand for artificial lighting. These tactics helped drop electrical load for the structure by 54% compared to an average university building.
Large expanses of triple-silver-coated Solarban® 70 glass, delivering visible light transmittance (VLT) of 64% in a clear 1-inch insulating glass unit (IGU), were specified on the south elevation. For the offices on the north-facing façade, tall, narrow IGUs fabricated with Solarban® 60 glass break up the anodized aluminum rainscreen system to deliver a high-performance envelope with an insulation value of R-31. A double-silver-coated low-e glass, Solarban® 60 glass contributes VLT of 70% and a solar heat gain coefficient (SHGC) of 0.39.
A skylit central commons gathers students for socializing, lectures, exhibits and presentations, which ties together the departments of Architecture, Building Construction Technology and Landscape Architecture & Regional Planning. Studios, maker spaces and classrooms surround the central space, glazed with Solarban® 70 glass, which opens onto the street to showcase indoor activities and the structure's relationship to the surrounding landscape.
"There's a real integration of form and program," said Tom Chung, FAIA, LWA principal. "The courtyard allowed us to bring daylight and views into the middle of the building, which is an amalgam of different types of program spaces."
J.E. Berkowitz served as the glass fabricator for the award-winning design, which incorporates electrochromic glazing, occupancy sensors, automatic daylight dimming, operable windows, manual shades and a green roof.
For more information about Solarban® 60 and Solarban® 70 glasses and Vitro Glass's full line of architectural glasses, visit www.vitroglazings.com or call 1-855-VTRO-GLS (887-6457).
Solarban® is a registered trademark owned by Vitro. Vitro Certified™ is a trademark owned by Vitro.
About Vitro Architectural Glass
Vitro Architectural Glass, part of Vitro, S.A.B. de C.V. (BMV:VITROA), the largest company of its kind in the Americas, manufactures a range of industry-leading, energy-efficient products such as Solarban®, Sungate® and Starphire Ultra-Clear® glasses at U.S. plants in Carlisle, Pennsylvania; Fresno, California; Salem, Oregon; and Wichita Falls, Texas. Committed to sustainable manufacturing processes and products, the company also operates one of the world's largest glass research and development facilities in Pittsburgh and four residential glass fabrication plants in Canada. Upholding the values of "Together, We See Further" across the architectural, automotive and containers markets, Vitro strives to realize the power of partnership to ensure that projects meet or exceed ever-evolving sustainability expectations as well as glass requirements. For more information, please visit www.VitroGlass.com.
Media Contact:
Robert J. Struble
Vitro Architectural Glass
412-820-8138
rstruble@vitro.com
www.vitroglazings.com