Solarban® R100/Bronze glass helps Charlotte's Capitol Towers earn LEED® Gold
Classically designed Roman façade enables modern daylighting, energy efficiency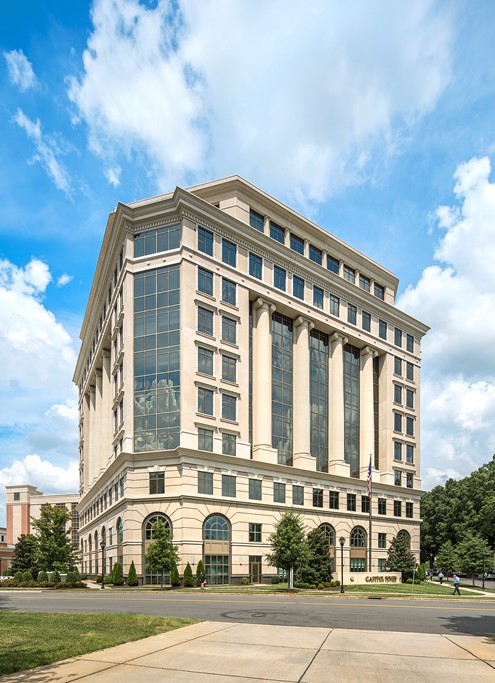 Photography by Tom Kessler
PITTSBURGH, Monday, July 20, 2020 – Inspired by classical pavilion architecture, using Doric Order and monumental half-round column design, Capitol Towers in Charlotte, North Carolina, is a newly iconic office building combining old-world Roman influence with high-performance glazing and modern energy efficiency. The ornate façade, designed by LS3P in Charlotte, showcases concrete pillars and a prominent glass facade, glazed with Solarban® R100 on Bronze glass by Vitro Architectural Glass.
Slated for LEED® (Leadership in Energy and Environmental Design) certification at the Gold level, the design prescribed preferential parking for low-emission vehicles, smart HVAC and air filtering systems and solar control low-e glazing.
"We chose Solarban® R100 glass because its bronze coloration complemented the overall building color palette and its performance was vital to helping us attain LEED® Gold certification," said Jim Williams, vice president and studio leader for LS3P. "Even with the classical design, we achieved a 60/40 glass-to-solid-wall for the overall facade."
A mixed-use structure, Capitol Towers includes 470,000 square-feet of office space, a seven-level, 1,700-capacity parking garage and 30,000 square-feet of retail space. To minimize local impact and attract progressive businesses, energy efficiency and sustainability were major design considerations.
1st Choice Glass of Monroe, North Carolina installed floor-to-ceiling windows fabricated with Solarban® R100 glass throughout the building, except for the street-level windows where local building codes dictate the use of clear glass. Solarban® R100 glass advances the structure's energy efficiency ambitions by uniting an excellent solar heat gain coefficient (SHGC) of 0.23 with visible light transmittance (VLT) of 42 percent.
The structure also was designed for visibility. A coffered dome, functioning as a mechanical screen, tops off the building at a height of 200 feet. With an exterior reflectance of 32 percent, Solarban® R100 on bronze glass delivers a natural aesthetic that harmonizes beautifully with the concrete exterior while affording views of Charlotte's Carnegie District of SouthPark.
"The high-performance, energy-efficient, windows at Capitol Towers allow for an abundance of natural light to fill the space without the radiant heat gain from the sun," said Patrick Stark, vice president and director of energy and sustainability for property manager Lincoln Harris. "The windows allow tenants to keep their blinds open and connect with the outdoors without sacrificing comfort or energy efficiency."
For more information about Solarban® R100 glass and Vitro Glass's full line of architectural glasses, visit www.vitroglazings.com or call 1-855-VTRO-GLS (887-6457).
About Vitro Architectural Glass
Vitro Architectural Glass, part of Vitro, S.A.B. de C.V. (BMV:VITROA), the largest company of its kind in the Americas, manufactures a range of industry-leading, energy-efficient products such as Solarban®, Sungate® and Starphire Ultra-Clear® glasses at U.S. plants in Carlisle, Pennsylvania; Fresno, California; Salem, Oregon; and Wichita Falls, Texas. Committed to sustainable manufacturing processes and products, the company also operates one of the world's largest glass research and development facilities in Pittsburgh and four residential glass fabrication plants in Canada. Upholding the values of "Together, We See Further" across the architectural, automotive and containers markets, Vitro strives to realize the power of partnership to ensure that projects meet or exceed ever-evolving sustainability expectations as well as glass requirements. For more information, please visit www.VitroGlass.com.
Media Contact:
Robert J. Struble
Vitro Architectural Glass
412-820-8138
rstruble@vitro.com
www.vitroglazings.com