Starphire® glass by Vitro Architectural Glass shines at Super Bowl LVI at SoFi Stadium
Advanced low-iron glass offers spectacularly clear views at events inside LA's newest stadium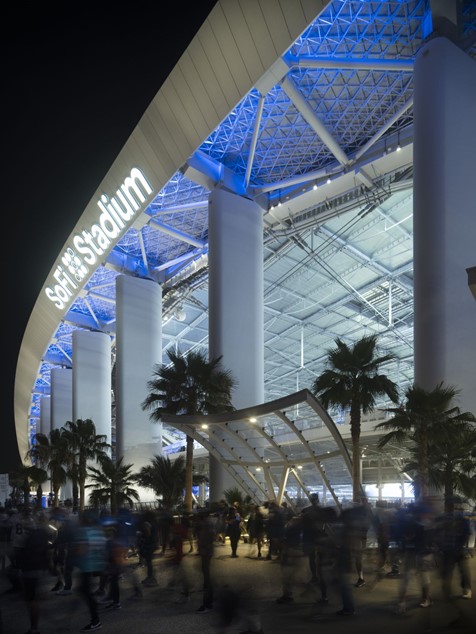 Photograph © Nic Lehoux
PITTSBURGH, March 29, 2021 — Last month, more than 70,000 football fans packed inside SoFi Stadium to attend Super Bowl LVI, the first in-person National Football League (NFL) championship game open to the public since 2020. Inside, attendees enjoyed brilliantly clear views of the field from virtually everywhere thanks to doors, railings and partitions inside the stadium made of Starphire Ultra-Clear® low-iron glass by Vitro Architectural Glass.
Whether in its ultra-clear form or decorated with distinctive acid-etched designs, Starphire® glass doors and partitions provide a unique combination of function and visual impact. Starphire® glass handrails also help to create visually connected spaces throughout the stadium by providing a sprawling sense of openness, which was felt intensely as the stadium welcomed its largest crowd since its official opening.
Starphire® glass contains 87% less green than conventional clear glass and transmits up to 91% of available visible light, delivering uncompromised visual impact and true-to-life views that are much clearer than "clear" glass. Starphire® glass also maintains its signature azure blue edge no matter the thickness and evokes a sense of luxury and sophistication with the premium seating partitions located throughout the stadium.
Designed by international architectural firm HKS, Inc., SoFi Stadium is located in Inglewood, a city in southwestern Los Angeles County, California. In addition to the stadium itself, the project features a pedestrian plaza and the 6,000-seat YouTube Theater performance venue.
Glass fabricator Glasswerks LA Inc. and glazing contractors Giroux Glass and Aragon Construction provided the Starphire® glass used in the stadium's interior spaces.
Since its completion in 2020, SoFi Stadium has been home to two Los Angeles NFL teams: the Rams, who became the Super Bowl LVI champions inside the stadium on February 13, and the Chargers. Both teams played regular-season home games at SoFi Stadium throughout 2021 and 2022.
For more information about Starphire® glass and Vitro Glass's full line of architectural glasses, visit www.starphireglass.com or call 1-855-VTRO-GLS (887-6457).
Starphire® and Starphire Ultra-Clear® are registered trademarks owned by Vitro.
About Vitro Architectural Glass
Vitro Architectural Glass, part of Vitro, S.A.B. de C.V. (BMV:VITROA), the largest company of its kind in the Americas, manufactures a range of industry-leading, energy-efficient products such as Solarban®, Sungate® and Starphire Ultra-Clear® glasses at U.S. plants in Carlisle, Pennsylvania; Fresno, California; Salem, Oregon; and Wichita Falls, Texas. Committed to sustainable manufacturing processes and products, the company also operates one of the world's largest glass research and development facilities in Pittsburgh and four residential glass fabrication plants in Canada. Upholding the values of "Together, We See Further" across the architectural, automotive and containers markets, Vitro strives to realize the power of partnership to ensure that projects meet or exceed ever-evolving sustainability expectations as well as glass requirements. For more information, please visit www.VitroGlass.com.
Media Contact:
Robert J. Struble
Vitro Architectural Glass
412-820-8138
rstruble@vitro.com
www.vitroglazings.com