University of Arizona's New Solarban® 90 Starphire® Glass-Covered Building Consolidates its Health Sciences Programs into One High-Tech, Daylit, Amenity-Filled Building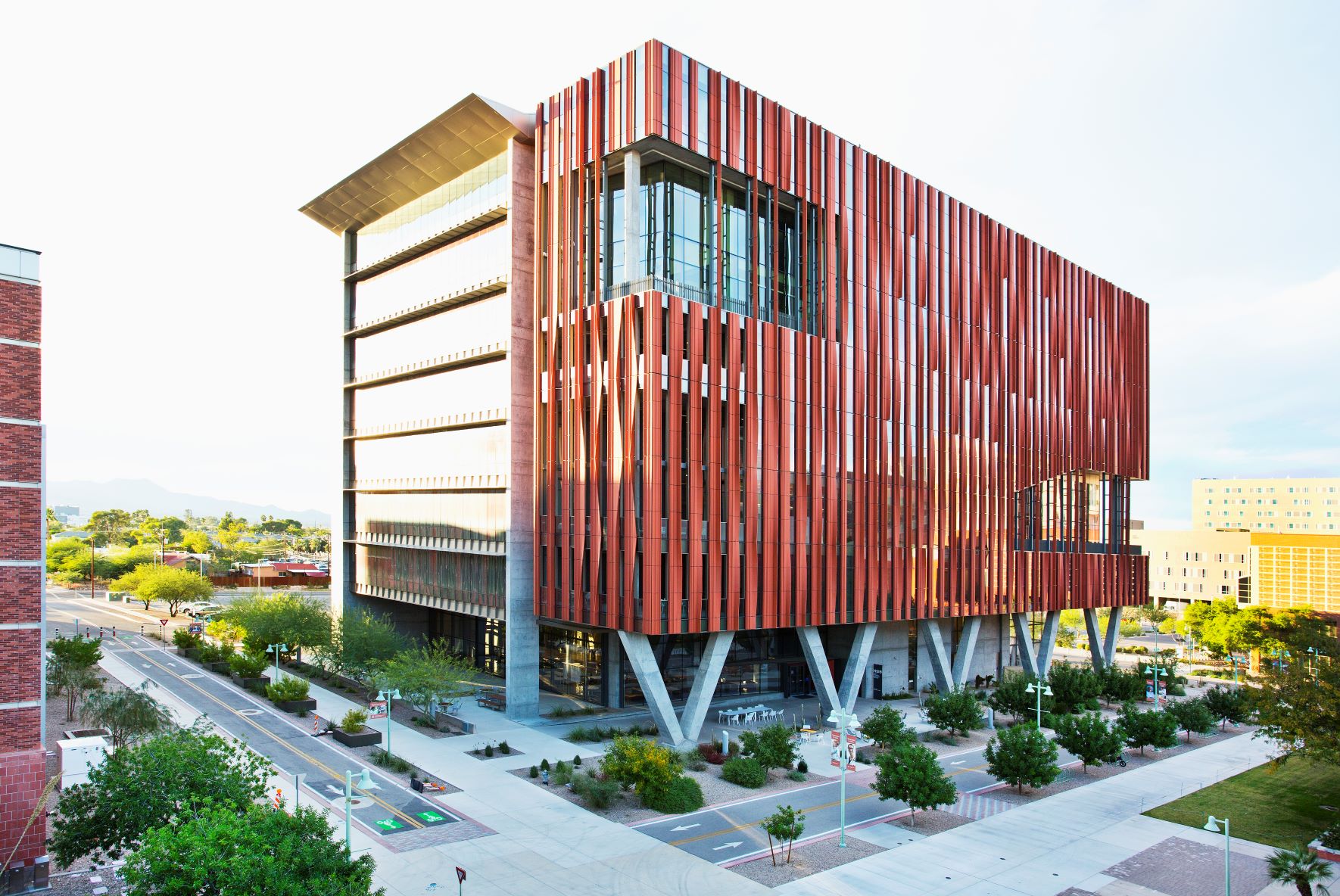 Photograph by Jim Cunningham
PITTSBURGH, PA January 24, 2023 — With its distinct strips of terracotta panels and expansive glazed curtainwall, the new 230,000-square-foot Health Sciences Innovation Building (HSIB) at the University of Arizona features an expansive ground floor forum, daylit student lounges and study spaces, state-of-the art simulation laboratories and more.
Consolidating the University's medicine, nursing, pharmacy and public health departments into one building, the only glass capable of meeting CO Architects' performance, cost, availability and aesthetic goals was Solarban® 90 Starphire® glass.
"Solarban® 90 Starphire® glass was ultimately chosen for its high-performance, neutral cool coloration and relatively low reflectivity as well as the flatness of the glass," explains Arnold Swanborn, AIA, LEED® AP, design principal, CO Architects, Los Angeles.
Solarban® 90 glass conveys an appearance like clear glass in both color and reflectance, whether viewed from either the interior or exterior of a building. Since Solarban® 90 glass doesn't display a noticeably reflected color, it has the versatility to be paired with Starphire Ultra-Clear® glass by Vitro to provide enhanced levels of aesthetics and performance. When paired with ordinary clear glass in a one-inch insulating glass unit (IGU) Solarban® 90 glass provides visible light transmittance (VLT) of 51% and a solar heat gain coefficient (SHGC) of 0.23. When paired in a one-inch IGU with Starphire Ultra-Clear® glass, it provides VLT of 54%.
Carefully considering the surrounding desert and urban context along with the intense Arizona heat, each building elevation has its own carefully calibrated design.
For the east elevation, the architects created the building's signature terracotta design for shading and to blend in with the Sonoran Desert surroundings. Taking its cue from the local saguaro cactus and its ability to self-shade, CO Architects designed twisted, vertical terracotta panels in an adobe dark red. The panels are attached to a Solarban® 90 Starphire® glass curtainwall. In between the panels and curtainwall are a couple of porch areas with outdoor patio space for students.
"The cool tones and reflectivity of the Solarban® 90 Starphire® glass and terracotta complement each other and create a deeply rich patterned façade that is both high performing and salient," states Swanborn.
For both the north and south exposures, the façade is curtainwall. Individually tuning both elevations to minimize heat gain and glare, the south side is fritted and incorporates sunshade and the north curtainwall contains fins.
In response to the harsh sun on the west side, glass is minimized. The design is comprised of a series of narrow and deep canyons to limit the amount of time the sun is directly hitting the glass. The windows are no more than 7 to 8 inches wide, with an approximate 2:3 width-to-depth ratio.
A major feature at the HSIB is a large, column-free amphitheater-style space where students gather for events, presentations, individual and/or group study. "The Forum is conceived as the living room to the building," adds Swanborn. "It's a place where students from the four health sciences colleges can mingle, connect, study, eat and share in this town square of sorts."
Because natural lighting and visual connection was very important for this space, a recessed glass design provides this while creating shade and eliminating the direct sun exposure to the glass. The recessed design enabled the architects to go without low-e glass for this portion of the building and only specify Starphire Ultra-Clear® glass. This greatly increased VLT while significantly lowering reflectivity.
Starphire Ultra-Clear® glass by Vitro provides an unprecedented option for curtainwall glass applications, offering brilliant clarity and true-to-life views of the outdoors that conventional clear glass simply can't match. A 1/8-inch thick lite of Starphire Ultra-Clear® glass provides a remarkable VLT of 91% to infuse interiors with pure, vibrant daylight.
The glass is set on steel horizontal ledges, with no verticals, to maximize the site lines while working with standard glass sizes. On the forum's north side, the glass opens by way of large hydraulic Starphire® glass garage doors that allow the interior to extend into an exterior shaded patio.
A large, open staircase offers daylighting and views, encouraging students and staff to take the stairs all the way up to the ninth floor. Floor three through six house classrooms and student support spaces. The seventh floor holds the Arizona Simulation Technology & Education Center with a black-box theater and simulation deck providing an immersive simulation environment.
On the eighth floor, 30 exam rooms support inter-professional education and clinical skills practice. The office space on the top floor incorporates a slanted roof and clerestory windows glazed with Solarban® 90 Starphire® glass.
"Glass-fronted offices are carefully arranged parallel to the light monitor and separated by open work areas to ensure each occupant and office space has a sense of time and benefits from indirect daylight and view," reports Swanborn.
For more information about Solarban® 90 and Starphire® glasses and the rest of Vitro Glass's full line of architectural glasses, visit www.vitroglazings.com or call 1-855-VTRO-GLS (887-6457).
About Vitro Architectural Glass
Vitro Architectural Glass, part of Vitro, S.A.B. de C.V. (BMV:VITROA), the largest company of its kind in the Americas, manufactures a range of industry-leading, energy-efficient products such as Solarban®, Sungate® and Starphire Ultra-Clear® glasses at U.S. plants in Carlisle, Pennsylvania; Fresno, California; Salem, Oregon; and Wichita Falls, Texas. Committed to sustainable manufacturing processes and products, the company also operates one of the world's largest glass research and development facilities in Pittsburgh and four residential glass fabrication plants in Canada. Upholding the values of "Together, We See Further" across the architectural, automotive and containers markets, Vitro strives to realize the power of partnership to ensure that projects meet or exceed ever-evolving sustainability expectations as well as glass requirements. For more information, please visit www.VitroGlass.com.
Media Contact:
Robert J. Struble
Vitro Architectural Glass
412-820-8138
rstruble@vitro.com
www.vitroglazings.com