Vitro Architectural Glass reinforces commitment to sustainability by partnering with organizations, initiatives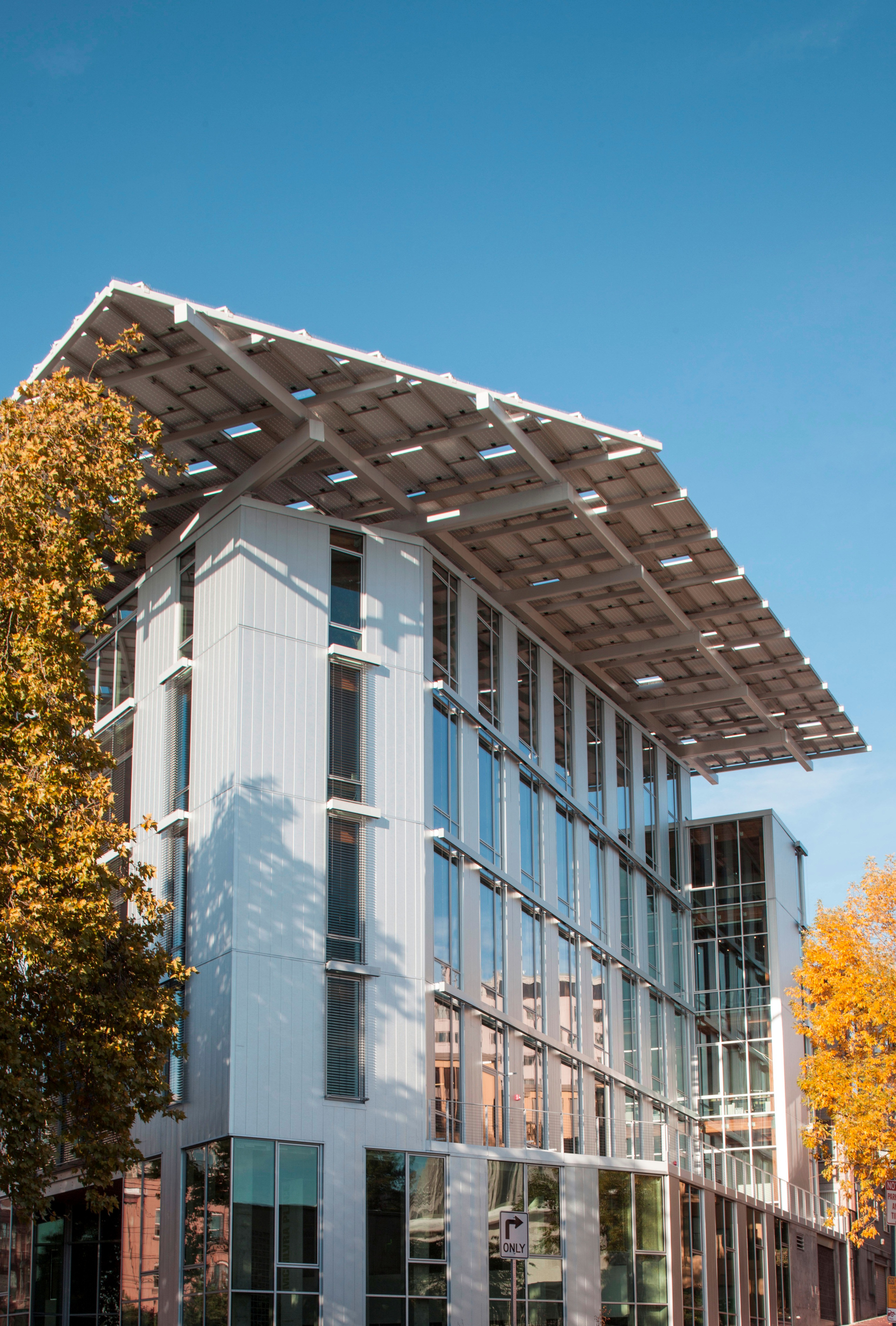 The Bullitt Center in Seattle, WA, which features Solarban® 60 glass and Starphire® glass, was designed to meet the rigorous standards of the Living Building Challenge (LBC). (Photograph by Tom Kessler Photography)
PITTSBURGH, January 19, 2021 – Vitro Architectural Glass (formerly PPG Glass) is dedicated to raising the industry standard for sustainability and has partnered with various organizations and industry initiatives to reinforce its commitment to the environment and help realize the full potential for environmentally friendly glass innovation on a global scale.
"Across North America and around the world, organizations are mobilizing manufacturers and like-minded companies to commit to innovation in green design, building materials and glass manufacturing," said Nathan McKenna, director of marketing and innovation, Vitro Architectural Glass. "At Vitro, our goal is to foster continuous advancement and environmental responsibility through the built environment."
Vitro Glass is a gold sponsor of the National Fenestration Rating Council (NFRC), a proud supporter of the Building Envelope Campaign (BEC), and a Façade Tectonics Institute (FTI) Corporate Associate since 2019. In addition, Vitro has participated on the International Living Future Institute (ILFI) Products Hub advisory board, and Vitro products meet the criteria established in the Living Building Challenge (LBC) Red List of materials.
In the glass industry, Vitro is a member of the Glass Manufacturing Industry Council (GMIC) and Fenestration Canada. Vitro has representatives in the Fenestration Glazing Industry Alliance (FGIA), the Safety Glazing Certification Council (SGCC), and the Insulating Glass Certification Council (IGCC) Board of Governors. Vitro is also part of the International Commission on Glass (ICG).
Vitro Glass's product selection is Cradle to Cradle® Bronze certified and is featured in the mindful MATERIALS (mM) Library, Sustainable Minds®, and the Building Transparency Embodied Carbon in Construction Calculator (EC3). Vitro has certification of "Industria Limpia" from the Government of Mexico Procuraduria Federal de Protección del Medio Ambiente (PROFEPA), and Vitro's Fresno plant holds an ENERGY STAR® Plants Certification.
Vitro was the first U.S. glass manufacturer to have its entire collection of architectural glass products recognized by the Cradle-to-Cradle CertifiedTMProducts Program and the first North American manufacturer to publish third-party verified Environmental Product Declarations (EPDs) for its Flat Glass and Processed Glass products. Solarban® solar control low-e glass and other glasses by Vitro have been installed on hundreds of LEED®-certified buildings, including three of the world's 11 certified net-zero "living" buildings.
To learn more about Vitro Glass and its commitment to sustainability, please visit www.vitroglazings.com or call 1-855-VTRO-GLS (887-6457).
Solarban® and Starphire® are registered trademarks owned by Vitro.
About Vitro Architectural Glass
Vitro Architectural Glass, part of Vitro, S.A.B. de C.V. (BMV:VITROA), the largest company of its kind in the Americas, manufactures a range of industry-leading, energy-efficient products such as Solarban®, Sungate® and Starphire Ultra-Clear® glasses at U.S. plants in Carlisle, Pennsylvania; Fresno, California; Salem, Oregon; and Wichita Falls, Texas. Committed to sustainable manufacturing processes and products, the company also operates one of the world's largest glass research and development facilities in Pittsburgh and four residential glass fabrication plants in Canada. Upholding the values of "Together, We See Further" across the architectural, automotive and containers markets, Vitro strives to realize the power of partnership to ensure that projects meet or exceed ever-evolving sustainability expectations as well as glass requirements. For more information, please visit www.VitroGlass.com.
Media Contact:
Robert J. Struble
Vitro Architectural Glass
412-820-8138
rstruble@vitro.com
www.vitroglazings.com