Vitro Architectural Glass renews Cradle to Cradle Certification
Innovative architectural glasses recognized for sustainability, transparency in production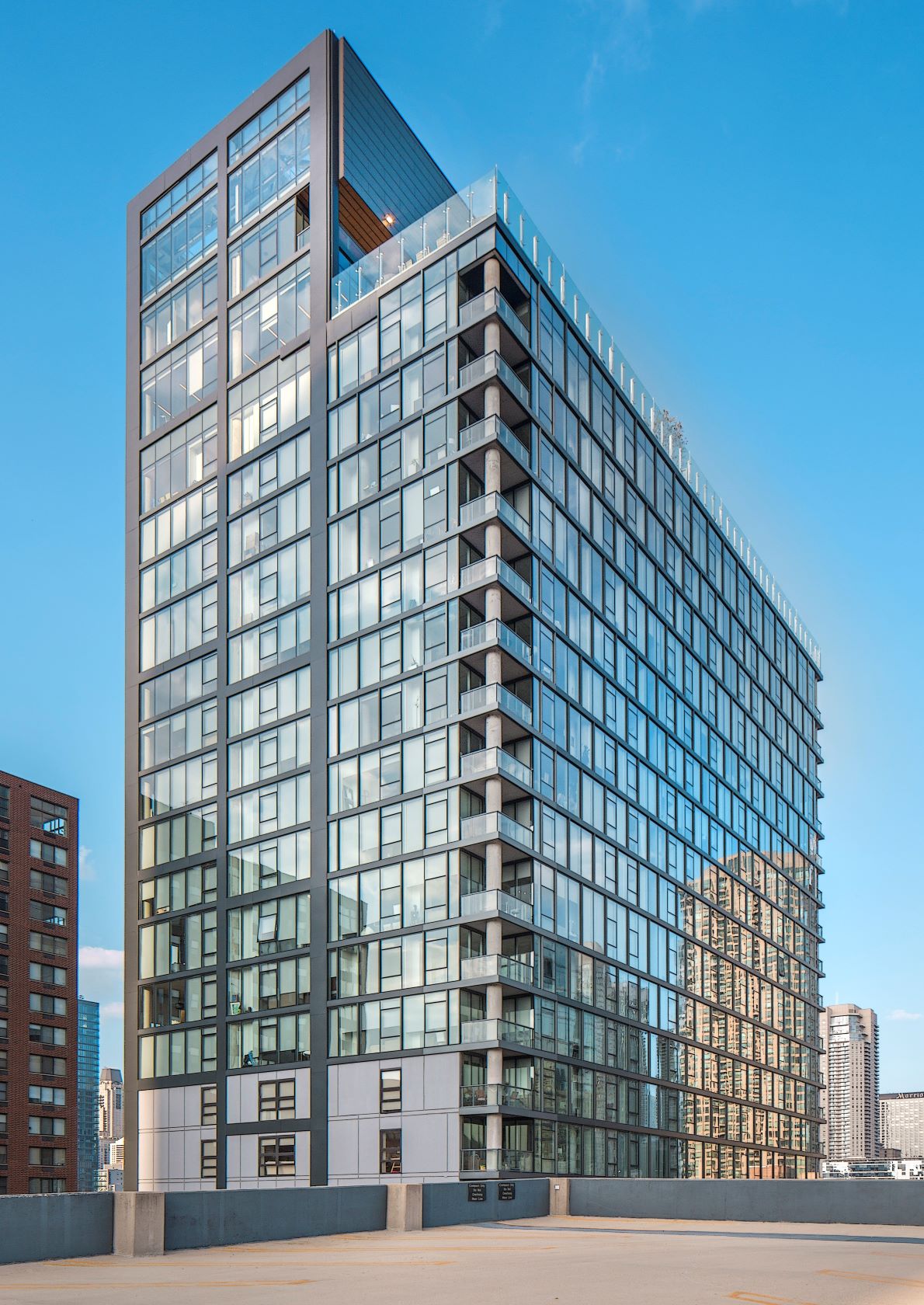 3Eleven is a 25-story residential tower in Chicago that features Solarban® 60 and Solarban® 60 Optigray® glass, part of the full range of Vitro architectural glasses to be renewed as Cradle to Cradle Certified™. Photography by Tom Kessler.
PITTSBURGH, February 18, 2021 – Vitro Architectural Glass (formerly PPG Glass) announced that its entire range of coated and uncoated architectural glasses has been renewed as Cradle to Cradle Certified™ by the Cradle to Cradle Products Innovation Institute.
Cradle to Cradle Certified™ is a recognized measure of safer, more sustainable products made for the circular economy across the globe. In order to receive this certification, eligible products are evaluated for environmental and social performance across five major sustainability categories: material health, material reuse, renewable energy and carbon management, water stewardship and social fairness.
In addition to maintaining its Cradle to Cradle Certification™, Vitro Glass was awarded a Material Health Certificate at the Gold level. This document certifies that in producing its glass products, Vitro Glass refrains from using chemicals of concern and is transparent about all chemicals used in products across its supply chains.
"Architects, fabricators and building products professionals of all kinds rely on the Cradle to Cradle Certified™ Product Standard as a guide for purchasing and designing with products that have a positive impact on both people and planet," said Nathan McKenna, director of marketing and innovation, Vitro Architectural Glass. "Since Vitro Glass became the first U.S.-based glass company to have its entire range of products Cradle to Cradle Certified™ in 2008, we have continued to offer one of the industry's most extensive selections of clear, ultra-clear, tinted, solar control and passive low-e (low emissivity) glasses qualified to this rigorous, globally-recognized lifecycle standard."
An early adopter of Cradle to Cradle Certification™, Vitro Glass offers a wide range of low-e glasses that are designed to make buildings more energy-efficient, whether by employing Solarban® solar control low-e glasses to block solar heat in the summer or using Sungate®, a passive low-e glass, to trap furnace and solar heat in the winter.
Additionally, low-e glasses such as Solarban® or Sungate® glasses may be united in insulating glass units with Starphire Ultra-Clear® glass or with performance-tinted glasses by Vitro Glass to offer architects and designers a full menu of performance and aesthetic options.
For more information about Vitro architectural glasses or to order samples of our glass products, visit www.vitroglazings.com or call (877-VTRO-GLS (877-6457).
About Vitro Architectural Glass
Vitro Architectural Glass, part of Vitro, S.A.B. de C.V. (BMV:VITROA), the largest company of its kind in the Americas, manufactures a range of industry-leading, energy-efficient products such as Solarban®, Sungate® and Starphire Ultra-Clear® glasses at U.S. plants in Carlisle, Pennsylvania; Fresno, California; Salem, Oregon; and Wichita Falls, Texas. Committed to sustainable manufacturing processes and products, the company also operates one of the world's largest glass research and development facilities in Pittsburgh and four residential glass fabrication plants in Canada. Upholding the values of "Together, We See Further" across the architectural, automotive and containers markets, Vitro strives to realize the power of partnership to ensure that projects meet or exceed ever-evolving sustainability expectations as well as glass requirements. For more information, please visit www.VitroGlass.com.
Media Contact:
Robert J. Struble
Vitro Architectural Glass
412-820-8138
rstruble@vitro.com
www.vitroglazings.com