Vitro Glass updates popular Glass Design Handbook
Pocket-sized design resource offers up-to-date information on designing with glass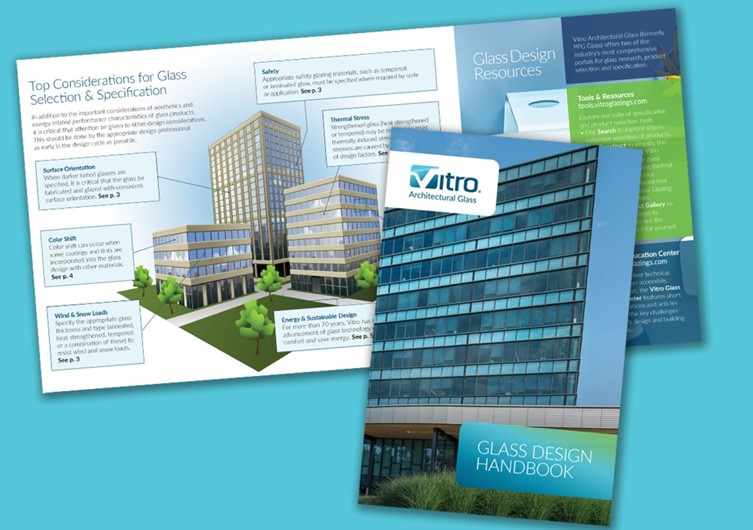 The Vitro Glass Design Handbook is an eight-page, pocket-sized booklet that highlights the eight factors specifiers and design professionals must consider during the glass design and specification processes.
PITTSBURGH, Sept. 29, 2020 – Vitro Architectural Glass (formerly PPG Glass) has updated its Glass Design Handbook, a pocket-size resource for architects to use when drafting or reviewing glass specifications for building projects.
Updates to the popular architectural resource include recommendations on evaluating color in glass samples and mock-ups, as well as opportunities to earn LEED® (Leadership in Energy & Environmental Design) credit through glass selections.
The eight-page booklet, which debuted in 2017 as the Vitro Glass Design Guidelines, highlights the eight factors specifiers and design professionals must consider during the glass design and specification processes, including safety; wind and snow loads; surface orientation; color shift; thermal stress; energy and sustainable design; inclusion of materials in insulting glass unit (IGU) airspaces; and aesthetics and mock-ups.
The guide is available as a pocket-sized booklet from the Vitro Sample Order & Literature Fulfillment Center and as a downloadable PDF on vitroglazings.com.
Nathan McKenna, manager, marketing and innovation, Vitro Architectural Glass, said the recent updates are based on Vitro Glass's experience working with architects on glass projects and specifications. "As architecture constantly transforms, glass design best practices also evolve," he explained. "Our latest Glass Design Handbook was revised to equip design professionals with up-to-date technical guidelines, help them avoid common glass design pitfalls and make the most of their glass selections."
To order a copy of the Glass Design Handbook, visit samples.vitroglazings.com. To learn more about Vitro Glass's entire line of low-e, low-iron and tinted glasses, visit www.vitroglazing.com or call (855) VTRO-GLS (887-6457).
Solarban®, Sungate®, Starphire® and Starphire Ultra-Clear® are registered trademarks owned by Vitro. Acuity™ is a trademark owned by Vitro. 
About Vitro Architectural Glass
Vitro Architectural Glass, part of Vitro, S.A.B. de C.V. (BMV:VITROA), the largest company of its kind in the Americas, manufactures a range of industry-leading, energy-efficient products such as Solarban®, Sungate® and Starphire Ultra-Clear® glasses at U.S. plants in Carlisle, Pennsylvania; Fresno, California; Salem, Oregon; and Wichita Falls, Texas. Committed to sustainable manufacturing processes and products, the company also operates one of the world's largest glass research and development facilities in Pittsburgh and four residential glass fabrication plants in Canada. Upholding the values of "Together, We See Further" across the architectural, automotive and containers markets, Vitro strives to realize the power of partnership to ensure that projects meet or exceed ever-evolving sustainability expectations as well as glass requirements. For more information, please visit www.VitroGlass.com.
Media Contact:
Robert J. Struble
Vitro Architectural Glass
412-820-8138
rstruble@vitro.com
www.vitroglazings.com