VacuMax™ Vacuum Insulating Glass (VIG) by Vitro – Where the Window Becomes the Wall®
VacuMax™ vacuum insulating glass (VIG) by Vitro Architectural Glass integrates with any traditional (and even non-traditional) glazing system to maximize insulation performance. With wall-like R-values of R14⁺, VacuMax™ VIG is the ultimate in thermal glazing.
The new tempered VacuMax™ VIG units can be used alone as nominal ¼" glass to replace monolithic (single-pane) glass without needing to replace the framing system or as a substitute for the interior lite in any double- or triple-glazed insulating glass unit (IGU), where it forms a second airspace and creates a hybrid IGU.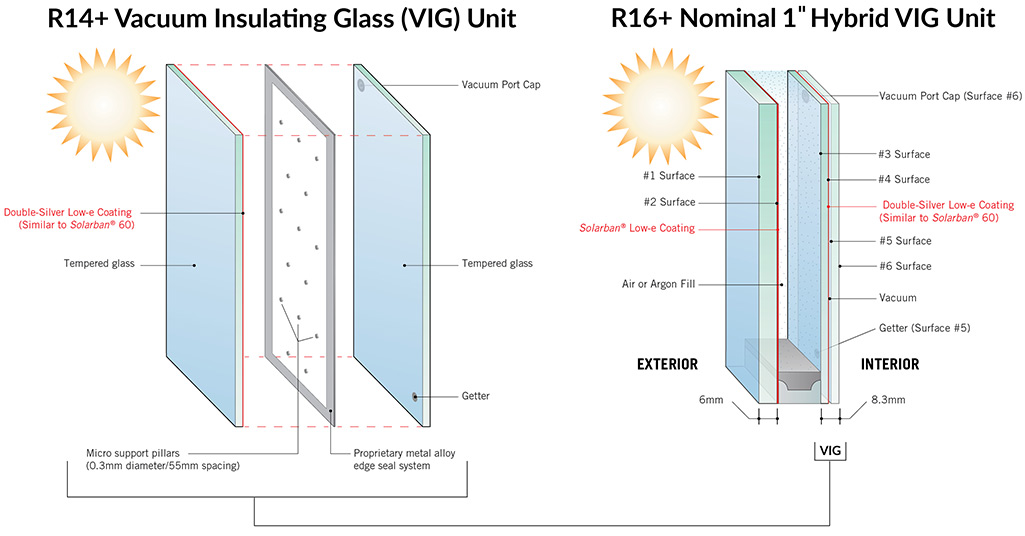 What is Vacuum Insulating Glass (VIG)?Back to Top
A VacuMax™ VIG unit consists of two lites of 4mm glass separated by a non-leaded proprietary metal seal and a vacuum space. The unit's slim construction and light weight allows it to be incorporated into virtually any traditional glazing system, window frame or curtainwall application.
VacuMax™ VIG Unit Dimensions:
Total thickness is just 8.3mm, only slightly thicker than a standard 6mm glass lite.
Available in sizes from 12"x12" (0.3m x 0.3m) to 58"x96" (1.45m x 2.45m).
The simplest and most complex Vitro Glass configurations — from a simple monolithic lite of Starphire Ultra-Clear® glass to a double-glazed IGU with a Solarban® low-e coating on the #2 surface and a bird-friendly pattern on surface #1— can benefit from remarkable performance improvements by replacing the innermost lite with a VacuMax™ VIG unit.
Multi-pane IGUs utilizing VacuMax™ VIG units still include traditional airspaces adjacent to traditional glass lites.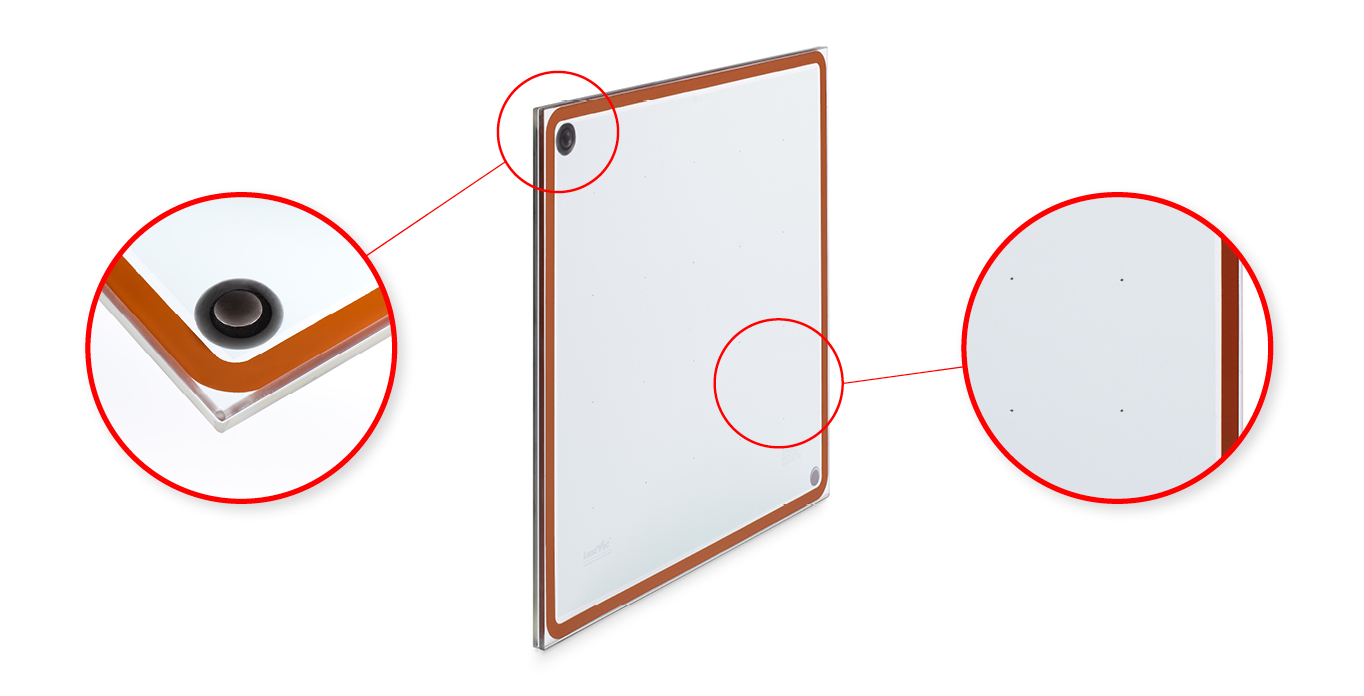 Back to Top
Performance Benefits
VacuMax™ VIG units enhance the performance of any glass configuration by effectively blocking thermal transmission, delivering thermal insulation performance that is 2-4 times better than conventional insulating glass and up to 14 times better than monolithic glass.
Compare the baseline performance of VacuMax™ VIG units to traditional IGU components and configurations.
| Attribute | Monolithic (Single-Pane) Glass | Double-Glazed IGU | Triple-Glazed IGU | VacuMax™ VIG |
| --- | --- | --- | --- | --- |
| U-Value (Btu/hr•ft2•˚F) | 1.02 | 0.29 | 0.16 | 0.07 |
| R-Value | 1.00 | 3.40 | 6.30 | 14.30 |
| Visible Light Transmittance (VLT) | 89% | 70% | 56% | 70% |
| Solar Heat Gain Coefficient (SHGC) | 0.82 | 0.39 | 0.31 | 0.37 |
| STC/OITC* | 31/28 | 34/29 | 40/32 | 33/32 |
| Seal Strength | N/A | 150psi | 150psi | 3000psi |
| Thickness | 6 mm | 25 mm | 44 mm | 8.3 mm |
Above data is for reference only. Calculation method not approved yet by National Fenestration Rating Council (NFRC) for VIG units. Specific product configurations, including substrates and low-e coatings, may affect the performance of constructed glazing systems.
*STC/OITC Tolerance +/-2

Use VacuMax™ VIG to achieve:
Extraordinary R-values that deliver energy savings and reduced carbon emissions by way of lower Btu usage
Longer life compared to competitive VIG products as a result of SGCC -certified tempered safety glass and a flexible, strong, non-leaded proprietary metal seal to ensure higher vacuum capability
Increased acoustic performance for dramatic noise reduction
Reduced center of glass condensation at temperatures as low as -58° F
Flatness and strength due to the VacuMax™ VIG low temperature sealing technology
Generous window-to-wall ratios without sacrificing performance or occupant comfort
VacuMax™ VIG units are available with Solarban® 60 solar control, low-e glass by Vitro Glass, which can help to further enhance the energy efficiency performance of the IGU. When a VacuMax™ VIG unit is used as the interior lite in a hybrid IGU, the exterior lite is available with the full range of Solarban® glass products and substrates by Vitro glass.
Back to Top
Where to Use VacuMax™ VIG Units
Consider VacuMax™ VIG for exterior glazing applications that require extraordinary insulating performance. VacuMax™ VIG is ideal for residential and commercial projects, including:
Renovations
New Construction
Office buildings
Educational institutions
Hospitality
Healthcare
Back to Top
Fabrication & Availability
Vitro Glass has partnered with LandGlass and VIG Technologies to become the exclusive provider of their high-performance tempered vacuum insulating glass (VIG) products in North America.
Hybrid glass configurations using VacuMax™ VIG units are exclusively available through the Vitro Certified® Network of glass fabricators and window manufacturers. VacuMax™ VIG units are always tempered for safety and to ensure they perform exceptionally across indoor and outdoor temperature extremes.
Extended lead times apply to products using VacuMax™ VIG. Please consult with your National Architectural Manager or Commercial Account Manager for additional technical and logistics information.
"Where the window becomes the wall.®" is a registered service mark owned by VIG Technologies LLC.
Get the VacuMax™ Brochure
Get detailed product information, performance data and more. 
---
More Information